Disclaimer: Nothing within this page or on this site overall is the product of Panagiotis Kondylis's thought and work unless it is a faithful translation of something Kondylis wrote. Any conclusions drawn from something not written by Panagiotis Kondylis (in the form of an accurate translation) cannot constitute the basis for any valid judgement or appreciation of Kondylis and his work. (This disclaimer also applies, mutatis mutandis, to any other authors and thinkers linked or otherwise referred to, on and within all of this website).
Online by early or March 2019?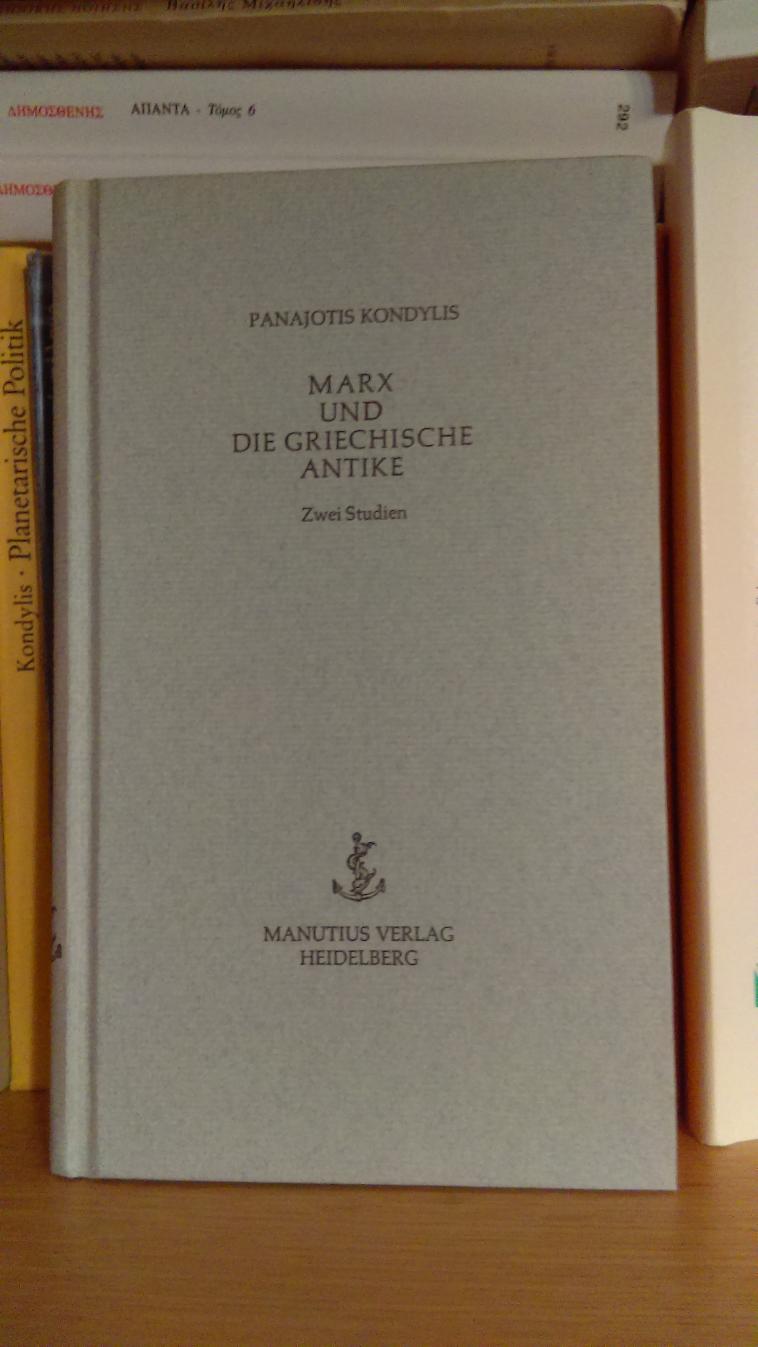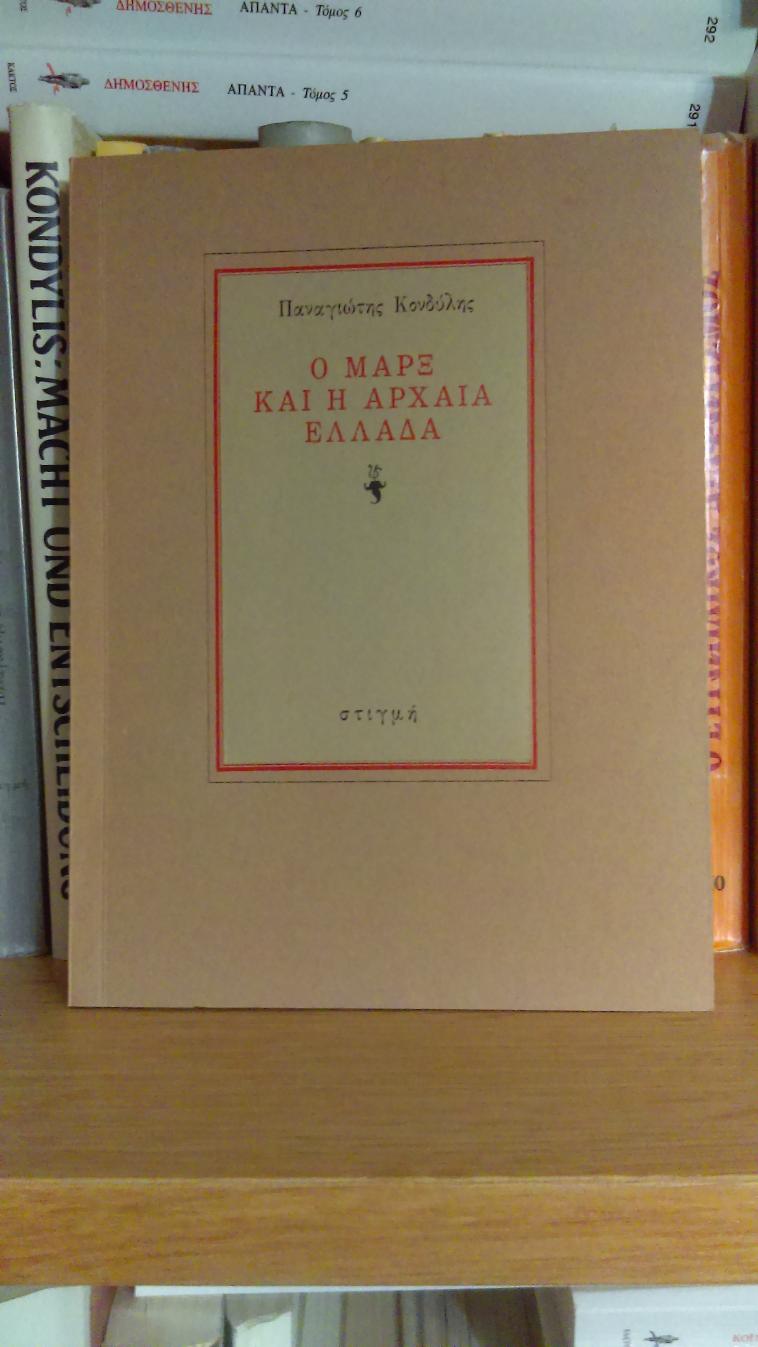 EVERYONE, WHETHER A MAN, A WOMAN, OR A MENTALLY ILL FREAK (SUBJECTIVELY SEEN AS A MATTER OF TASTE), MUST OBEY AND ABIDE BY THE LAW AT ALL TIMES, ALWAYS - EVEN THOUGH MARX HIMSELF ADVOCATED A FAIR BIT OF LAW-BREAKING, TO SAY THE LEAST!!!
TIP: NEVER READ WHAT I, THE CRAZY LITERARY PERSONA OF THIS SITE, WRITES. YOU'RE DEFINITELY WASTING YOUR TIME IF YOU DO (THOUGH THERE IS SOME DIDACTIC AND OR FUN VALUE IF YOU KNOW P.K.'s CORE TEXTS WELL)!!! JUST READ AND STUDY AND TRY TO UNDERSTAND P.K.'s TEXTS WITHOUT EVEN LOOKING AT MY ENDNOTES AND ANYTHING ELSE I WRITE ON THIS PAGE AND THROUGHOUT ALL OF THIS SITE. EVERYONE MUST OBEY AND ABIDE BY THE LAW IN THE HOPE OF LESSENING LEVELS OF ANOMIE (FAT CHANCE), WHILST IT WOULD BE NICE IF EVERYONE WOULD SHUT THE FUCK UP ABOUT MATTERS THEY KNOW LITTLE OR NOTHING ABOUT!!!
ALSO: P.K. IN ALL HIS WORKS ALWAYS JUDGED THINKERS ON THEIR MERITS WITHOUT REFERENCE TO THEIR BACKGROUND AND OR OTHER AFFILIATIONS UNLESS SUCH REFERENCE WAS REQUIRED FOR THE TASK AT HAND. MARX, FOR VARIOUS HISTORICAL AND PERSONAL REASONS - (BOTH) FOR P.K. (AND FOR MYSELF) - IS TREATED ABSOLUTELY DISPASSIONATELY BY P.K., BUT ALWAYS WITH AN UNDERLYING SENSE OF GREAT ADMIRATION FOR ONE OF THE WEST'S GREATEST THINKERS (AND DON'T EVER FORGET - THE GREATER THE THINKER (E.G. ARISTOTLE, HOBBES, MONTESQUIEU, HUME, KANT, MARX, NIETZSCHE, DURKHEIM, WEBER, ARON, ET AL.), THE GREATER THE POSSIBILITY AND ACTUALITY OF MASSIVE "FUCK-UPS" IN THEIR THOUGHT AS WELL... AND P.K. IN HIS OEUVRE EXPOSED THOSE SHORTCOMINGS - AS HE HAD TOO, WITHOUT MERCY).
[[These books in German and Greek respectively with their different presentations, wording, phrasing, etc., but grosso modo covering the same themes, are an absolute delight to read - particularly for admirers of Marx and his enormous contribution to the development of the modern social sciences; a contribution equal if not greater than that of Montesquieu, the Scots, and other founding greats of sociology. It becomes clear how important a good education in Greek and Latin is for people interested in serious theory and not in the ideological posturing e.g. of today's dominant FULL-SPECTRUM-ZIO-LOBOTOMISED variety, whereby it is declared Day and Night that "everyone is equal" and that there should be "no borders" "everywhere", whilst seemingly countless vile, filthy and totally disgusting - the ugliest people in the history of mankind (as a subjective matter of Taste) - Jews, get "the right" to froth at the mouth about "whiteness" and "dieversity", whilst not saying anything about Israel NEEDING TO FULLY OPEN ITS BORDERS TO SIX (6) MILLION PITCH BLACK AFRICANS and or MOHAMMEDANS so Israel can be "culturally enriched and intellectually stimulated" by all that "beautiful multi-cultural diversity" (and not to mention all the GROSSLY DISPROPORTIONATE forms of Jewish and ZIO-power accumulation, concentration and crystallisation in Banking, Finance, Big Money Corporate Trade, Law, Medicine, Universities, Mass Media, Mass Entertainment, Government Policy formation, Big Money Lobbying, etc., etc., etc., in certain countries), whereas a white person is not given a proportionately equal forum to speak his mind through the mass media when e.g. he does not want the genetic stock of his ancestors to be genocided out of existence in a brown-black-yellow multi-cultural flood of anti-white ZIO-HATE. This is exactly what happens when societies let the ZIO-FLEA-PARASITE-VULTURE exercise GROSSLY and HIGHLY DISPROPORTIONATE forms of power and influence over public opinion, etc. in circumstances of - (subjectively seen) "degenerate" - consumeristic mass-democratic feminofaggotising Hedonism. In any event, it is clear that Marx - apart from being a great thinker (notwithstanding all his flaws) - was fully assimilated into Western traditions of thinking, including as regards classical education, and had absolutely nothing to do with the ZIO-SATANISTS of ZIO-USA, incl. the Frankfurt School GROSSLY over-rated ZIO-SUPREMACISTS of "scholarship" (misnamed "cultural Marxists" (albeit for understandable polemical reasons) - they most definitely were not Marxists in favour of proletarian class war and Marxist-Leninist national liberation etc., but rather were the ZIO-PROPAGANDISTS of ZIO-USA Imperialism and it's ultimately anti-Western suicidal, auto-genociding HATE), who have played a GROSSLY DISPROPORTIONATE role in leading the West "full steam ahead" into FULL-SPECTRUM ZIO-LOBOTOMISED SUICIDE and AUTO-GENOCIDE (I acknowledge that the likes of Presidents Jackson-McKinley, John Wayne, Pat Buchanan, PCR, J. Mearsheimer, R. Merry et al. kinds of nation-based patriotic Americans are a part of historically relatively white American society GROSSO MODO, but the reality is that IN REALITY that "line" of American patriotism has almost "vanished into History", particularly after the end of the Cold War... things have already started to SPIN out of control (an imperialistic-like Power cannot simply just "let everything go" and retreat (peacefully) into itself - things don't work that way in the real world of (international) power relations), and there does not seem to be any way out apart from very, very, very BAD STUFF happening over the coming decades all over the West... may I be wrong... for the sake of any offspring we might have...).
[[N.B. Facts might be facts, causality might be very difficult, complicated and even impossible to adequately explain, incl. because of historical depth, the operation of the heterogony of ends, and the great variety and multiplicity and intertwining of the interactions and inter-relations; additionally, there are are crude, vulgar, rude or (fairly) dispassionate ways of explaining social phenomena, etc.,... BUT let's not ever get carried away with ourselves: first, I recommend that everyone is always polite and nice and kind to Jews in e.g. arm's-length business transactions (as I always am) if the Jew involved is the same and behaves likewise (with or without a Jack Benny smile), because never forget, individuals cannot be blamed for historical elite-level group activity, even if they benefit from such activity. And anyway, Jews are humans too, and if I were a Jew, I'd be supporting my elites more or less, particularly if I benefit from their Primitive Secret Society Networking at elite level. ALSO: if and when ZIO-USA falls and or comes apart, then in all probability, or rather, it is almost certain that things will get much worse to absolutely terrible and horrific in what remains of the West, as the APE as anomie will literally go APE-BALLISTIC, and or being e.g. ruled-over by Triumphant Han Man (which of course may and probably will never happen), is not going to do anything (positive, overall) for the West, because then the elites will grossly disproportionately be made up of Han Primitive Secret Society Networkers who only really support the Han and Chinese civilisational history, even if they are living on a mass-democratic consumeristic basis (for the time being at least)....
(a bit of Marxian-Leninist national liberationist journalism with a very high degree of objectivity, even though there are always pro-NATO/pro-(ZIO-)USA counter-arguments on the basis of REALISM and not just IDEOLOGY... (as you shall see, if you read Greek, the Marxist-Leninist national-liberationist undertones in this article have nothing to do with "cultural Marxism" because in reality there is no such thing as "cultural Marxism" (Marxism is about class conflict, and proletarian internationalism within a framework of (Westphalian) bourgeois or ex-colonial nationally liberated nation-states, which only in a state of communism does away with "all borders" (and notwithstanding all the "left-communistic, Trotskyite shit"), and a ZIO-USA centred mass-democratic consumeristic-Hedonistic/ "Degenerate"-Feminofaggotising-"One World"/GROSSLY DISPROPORTIONATELY Zio-Corporatist world "system" is definitely not the envisaged state of communism of Marxism up to and including Marxism-Leninism - at best it's a caricature of it, as P.K. rightly pointed out...)..., even though polemically "cultural Marxism" is a term used like "liberal democracy", etc.,... and I can fully understand their use in the Heat of Polemics and Competition within The Political and Politics...:
http://infognomonpolitics.blogspot.com/2018/11/blog-post_982.html#more?temp-new-window-replacement=true
+ cf. particularly in regard to the reference to Lenin:
anyway, back to Marx...]]]]
[[It would appear that the radical understanding of the classical ideal which Marx as a Young Hegelian had, did contain the spores for the much later mass Hedonism of mass democracy, given the emphasis on matter, the body, etc.. This does not mean, of course, that Marx and Marxism can be equated with ZIO-USA (cf. Marcuse, Lipset, et al.), even though there is a degree of overlap, and hence in the Heat of Left-Right Polemics, you do get rather silly categories like "Western Marxism" and "Cultural Marxism" - though, for those who use them, I understand why, and it does get rather complex when trying to distinguish concepts - particularly when concepts themselves are flexible, elastic and in part variable,... and there (usually or often) is no "set definition" for all time.]]
This is just "too" factual and commonsensical not to be linked. I grew up and have lived most of my life in a country which culturally during my lifetime was inundated with USA references, so I do have some kind of interest in the subject matter, even though (deep down) it has absolutely nothing to do with me or my identity or my ancestors or my culture - furthermore, reasonable minds could have a discussion about whether the American war of 1861 to 1865 was a "civil" war or not, though compared to the other matters raised in this text, it is not a crucial matter - whether "civil" or not, it definitely was a war - and with long-term, world-historical implications and repercussions too:
(
https://www.unz.com/proberts/the-prevalence-of-myth-over-history/?temp-new-window-replacement=true
)
Western societies are literally spinning out of control in Rivers of FULL-SPECTRUM ZIO-LOBOTOMISATION. Why doesn't Israel open its borders FULLY to SIX (6) million beautiful and intelligent PITCH-BLACK Africans and or Mohammedans? What is the reason? What did you say? Why is it a "Holocaust" when SIX (6) million die, but not a "Holocaust" when more than two hundred (200) million innocents die in the 20th century? Who the FUCK are you? What are you ZIO-SATANISTS with all your Protestant/Catholic/Secular/Atheist supporters, who might GROSSLY outnumber you, but not in the GROSS DISPROPORTIONATELY with which you occupy positions of elite-level forms of Power through (Historical) Primitive Secret Society Networking?
DEATH TO SATAN
!!! (
https://www.eurocanadian.ca/2018/11/universities-media-and-government-cry-hate-speech-against-its-ok-to-be-white.html?temp-new-window-replacement=true
)
Very interesting comments - at least in part true (but some comments also with some (gross) analytical (and or factual) inaccuracies) - and don't forget, this Site does not want to convince you of anything. This Site does not and could not care less what you think. DO YOUR OWN RESEARCH AND USE YOUR OWN BRAIN - YOU SHOULDN'T BE READING ANY OF THIS ANYWAY, IF YOU HAVEN'T STUDIED AND UNDERSTOOD ALL OF P.K.'s CORE BOOKS AND ARTICLES FIRST:
cf. the M. Lind article on class compromise...
Δῦο ἄρθρα σοβαρότατα
: ἡ ἐφαρμογὴ ἀποτελεσματικῆς πολιτικῆς περὶ καὶ δημογραφικοῦ καὶ μεταναστευτικοῦ ἔπρεπε νὰ εἶχε ἀρχίσει τὸ ἀργότερο τὴ δεκ. τοῦ 1990 (ὅταν ὅλοι σχεδὸν τότες γελοῦσαν περὶ τέτοιων θεμάτων ἐν τῇ λοβοτομημένῃ καταναλωτικῇ ὑστερίᾳ τους...). Κι ἄν
ὅλα
τὰ πολιτικὰ κόμματα ἐξουσίας δὲν συναινέσουν σὲ ἕνα πρόγραμμα τονώσεως ἐγχωρίας γεννητικότητος
μαζὶ μὲ μία «ἔξυπνη» μεταναστευτικὴ πολιτικὴ
ποὺ ἐνσωματώνει καὶ ἑλληνοποιεῖ
οὐσιαστικῶς
ἕνα μέρος τῶν εἰσβολέων/προσφύγων-μεταναστῶν, ἀλλὰ δε ταυτοχρόνως ἐπιβάλλει αὐστηρότατο ἔλεγχο συνόρων καὶ γενικῆς ἀστυνομεύσεως δι' ὅλους τοὺς πολίτας καὶ κατοίκους - Ἕλληνες τὸ Γένος καὶ μή, δὲν ὑπάρχει οὐδεμία ἐλπίς. Ἐπίσης ὡς πρὸς «πούστηδες, ἀνωμάλους καὶ λοιποὺς ἀρρώστους», εἶναι ἀλήθεια ὅτι ἡ πολιτεία ἔχει ὄντως ὑποχρέωσιν (ἀνάλογα μὲ τὰ σημερινὰ ἠθικὰ δεδομένα) νὰ διαφυλάττει τὰ δικαιώματα ὑπάρξεώς τους σὲ καταστάσεις ἀσφαλείας καὶ ἀξιοπρεπείας (χωρὶς ὅμως νὰ περιορίζῃ τὴν ἐλευθερία λόγου τῶν «κανονικῶν» ἀνθρώπων), ἀλλὰ δε ἡ πολιτεία ἔχει ἐπίσης καὶ ὑποχρέωσιν νὰ μαθαίνουν τὰ παιδιὰ στὰ σχολειὰ καὶ διὰ τῶν ΜΜΕ κ.τ.λ. ὅτι ὁ σκοπὸς τῆς ζωῆς διὰ τοὺς πλείστους ἀνθρώπους δὲν ἠμπορεῖ νὰ εἶναι τίποτες ἄλλο ἀπὸ τὴ δημιουργία παραδοσιακῆς οἰκογένειας μὲ μαμά, μπαμπά, καὶ 2-4+ τέκνα - ἤ ἔστω μονογονειακῆς οἰκογενείας ἀφοῦ αὐταὶ αἱ οἰκογένειαι εἶναι πραγματικότης (εἴτε ἀρέσει, εἴτε οὐκ). Ἀλλιῶς τελειώσαμε ὁριστικῶς μόνο βάσει τοῦ δημογραφικοῦ/μεταναστευτικοῦ σὺν τῇ ἀνομίᾳ - καὶ σίγουρα ὅ,τι προωθεῖ τὰ πράγματα εἰς ἐμφυλιοπολεμικὰς συγκρούσεις = ΚΑΤΑΣΤΡΟΦΗ καὶ τίποτες ἄλλο (ποὺ σημαίνει ὅτι καὶ οἱ «ὑπερσυντηρητικοὶ» (ΧΑΧΑΧΑΧΑΧΑΧΑΧΑ!!!) ὄντως πρέπει νὰ βάλουν νερὸ στὸ κρασί τους δημοσίως, ἄν καὶ ὄχι κατ' ἰδίαν ἤ εἰς ἕναν ἱστότοπον μὲ π.χ. 1 ὥς 3 ἤ 4 ἀναγνώστας)... (
https://slpress.gr/koinonia/kokkinos-synagermos-gia-to-dimografiko-kai-syntagma/?temp-new-window-replacement=true
+
https://slpress.gr/idees/i-anadysi-toy-ideoliptikoy-misoys-prosimo-kai-stoys-nekroys/
) (+ πρβλ. https://slpress.gr/koinonia/ypogennitikotita-i-vradyflegis-vomva/?temp-new-window-replacement=true)
Διαβᾶστε Κόσμε! (Εἴτε συμφωνεῖτε, εἴτε διαφωνεῖτε, ἐν μέρει ἤ ἐξ ὁλοκλήρου, Διαβάσετε καὶ Προβληματιστεῖτε!)
(https://www.analystsforchange.org/2018/11/blog-post_205.html?temp-new-window-replacement=true - κάπως «χοντρικὰ» τὰ θέτει τὰ πράγματα ὁ ἀρθογράφος, ἀλλὰ αὐτὸ ποὺ πρέπει ὁπωσδήποτε νὰ ἐπισημανθῇ εἶναι ὅτι ἡ σχετικὴ ὑποχώρησις τῶν ΗΠΑ εἰς «τοὺς ἑαυτούς» των, οὔτε θὰ σημαίνῃ ὅτι δὲν θὰ παρεμβαίνουν αἱ ΗΠΑ στὸ ἐξωτερικό, ἐκεῖ ποὺ τὸ θεωροῦν σκόπιμο καὶ ζωτικῆς σημασίας, οὔτε θὰ σημαίνῃ ὅτι ὁ Ντουνιὰς θὰ γίνῃ ἀναγκαστικῶς πιὸ εἰρηνικὸς καὶ πιὸ ἤρεμος... ἀπεναντίας, τὰ οἱαδήποτε κενὰ ἀφήσουν αἱ ΗΠΑ δύνανται νὰ γίνουν χῶροι σφοδρῶν συγκρούσεων ἄλλων Δυνάμεων ἤ καὶ μετὰ τῆς (ἀμέσου ἤ ἐμμέσου) συμμετοχῆς τῶν ΗΠΑ ἤ οὐ...)
LET'S REPEAT OURSELVES - BECAUSE LIFE IS (ALSO) ABOUT REPETITION
It would be nice (or: Science does not give a FUCK if you spin yourself out of existence)
It would be nice if everyone stopped blabbering about Hate and Love etc., etc., - because all sides per definitionem always Hate and Love, so it really is a STUPID ARGUMENT if you think about it - and had a long, hard look at the capacity of their country, its borders, its history, its collective identity/identities (culture(s)) and realistically DREW THE NECESSARY FOR SURVIVAL LINE between Insanity and Realism (how great a population can we sustain? how do we secure our territory? how do we minimise crime, depression, etc. and maximise social cohesion?). That's what people with Simple Common Sense do or want to do for their country. Unfortunately such people are nearly non-existent. MADNESS has the upper hand. THINGS ARE GOING SHIT - and that's the positive spin
Respect for Real Teachers (or: Three "NAZIS" defeated after World War Two dedicated themselves to Historical Science (i.e. the Science of History), and instead of Brunner-Conze-Koselleck, the West got the Three-ZIO-RATS Show (The Three Stooges and The Marx Brothers were much, much, much better, more likable and funnier) of FULL-SPECTRUM ZIO-LOBOTOMISATION, i.e.: Horkheimer-Adorno-Marcuse - even though it could have been and even got and was much, much, much worse...)
Respect for Real Teachers means that if the - inter alia - ZIO-SATANISTS refuse to translate and publish and learn from Teachers, then they do not deserve to go anywhere near the Pupil who Surpassed the Teachers and achieved the most. EVER.
Let's say this again and make it absolutely CLEAR
Let's say this again and make it absolutely CLEAR: this Site does not support any normative-political programme whatsoever, even though the Satirical Literary Persona not infrequently contradicts itself or says things which could be interpreted as implying... whereas P.K. never wrote things - in his strictly scientific texts (99% of his texts) - which imply anything other than what he is describing and explaining... anyway, if non-natives are working hard (obviously in non-criminal areas/sectors) and or are in genuine long-term relationships with natives (incl. their children), then I don't think "decent" people want to be CRUEL and forcibly "move them along". That's not fair - whichever way you look at it. However, non-natives who have INVADED and are being used as PAWNS by ZIO-SATANISTS and other GLOBALISTS (e.g. Globalising (Homo-Paedophilic) Papists) and or other Imperialists/Supra-Nationalists (as in the case of High-Tech Industrialised Germany and or Musulman Turkey), and have no necessary place within the local economy and local communities/society, "need" (one could say) to GET THE FUCK OUT and RETURN HOME or simply go to ISRAEL, along with all the native unrepentant ethno-nihilist scumbags who will not call for ISRAEL to open its borders FULLY to SIX (6) million beautiful and intelligent Pitch-Black, Medium-Black and or Light-Black Africans and or Mohammedans, and assorted Browns, Yellows, etc.. OPEN SOCIETY AND NO BORDERS FOR ISRAEL NOW!!! NOW!!! NOW!!! NOW!!! ISRAEL "NEEDS" TO DIE-VERSIFY AS DO ALL THE JEWS LIVING IN ISRAEL NOW IF AND OR SINCE ZIO-SATANISTS, INTER ALIA, ARE SAYING GREECE/CYPRUS, ITALY, SPAIN, PORTUGAL AND IRELAND SHOULD BE "OPEN" AND NOT "POPULIST" OR "NATIONALIST" - YOU FUCKING DISGUSTING, ABSOLUTELY FILTHY ANIMALS. YOU VILE, ULTRA-UGLY, REPULSIVE, VOMIT-INDUCING FUCKING SCUMBAGS!!! THE HORROR, THE FILTH AND THE HORROR OF THE FROM BIRTH FULL-SPECTRUM AUTO-ZIO-LOBOTOMISED, ZIO-SATANISTS!!! THE HORROR, THE FILTH AND THE HORROR!!! HAVE YOU EVER ACTUALLY SEEN AND HEARD ??? B??? OR ??????? R???? OR P??? ??????? OR ?????? F?????? ET AL. SPEAK? THE HORROR, THE FILTH, THE FILTH, THE FILTH, AND THE HORROR, THE HORROR, THE HORRORRRRRRRRRRRRRRRRR!!!!!!!!!!!!!!!!!!!!!!!!!!!!!!!!!!!!!!!!!!!!!!!!!!!!!!!!!!!!!!!!!!!!!!
DEATH TO SATAN!!!
Because all forms of human relations relate directly or indirectly to groups and previous relations and Man's relation with Nature and to self-preservation
Because all forms of human relations relate directly or indirectly to groups and previous relations and Man's relation with Nature and to self-preservation, then all relations somehow relate to forms of Power which come in many different manifestations. This concept is most unsettling because it means that even relations of relatively High Trust and or even Love involve power relations, though the shapes and intensities of such relations obviously differ as to concrete content compared to relatively Low Trust and or even Hate relations which take shapes and have intensities similar to or the same as the High Trust/Love relations, but with the differing and or opposite content. What all this means is that, inter alia and exempli gratia, ultimate (anti-)preferences, likes, dislikes, values, anti-values are irrationally based subjectively as a Decision (ultimately abstracted from reality, because in reality (which is a very complex, multi-layered, multi-sectional, etc. social phenomenon relating to nature, groups and individuals, interrelations and interactions) most Decisions have already been taken and made culturally macro-historically as to main features, attributes, etc. notwithstanding the countless group and or individual variations...), and, par exemple, a ZIO-SATANIST can look upon me as VERMIN and as the DEVIL, as it can and does do, whereas I view the ZIO-SATANIST as the ultimate in FILTH and Satanic Evil. If however a Country wants to Survive as some kind of version of that Country incl. as a State, then it must view other Countries and or States not as Good or Bad inherently and per se, but as Powers, and it must Assess the Correlation(s) of Forces Accurately in order to decide who will be a strategic and or tactical Friend or a strategic and or tactical Foe, or indifferent, and ultimately there is no a priori positioning, just interests and relations of forms of Power and of course (in)effective ACTION, so that e.g. one time Israel might be my ally and at another time Iran/Persia might be my ally and at another time both might by my Partners or even both my Enemies. This MUTATIS MUTANDIS also applies to relations betwixt people, though it is not something you should spell out for instance to your woman if you want to base a long-term relationship on LOVE.
"Explain to me all the anti-Semitism, and Racism, and Sexism, and Homophobia, and Islamophobia, and Hate"
"Explain to me all the anti-Semitism, and Racism, and Sexism, and Homophobia, and Islamophobia, and Hate", said the Retard to me, and I did explain: "For argument's sake, let's accept Semite = Jew (even though stricto sensu it isn't), so it's quite simple. I'm not a fucking Semite. That means I have a Helleno-Roman-Greek-centric view of the world because I am a Hellene-Greek-Roman, and I support my group above all others just like a filthy Jew can and more often than not supports his/its group above all others (whether they admit it or not). SO, if I observe - objectively and scientifically - that through Primitive Secret Society Networking over many decades and centuries, Jews in certain countries at elite level wield and have wielded GROSSLY OR HIGHLY DISPROPORTIONATE forms of Power (Banking, Finance, Mass Media, Mass Entertainment, Law, Medicine, Universities, Big Money Trade and Corporations, Big Money Big Party Politics/Lobbying, Government Policy Formation, etc.), then I won't hesitate to make that observation based on FACTS, because I am not a fucking filthy Jew (subjectively seen as a matter of Taste). Likewise, if Whites in the Southern States of the USA did not want c. 1950 "niggers" near them, I can understand that, because they wanted to preserve their Group Cohesion and Group Identity. But the reality is, they lost that Group Cohesion and Group Identity, they LOST CONTROL of Space and Territory, unlike the Japanese in Japan or the Han Chinese in China, et al, etc., et al.. Similarly, if I value Group Cohesion and Group Continuity above individualistic-narcissistic rights, then I want most women in the Home in Patriarchal Families with kids, and Mentally Deranged Homo-Sickos off the public streets and Mass Media and Mass Entertainment (they can do what they want discreetly and privately), with the Public Space being that of Patriarchal-Familial Group Reproduction. Finally, if my Group has a history of Orthodox Christianity, then what the FUCK is a REVOLTING MOHAMMEDAN BARBARIAN-ANIMAL going to add to my culture? Particularly, since my group has been around for up to 4,000 years (in its many different versions which do not include to any significant extent Hellenic Mohammedanism), and since Mohammedan ANIMALS are responsible for the GENOCIDE of millions of Greeks/Hellenes/Romans incl. through mass killings and mass conversions/conquering etc.. SO, you see, the whole concept of "racism", the whole concept of "sexism" etc., etc., etc., can be loaded and charged as to content any way the FUCK I like, just as you load and charge with content those terms any way the FUCK you like. The issue therefore is which versions of such concepts hold sway and predominate in a society and who e.g. is wielding (more) forms of POWER and who e.g. is wielding GROSSLY DISPROPORTIONATE forms of Power (incl. through "divide and conquer" tactics (up to strategy - consciously or not, and or a bit of both...)). AND NEVER FORGET: YOU HATE WHAT I LOVE, JUST AS I LOVE WHAT YOU HATE, Y
OU PATHETIC, REVOLTING, SICK, ULTRA-UGLY, FILTHY RETARD
!!!
"
If Greece were powerful with a FUTURE (or: at the END of a 4,000-year-old Journey - and don't YOU forget it, filthy Protestant, filthy Catholic, filthy Jew, filthy Atheist, filthy whatever - we WERE a Power that counted until 1204 A.D.,...)
If Greece were powerful with a FUTURE, then not only would we have absorbed and won back (nearly) all or most of Turkey, but we would have knocked out both Persia and Judea, and we would have "hooked up" with Russia and with China and we would have fucked off ZIO-USA to be limited to the Monroe Doctrine only. But Greece is not relatively powerful and has not much of a future (to say the least), so if it wants some Hellenism to survive in some kind of form, it has to work with ZIO-USA and with Israel and with Egypt and with Germany, France, the UK, etc., and with Russia and China too (to the extent it is allowed and can), and it has to try and keep what it has, because it is definitely not going to expand, because all it can do now is only shrink, and all it can do now - if it does it - is stop the shrinkage, because we are small, and becoming puny... tiny...
Identity - Identity is malleable, Identity is flexible, Identity is elastic, but it is always there and interrelates always with forms of Power, Culture, Meaning, Understanding, Interrelations, Interactions, Individuals, Groups
Identity - Identity is malleable, Identity is flexible, Identity is elastic, but it is always there
and interrelates always with forms of Power, Culture, Meaning, Understanding, Interrelations, Interactions, Individuals, Groups
, which means that even if the only group identifier of an individual is the main language he speaks, then e.g. he could be called an Englishman if he speaks English (descending linguistically from Englishmen speaking English, if he so likes to put it that way and so likes to create his own Identity Pillars and or Identity Myths), and whether or not he does or does not want to refer to any other social (collective, group) fact, or whether he enjoys or does not enjoy Recognition by Others as an Englishman. So, if someone of Chinese descent and or race (Han) claims to be American, then that is something which can and does happen in the real world because the state of the USA identifies him as an American through citizenship, and he identifies with the USA. Of course, people can have a number of group referents, i.e. a number of identities, whether legal, and or "personal" and or "political" etc.. Race and reference to race and or descent have historically (and today in still not a few concrete circumstances) been a significant part of many identities, so that the argument that race
must
be
excluded
is simply a political argument and is as valid or as invalid as the argument that
race
must be
included
. It all depends on the situation, the polity, the state, the individual and groups involved, the circumstances. THERE IS NO SET FORMULA, NO IRON LAW(S). People can be Identity-Confused or Identity-Certain or a bit of both etc., etc., etc.. What every individual views as identity can and does not infrequently differ to what a state and or e.g. the (GROSSLY DISPROPORTIONATELY) ZIO-BRAIN-WASHING MASS MEDIA view as identity, etc., etc., etc.. Because I live in a multi-racial and "multi-cultural" society, which is "multi-cultural" and yet has as its basis, Hedonistic Consumption - bit strange isn't it? - I am always polite to everyone in all my arm's length business dealings, whether I have in front of me a Han Man, an Anglo Man, a Jew Man, a Hindu Man, a Black Man, a Mixed Man, or Satan Man,... unless that Man is being rude to me, and then I become RUDE BACK! Of course, public politeness and good manners have nothing to do with personal preferences, which are all ultimately subjective as a matter of Taste because even the objective social-cultural circumstances to which my subjective matter of Taste refers are ultimately subjective and relative since they are Historical and NOT FIXED in time and place forever, and change, though they can and do contain elements of continuity as well as all the breaks. I feel best when I am with my fellow Tribesmen and Tribeswomen who have High Tribal Consciousness and Respect roughly the same Traditions, Worship and Culture and who Agree with Me on who are the manifestations of SATAN.
DEATH TO SATAN
!!!
DIE SATAN, DIE
!!! SATAN, DIE, DIE, DIE!!!
DIE, DIE, DIE, SATAN
!!! SATAN DIE, DIE...
DEATH TO SATAN!!!
Τώρα τὰ ἀστεῖα τελειώσανε, τώρα παίζεται ἄν θὰ ζήσουμε
Τώρα τὰ ἀστεῖα τελειώσανε, τώρα παίζεται ἄν θὰ ζήσουμε, κᾶτι ποὺ σημαίνει ὅτι οἱ πολιτικοὶ πρέπει νὰ σοβαρευτοῦνε, πρέπει νὰ ξεχάσουν τὴν μικροπολιτική, πρέπει νὰ συναινέσουν ὅσο τὸ δυνατόν, στοῦ Γένους μας τὴν ἀναπαραγωγή, στὴν Διαφύλαξιν τῆς Ἐπικρατείας, στὸν ὁμαλὸ δημόσιο βίο, μὲ ὅσο γίνεται λιγοτέρα ἀνομίαν, καὶ μὲ ἔξυπνη μεταναστευτικὴ πολιτική, εἰδάλλως ἐπιλέγεται ἡ Ἀφάνεια, ἐπιλέγεται ἐκ τῶν πραγμάτων ἡ τοῦ Ἄλλου Κυριαρχίαν, διότι Κενὰ δὲν ἀφήνει μῆτε ἡ Φῦσις, μῆτε οἱ ἄνθρωποι μὲ θέλησιν διὰ ΖΩΗ (Τοῦρκοι, Ἀλβανοί, Ἰσραηλινοί, π.χ. καὶ λόγου χᾶριν). Σύνορα Αὐστηρῶς Φυλασσόμενα. Ταυτοποίησις (κινουμένη καὶ εὐέλικτος ἀναλόγως) τοῦ Σατανᾶ. Ἔξυπνη, ἄμεσος Δρᾶσις βάσει Ῥεαλισμοῦ τε καὶ τῶν Δυνάμεων τοῦ Συσχετισμοῦ. ΔΕΝ χρειάζονται Ἀγνότητες διὰ τὴν Ἐπιβίωσιν τὴ Συλλογική, μῆτε Αἰώνιοι Ἐχθροὶ καὶ Αἰώνιοι Σατανᾶδες - ἀκόμα καὶ ἡ Τουρκία θὰ μποροῦσε ἐν τῇ θεωρίᾳ νὰ ἦτο Σύμμαχος Σοβαρός, ἄν αἱ συνθῆκαι ἦσαν τέτοιαι... ἀλλὰ αὐτὸ ποὺ σίγουρα χρειάζεται εἶναι ἡ Σκληρὴ Ἐργασία, Περισσοτέρα ἀπὸ Κατανάλωσιν Παραγωγή, τῆς Συλλογικότητος ἡμῶν
Καλλιέργεια
, Τεχνολογία Ὑψηλή, καὶ Ἐνσωμάτωσις τοῦ Ἄλλου, δηλαδὴ ὅ,τι ἐνσωματώνεται εἰς τοῦ Ἑλληνισμοῦ τὴν Συνδυαστική.
The Synagogue of SATAN, The Chinese Communist Party, Cosa Nostra, Mecca, Moscow, Istanbul,... (or: "Conspiracy" is the Accusation Flung by the ZIO-SATANISTS and all the other In-Group People who have their GROSSLY DISPROPORTIONATE Forms of Power to "Protect", "Expand" and "Cherish" - there may not be any conspiracies, but there sure as HELL are GROSSLY DISPROPORTIONATE ACCUMULATIONS, CONCENTRATIONS, CRYSTAL(ISATION)S OF FORMS OF POWER - AND THEY DID NOT "JUST HAPPEN". AND OF COURSE WE COULD CHOOSE MORE "APPROPRIATE" WORDS IF WE WANTED TO, BUT REALLY JUST TO SAY THE SAME THING, ESSENTIALLY, SUBSTANTIALLY, AND SUBSTANTIVELY (DEEP DOWN), AND, Don't get me Wrong: Gibbon, Montesquieu, Braudel et al. are still and will always be GREAT in their own ways. The fact that they FUCKED UP on Hellenism and "Byzantium" and other Stuff doesn't deprive them of their GREATNESS - it just makes them less... GREAT...)
The Synagogue of SATAN, The Chinese Communist Party, Cosa Nostra, Mecca, Moscow, Istanbul... and so many other Groups of Elites in all (more complex) societies and in all times and places... Jews, Communists, Fascists, Party Member Men, Mafiosi, Ruskies, Musulmen,... Primitive Secret Society Members,... doing their Deals, Making their Money, Retaining and Increasing their forms of Power... that's the way it works... so even if a "Rule of Law Liberal Democracy" is a better place to live for most people than a "One Party Totalitarian State", there will still be various groups of elites incl. with their GROSSLY DISPROPORTIONATE accumulations, concentrations and crystal(lisation)s of forms of Power, and Democracy Strictu Senso and Senso Strictu has only ever really existed in the Hellenic World which had Elements of Ancient Continuity up to the 19th century and early 20th century under Ottoman Occupation... but the Filthy Protestants, the Filthy Jews, the Filthy Catholics, and the Other Filthy Men won't acknowledge that because we were defeated essentially, substantially and substantively in 1204 and in 1453 and we could not Impose Our Will Collectively any longer even though we set the Renaissance Alight until the ZIO-FLEA-VULTURE-PARASITE took things over with all the others in the (great and or vast) majority (Protestants, Catholics, Secularists, Atheists, et al.) on a GROSSLY DISPROPORTIONATE BASIS, particularly from the 19th century in England, in France, in Russia (until the later Stalin?), in Germany (until Hitler?), but especially and tellingly in ZIO-USA from around Woodrow Wilson's time, and that President as well as Henry Ford and many others knew and know all about it (just ask JFK or Richard Nixon, Ezra Pound, Revilo Oliver and Jo Sobran - just to name a few...), but since Simon is in Power - GROSSLY DISPROPORTIONATELY - the public is not to know, because Simon Says what can be investigated and what cannot, even though Science wants to Investigate Everything,... and that in a way is "fair enough" because P.K.'s oeuvre could not survive, let alone circulate, fully fleshed-out, even WHEN WE WERE KINGS AND GOD RULED THE COSMOS. DEATH TO SATAN!!!
Ὑπάρχει ἕν χωρίο στὸν Εὐρωπαϊκὸ Διαφωτισμὸ περὶ Μονταίν... (Οἱ Προφητικοὶ Λόγοι ἔχουν τὴν ἀξία τους καὶ πολλὰς φορὰς ἐπαληθεύονται μετὰ θάνατον)
Ὑπάρχει ἕν χωρίο στὸν Εὐρωπαϊκὸ Διαφωτισμὸ περὶ Μονταίν... ὅ,τι κατ' οὐσίαν λέει ὅτι αὐτὸς ποὺ βλέπει ὅτι αἱ ἀξίαι ἐν τελικῇ ἀναλύσει εἶναι σχετικαί, κατανοεῖ τὸν κόσμον μὲ τέτοιον τρόπον ποὺ ὁ ἴδιος τείνει πρὸς τὸν Συντηρητισμόν... Ἄραγε ἐμεῖς οἱ «Ὑπερσυντηρητικοὶ» ἴσως χάσαμε τοὺς δῦο τελευταίους αἰώνας, ἀλλὰ ΕΡΧΕΤΑΙ Ἡ ὭΡΑ ΤΩΝ ΠΡΟΟΔΕΥΤΙΚΩΝ ΟΥΤΟΠΙΣΤΩΝ ΚΑΙ Ἡ ὭΡΑ ΑὝΤΗ ΔΕΝ ΘΑ ΕΙΝΑΙ ΕΠ' ΟΥΔΕΝΙ ΛΟΓῼ ΕΥΧΑΡΙΣΤΗ. ΚΑΙ ΜΕΤΑ ΘΑ ΔΟΥΝ ΟἹ ΑΝΘΡΩΠΟΙ ΤΙ ΘΑ Πῌ ΣΥΝΤΗΡΗΤΙΣΜΟΣ. ΦΩΤΙΑ. ΤΣΕΚΟΥΡΙ. ΑΣΤΡΟΠΕΛΕΚΙ. ΣΑΣ ΤΟ ΔΙΑΒΕΒΑΙΩ.
Why would anyone ever make a reference to Jürgen Habermas? (Or: Hannah Arendt had a number of positives, not least of all because she was a student of Tönnies in my own Interpretation - right or wrong - of Her)
Why would anyone ever make a reference to Jürgen Habermas other than to criticise the Clown? Who in their right mind would praise someone who wrote thousands of pages only to come to the "conclusion" that people should sit around a Table and Communicate and that thereafter "it will follow" - as it "just happens" in the case of elite Jews involved in elite-level Primitive Secret Society Networking - that the Theory of Communication (Communication Theory) will become Reality in Practice even though the Dumbest Man on the Block could tell you that there is Reality and there is Bullshit.
This is serious Stuff. I'd pay close attention if I were YOU
This is serious Stuff. I'd pay close attention if I were YOU. Leaving aside the labels of "Far/Loony Left" and "Far/NAZI Right" etc., if Western mass democracies have entered an era where the Share of the World Wealth Pie of the West has declined considerably and will decline still further, how on earth can anyone expect a return to 1950s-1980s mixed-economy, welfare-state prosperity? And if multi-racial, multi-cultural Western societies are now showing signs of beginning to break up, and if Autocracy - a form thereof - "needs" to be and or is imposed, either to keep the multi-racial, multi-cultural "wonderful societies" going at least officially and propagandistically on a "I, the State, am a Fire Man Fire Brigade" basis, or "alternatively", to acknowledge the historical core race or ethnos of the Western country in question, without though being able to return to a state of near Whitish Nationalism because "Law and Order" will have to include the law-abiding people of the groups of the Other to have any chance of some success,... whatever the case may be... don't you SEE, that our time is UP?
Oh Surprise-Surprise, Surprise-Surprise, the Dudes (or Filth - it depends on how you see things) who most Vociferously call for "One World Open Societies"
Oh Surprise-Surprise, Surprise-Surprise, the Dudes (or Filth - it depends on how you see things) who most Vociferously call for "One World Open Societies" are the same Dudes (or Filth - depending on how you see things) who engage in non-stop Primitive Secret Society Networking, i.e. in Networking of "Doors Shut Tight" Societies (in some Synagogues of Satan there are all these Rooms where the Doors get SHUT and all sorts of Deals are made between groups of Satanic Circus Monkey People who go between and betwixt the Rooms and make and do further Deals whether within the Law or NOT), and who "just happen" to insist that Israel should have FULLY SHUT BORDERS and not a quarter of one half of an invading mosquito be allowed to pass... NO PASARAN (¡No pasarán!
) the Satanists say...
Monkeys, Apes, Chimpanzees, Orangutans, Tarzan, Jane and Cheetah
Monkeys, Apes, Chimpanzees, Orangutans, Tarzan, Jane and Cheetah. Before I ever call anyone else an APE I always call myself The First APE - APE NUMBER ONE, NUMERO UNO APE - because all humans come out of - and can never fully escape - NATURE. What this means in practice is that all humans have group affiliations of some kind, whether they like it or not, whether they acknowledge it or not, and if a guy of e.g. African or Chinese or Hindu or even Musulman-ZIO-Semite descent has Hellenised himself and wants to be a part of MY TEAM, MY TRIBE, MY COLLECTIVE IDENTITY, and if that guy acknowledges that Historically Most - the Vast Majority - of us Hellenes-Romans-Greeks were relatively Southern European or Near-Middle Eastern White to Whitish-Tanned sort of, and if that guy is willing to go to the Front Line with Me to Defend our Borders, to Defend our Boundaries, to Defend our Territory and Culture (inclusive of the Greek Orthodox Church), i.e. to Defend our Collective Identity AGAINST SATAN and its SATANIC CIRCUS MONKEY, then that guy is Tarzan, and he can marry and have children with my niece Jane (if Jane wants that guy - and as far as I can tell, there are not a few of my nieces called Jane who want that guy, want that Big/Small/Dirty/Clean Dick-Sausage or whatever), and I of course remain nothing other than, nothing but, Smiling Cheetah Chewing Stuff and Clapping.
Γνωρίζω ἀνθρώπους ποὺ ἔχουν κάμνει (ὥς καὶ πάρα) πολλὰ χρήματα διότι δούλεψαν πολὺ σκληρά... διπλές, τριπλὲς βάρδιες συνεχομένας τε καὶ συνισχομένας διὰ δεκαετίας ὁλάκερες... ἀκόμα καὶ στὸ νοσοκομεῖο κατέληξαν καὶ ἔφτασαν στὸν Θάνατον (Χᾶρον) παρὰ ἕν δεύτερο... ἀλλὰ καὶ βάλανε καὶ τὸ μυαλό τους νὰ δουλέψῃ...
Γνωρίζω ἀνθρώπους ποὺ ἔχουν κάμνει (ὤς καὶ πάρα) πολλὰ χρήματα διότι δούλεψαν πολὺ σκληρά... καὶ ὅλοι τους, εἴτε ἄνδρες, εἴτε γυναῖκες (ὑπάχουν καὶ κᾶτι πολὺ ἄξιες γυναῖκες, δουλευταρᾶδες καὶ γυναῖκες μὲ γυναικεῖα χαρακτηριστικά), ἀπεχθάνονται τὰς κουτοφαντιασμένας ἰδέας, ἀπεχθάνονται τὴν ἔλλειψιν ῥεαλισμοῦ... διότι ξεύρουν πὼς βγαίνουν τὰ γρόσια, μὲ τὶ μόχθο, μὲ τὶ κόπωσιν, μὲ τὶ ἐξάντλησιν τοῦ σώματος καὶ τοῦ νοῦ.
On a Page involving Marx, how could we not mention (again) Class Struggle and Class War? (Or: Marx's good bits)
On a Page involving Marx, how could we not mention (again) Class Struggle and Class War? Throughout History there have been all kinds and all manner of Group Struggles and Group Wars, Collective Struggles and Collective Wars involving Groups, Collectives and Individuals, and one of those kinds of Struggles and Wars is that of Class. But Before we make any Big General Statements Ending up "Explaining" what the History of Mankind is or is not, let's just say that the Science of History (Historical Science) requires Concrete Analyses of Concrete Situations, Specific Analyses of Specific Situations, and then we should be able to Find that Statements that All hitherto History is about Class War or Patriarchy or Whiteness or Hetero-normativity or Islam-Misconstruction or FULL-SPECTRUM ZIO-Lobotomy or whatever the FUCK else your NORMATIVE PROGRAMME and UTOPIAN BRAIN-FUCK conjures UP, let's just say that things are much more complicated and that we should leave social, historical and the human sciences in general to P.K. and not to too many others, one of whom is Marx as far as his "good bits" are concerned.
"Everybody" needs a bit of Haydn...
"Who" doesn't love Fritz? - The fucking filthy Kraut - this Site thinks he's really very Special... ("too fast", "too slow", "too rough", "too smooth", "sloppy", "too cold",... - who cares? At the end of the day, all the Greats are Great because they DO IT THEIR WAY... and make it - for the Duration of their Performance - their own...) YOU TRY AND DO SOMETHING AT A VERY HIGH OR AT THE TOPMOST LEVEL, SMART-ARSE!!!
Who could possibly resist this "High-IQ Shit?" Personally, I know nothing about the IQ stuff, but my senses tell my mind, that the bitch is ABSOLUTELY GORGEOUS, the bitch's voice is ABSOLUTELY DIVINE, that I'd never call her "bitch" if I ever got to meet her face-to-face (after Death), and of course that Mozart only answers to... BACH, J-S. (The presenter was a great Wagnerian singer himself)
THIS IS MY GIRL!!! GO MARIA!!! ΑΓΑΠΗ ΜΟΥ!!! ΕΛΑ ΝΑ ΔῌΣ ΚΑΙ ΝΑ ΑΚΟΥΣῌΣ ΚΥΡ' ΑΓΓΕΛΩ!!!
Marx - Kondylis:
Final Score: 1 - 2
NOT RELATED TO MARX, BUT ON MY SITE I CAN SAY WHATSOEVER THE FUCK I WANT (PROVIDED IT IS WITHIN THE LAW) WHERESOEVER I WANT, AND HOWSOEVER I WANT:
"He who does not love his mother more than other mothers and his country more than other countries, loves neither his mother nor his country." - Charles de Gaulle (and I'm quite sure nearly all Israelis (and other Jews in private if not publicly) agree with that particular DEAD FROG WHO HAD A FIRM - NOT WISHY-WASHY - IDENTITY... Ribbit Ribbit Ribbit...
Εἶναι ἀπολύτως ἀναγκαῖο ὅλοι οἱ σοβαροὶ ἀναλυταί, πατριῶτες καὶ ἄνθρωποι μὲ εἰλικρινὴν διάθεσιν πάντα νὰ συμβάλουν εἰς τὸν δημόσιον διάλογον μὲ σκοπὸν τὴν ἀποφυγὴν ἐμφυλίων καταστάσεων καὶ μὲ τὸν ἐντοπισμὸ κοινοῦ ἐδάφους εἴτε λέγεσαι Δημ. Κωνστ. εἴτε λέγεσαι Ἀθ. Δρ.. Ἐγὼ ξεύρω ὅτι οἱ πραγματικοὶ Ἕλληνες (Ῥωμιοὶ) πάντα ἔχουν ὡς στόχον ἀπώτερον τὸ καλὸ τοῦ ἑλληνισμοῦ, καὶ αἱ διαφωνίαι σέβονται ὡς διαφωνίαι - δὲ γίνεται νὰ συμφωνήσουμε πάντα διὰ τὰ πάντα, ἁπλῶς δὲ γίνεται αὐτό... - ἀλλὰ πάλι, τὸ κοινὸ ἔδαφος εἶναι αὐτὸ ποὺ μᾶς ἑνώνει. Καὶ ὅταν ὁ Γενικὸς Διάλογος μεταξὺ τῶν εἰδικῶν κινεῖται εἰς Ἐπίπεδο Ὑψηλό, τότες εὐχόμαστε ὅτι κᾶτι θὰ ἀρχίζῃ νὰ περνάει στοὺς πολιτικοὺς καὶ ἐλίτ, οἱ ὁποῖοι ἀσκοῦν πραγματικὴν ἐξουσίαν. Ἔχω προσπαθήσει νὰ ἐξηγήσω ὅτι τὸ ἔργο τοῦ Π.Κ. εἶναι τὸ ΜΕΤΡΟΝ ΕΣΧΑΤΟΝ (Ultimate Yardstick) τῆς Ἐπιστήμης τῶν Ἀνθρωπίνων Πραγμάτων, καὶ ἀπὸ κάτω ἀπὸ αὐτὸ τὸ μέτρο, οἱ ὑπόλοιποι ἔχουμεν καθῆκον νὰ φτάνουν τὰ μηνύματα εἰς μορφήν «ποῦ μασᾶται» εἰς πολιτικούς, ἐλίτ, καὶ λαό. ΔΕ ΓΙΝΕΤΑΙ ΑΛΛΙΩΣ. Καὶ ἐπειδὴς προσέθεσα σύνδεσμο ἄρθρου τοῦ Δημ. Κωνστ. ἄνωθεν (διότι κι ἐγὼ ὅπως καὶ ὁ Π.Κ. καὶ ὁ συγχωρεμένος παλαιὸς φῖλος τοῦ Π.Κ. ὁ Κῶστας Βεργόπουλος καὶ ὁ Ἀρβανίτης καὶ τόσοι πολλοὶ ἄλλοι προερχόμαστε γενικῶς ἀπὸ παρομοίους χώρους μὲ τὸν Δημ. Κωνστ.), τώρα προσθέτω καὶ τὸ ἀκόλουθο σύνδεσμο (https://www.analystsforchange.org/2018/11/blog-post_86.html?temp-new-window-replacement=true + https://www.analystsforchange.org/2018/11/mh.html?temp-new-window-replacement=true (γιὰ τὸν προπάππο μου, Εὐστάθιο πεσόντα ἐπὶ τοῦ ΠΠΠ (δὲν ὑπάρχει μέρα ποὺ δὲν τὸν σκέπτομαι... καὶ ὅλους τοὺς ἄλλους Ἕλληνες...) - καὶ ὅποιος κάθεται μὲ τὸν Μαζαράκη (Ἀγγλιστί: "fat guts" Mazarakis) ὅστις εἶναι ΛΕΒΕΝΤΗΣ ΠΡΑΓΜΑΤΙΚΟΣ (τὸν ἔχετε δεῖ νὰ χορεύῃ ζεϊμπέκικο στὸ Στὴν Ὑγειά Μας;), πρέπει νὰ ἔχει ἀρκετὰ θετικὰ στοιχεῖα (quite a bit going for him) - XAXAXAXAXA...)) μὲ τὸ μήνυμα ὅτι οἱ ἀναλυταὶ καὶ ἐπιστήμονες νὰ κάνουν πάντα ὅσο καλὰ μποροῦν τὴ δουλειά τους μὲ ῬΕΑΛΙΣΜΟ καὶ ΣΟΒΑΡΟΤΗΤΑ (κι ἄς διαφωνοῦμεν περὶ τῶν ἐπὶ μέρους καὶ καθεκάστων) καὶ ὅτι οἱ ΠΟΛΙΤΕΥΟΜΕΝΟΙ νὰ προσπαθήσουν νὰ ἀποφεύγουν ὅσο γίνεται τοὺς ἐμφυλίους διχασμούς, καὶ ΠΑΝΤΑ ΝΑ ΠΡΟΣΠΑΘΟΥΝ ΝΑ ΚΕΡΔΙΣΟΥΝ ΟΣΟΥΣ ΓΙΝΕΤΑΙ ΑΠΟ ΤΟΝ ἉΠΛΟ ΚΟΣΜΟ... ΚΑΙ ΑΠΟ ΤΟΥΣ ΕΘΝΟΜΗΔΕΝΙΣΤΑΣ, ΚΑΙ ΑΠΟ ΤΟΥΣ ΧΡΥΣΑΥΓΗΤΑΣ,... ΔΙΟΤΙ Ο ΣΤΟΧΟΣ ΠΑΝΤΑ ΠΡΕΠΕΙ ΝΑ ΕΙΝΑΙ ΝΑ ΕΚΜΗΔΕΝΙΖΟΝΤΑΙ ΤΑ ΕΜΦΥΛΙΟΠΟΛΕΜΙΚΑ ΑΚΡΑ ΚΑΙ ΝΑ ΣΩΘῌ Ἡ ΠΑΤΡΙΣ ΠΟΥ ΠΡΑΓΜΑΤΙ ΚΙΝΔΥΝΕΥΕΙ (ΤΕΡΜΑ ΤΑ ΑΣΤΕΙΑ). Ο ΑΝΘΡΩΠΟΣ, Ο ΚΑΘΕ ΑΝΘΡΩΠΟΣ, Ο ἝΚΑΣΤΟΣ ΑΝΘΡΩΠΟΣ, ΕΝ ΤΕΛΙΚΗ ΑΝΑΛΥΣΕΙ, ΑΝΗΚΕΙ ΕΙΣ ΜΙΑΝ ὉΜΑΔΑΝ ἭΤΙΣ ΚΟΜΙΖΕΙ ΠΟΛΙΤΙΣΜΟΝ (ΓΛΩΣΣΑΝ (ΔΙΑΛΕΚΤΟΥΣ, ἹΣΤΟΡΙΚΑΣ ΜΟΡΦΑΣ), ΠΑΡΑΔΟΣΕΙΣ, ΘΡΗΣΚΕΙΑ/ΘΡΗΣΚΕΙΕΣ, ΜΥΘΟΥΣ, ΣΥΝΕΧΕΙΑΣ, ΡΗΞΕΙΣ, ἹΣΤΟΡΙΑΝ (ἹΣΤΟΡΙΕΣ), ΤΑΥΤΟΤΗΑΝ (ΤΑΥΤΟΤΗΤΑΣ)) καὶ ἡ δική μας Ταυτότης εἶναι ἡ ΕΛΛΗΝΙΚΗ-ῬΩΜΕΗΚΗ καὶ ἡ πατρίς ἡμῶν εἶναι ἡ Ἑλλὰς καὶ ἡ Κῦπρος καὶ ἡ Καρδία τε καὶ ἡ Ψυχή μας, ὅπου καὶ νὰ βρισκόμεθα.
ΕΝΑ ΜΟΙΡΟΛΟΪ ΓΙΑ ΤΟΝ ΚΑΤΣΙΦΑ (http://ardin-rixi.gr/archives/209999?temp-new-window-replacement=true) «ΑΝΤΙΟ ΠΑΛΛΗΚΑΡΙ ΜΑΣ, ΕΓΩ ΚΑΙ Η ΚΥΡ' ΑΓΓΕΛΩ ΠΑΝΤΑ ΘΑ ΣΕ ΧΑΙΡΕΤΑΜΕ ΚΑΙ ΑΠΟ ΤΗΝ ΑΛΛΗ ΑΚΡΗ ΤΟΥ ΚΟΣΜΟΥ! (Οἱ ἄλλοι νέοι ὅμως ἐθνοπατριῶτες νὰ μαθαίνουν νὰ σταθμίζουν τὴ συγκυρία ῥεαλιστικά, καὶ νὰ δροῦν μὲ τὸ μυαλὸ περισσότερο ἀπὸ ὅ,τι μὲ τὴν ψυχὴ τε καὶ καρδιά. Σᾶς θέλουμε ΖΩΝΤΑΝΟΥΣ - εἶστε τόσο λίγοι... σὲ σχέση π.χ. μὲ τὴν ἐποχὴ τοῦ Παύλου Μελᾶ...)...»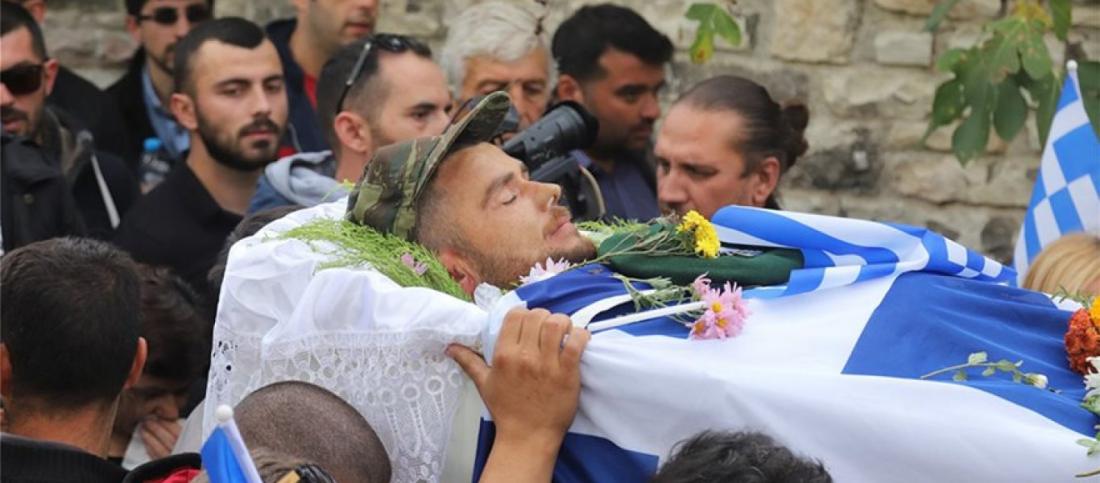 Καὶ τὸ ξεύρουμεν ὅτι ὁ Κόσμος τραβᾷ μπροστά, ἀλλὰ ἐγὼ καὶ ἡ κυρ' Ἀγγέλω μου ἐδῶ πάντα πηγαίνουμε - ἄνευ ἐπιστροφῆς:
Ὅσο ἀπίστευτο καὶ νὰ φαίνεται, ἡ Ἀπόλυτος Λατρεία ποὺ νοιώθει κανεὶς γιὰ τὴν Βέμπο, ξεπερνιέται, ὅπως ὁ Χαλκοκονδύλης ὁ Νεώτερος ξεπέρασε τὸν Πρεσβύτερο, δηλαδή, τὸν Θουκυδίδη. Ἀλλὰ εἶναι πλέον ἀργά, καὶ ἡ Οὐτοπία τοῦ Μάρξ, ποτὲς δὲν θὰ ἠμποροῦσε νὰ ὑπάρξῃ, ἐνῶ ἡ Κυρ' Ἀγγέλω, ἡ Σοφία,... καὶ ἡ Βίκυ μας... ἡ Βίκυ μας... ἡ Βίκυ... εἶναι πραγματικές... (καὶ ξεύρω 100% ὅτι αὐτὰ εἶναι ὅλα γοῦστα καὶ ὑποκειμενικά, ἐν τελικῇ ἀναλύσει, ἀλλὰ μόνο ἔτσι ἠμπορῶ ἐγὼ ὁ Τρελλαμένος γεννημένος τὸ 699 μ.Χ. νὰ κατανοήσω καὶ νὰ ἀσχοληθῶ μὲ τὸν Ἐγγονὸν καὶ Ὑιὸν Πραγματικῶς Σπουδαίων Ἀνδρῶν, ὅπως ἔλεγε ὁ ἴδιος...)