Disclaimer: Nothing within this page or on this site overall is the product of Panagiotis Kondylis's thought and work unless it is a faithful translation of something Kondylis wrote. Any conclusions drawn from something not written by Panagiotis Kondylis (in the form of an accurate translation) cannot constitute the basis for any valid judgement or appreciation of Kondylis and his work. (This disclaimer also applies, mutatis mutandis, to any other authors and thinkers linked or otherwise referred to, on and within all of this website).

FOR "CONSERVATISM AS A HISTORICAL PHENOMENON", SCROLL DOWN!
NOW ONLINE!

KONSERVATIVISMUS (CONSERVATISM) BY PANAJOTIS (PANAGIOTIS) KONDYLIS -

ARGUABLY THE GREATEST BOOK COMBINING THE HISTORY OF IDEAS WITH SOCIAL-POLITICAL-LEGAL HISTORY EVER WRITTEN. LET'S TRY TO GET THIS TRANSLATED INTO ENGLISH BY 2040!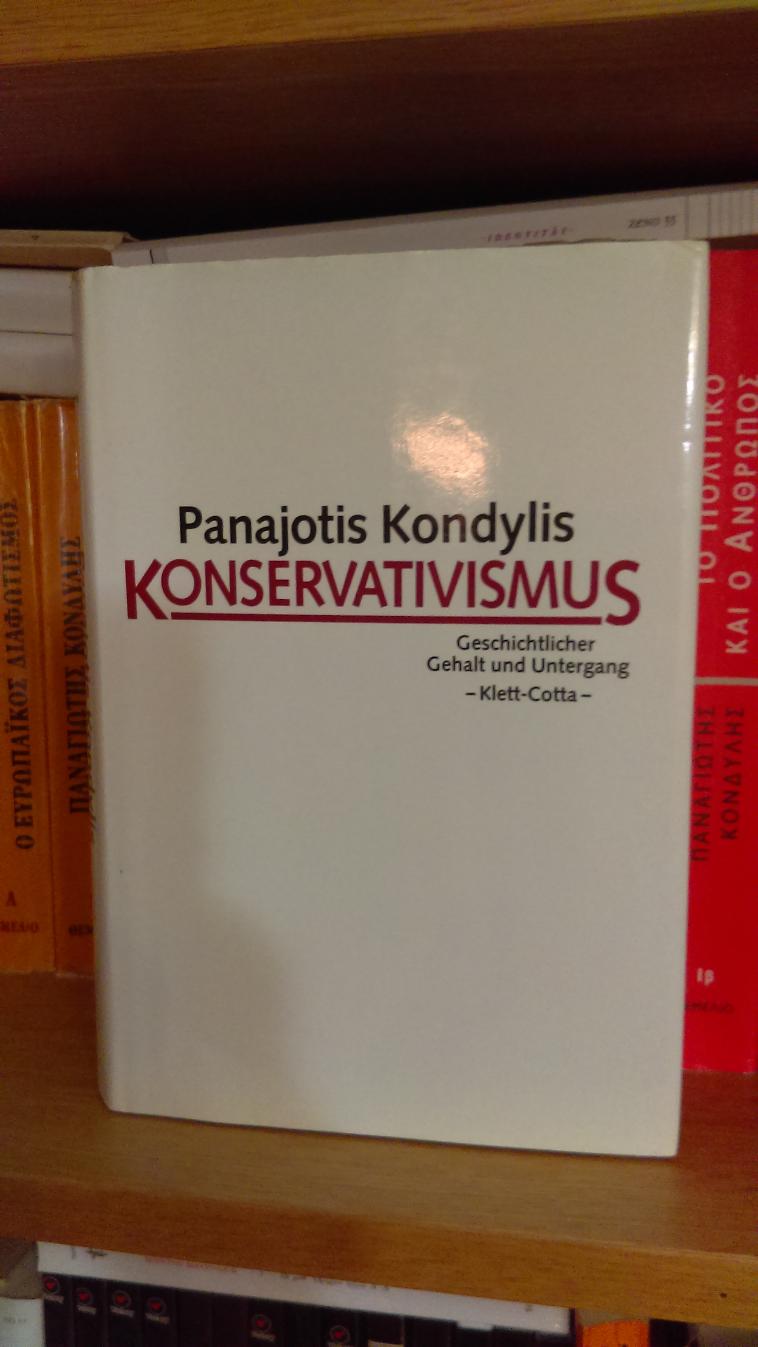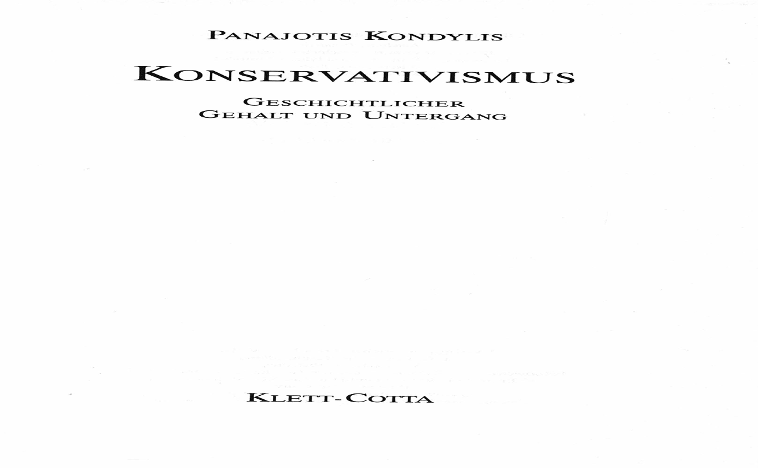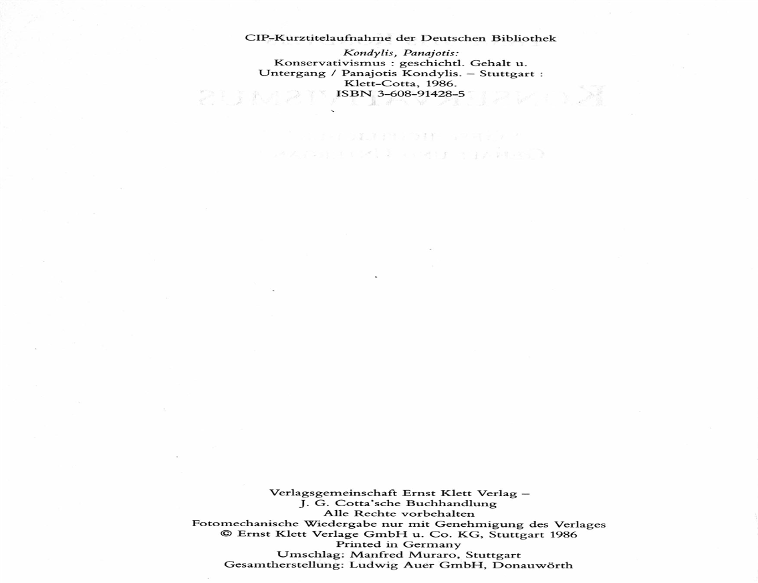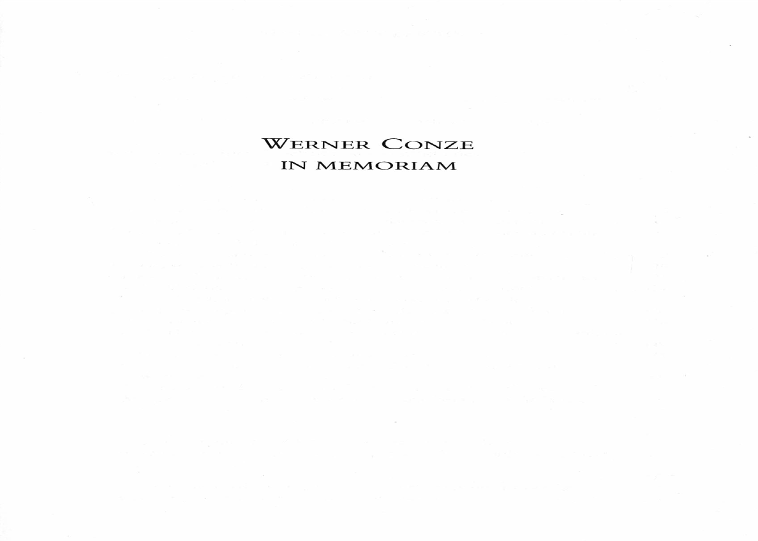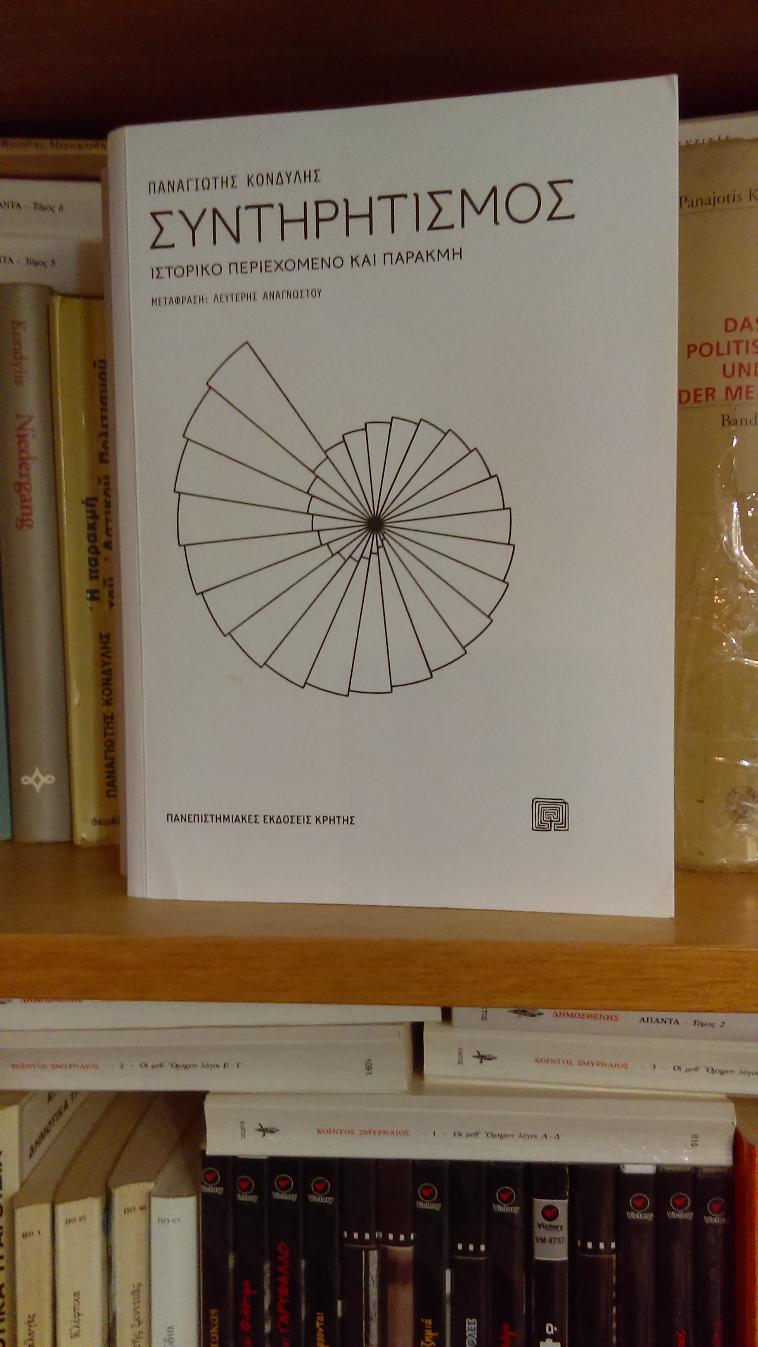 ANYTHING WHICH IS NOT P.K.'s WORDS, FAITHFULLY TRANSLATED, HAS NOTHING TO DO WITH P.K.!!! DON'T WASTE YOUR TIME READING OR LOOKING AT SOMETHING NOT BY P.K.!!! PARTICULARLY IF IT'S SOMETHING ADDED TO THIS SITE, BY ME, THE INSANE, CRAZED, LOONY, MAD SATIRICAL-LITERARY PERSONA BORN c. 599 TO c. 999 A.D.!!! ALWAYS, OBSERVE, FOLLOW, OBEY AND ABIDE BY THE LAW!!! NO NORMATIVE PROGRAMME OF ANY KIND IS BEING PROMOTED OR SUGGESTED BY ME, EVER!!!

"CONSERVATISM AS A HISTORICAL PHENOMENON"
[[PAY PARTICULARLY CLOSE ATTENTION TO FOOTNOTES 1, 2 AND 3!!! THEY CONTAIN A WEALTH OF INFORMATION ABOUT DIFFERENT SCHOLARLY APPROACHES TO "CONSERVATISM", INCLUDING THE GREAT KARL MANNHEIM, F. VALJAVEC AND SAMUEL HUNTINGTON, AMONGST OTHERS.]]
[[IN THE BRIEF DISCUSSION OF THE GENERAL PSYCHOLOGICAL STATES OF THE EUROPEAN ARISTOCRACIES OF YESTERYEAR, IT BECOMES ABSOLUTELY CLEAR THAT WHERE A GROUP (E.G. CLASS, NATION, RELIGIOUS AND OR ETHNIC GROUP, ETC.) LOSES BOTH THE COLLECTIVE WILL AND COLLECTIVE POWER TO DOMINATE AN AREA/SPACE AND OTHER GROUPS AND PEOPLE, AND IF IT'S NOT BEING LEFT ALONE BY OTHERS, THEN IT'S TIME IS EITHER UP OR NEARLY UP OR DEFINITELY WILL BE UP. SO CONSIDER WHAT THIS MEANS IN THE CASE OF SATANIC CIRCUS MONKEY PEOPLE AND THEIR PRIMITIVE SECRET SOCIETY NETWORKING AT ELITE LEVELS IN CERTAIN COUNTRIES AND TRANS-NATIONALLY... AND WHERE THE WEST IS HEADED PRIMARILY BECAUSE OF THE FUNDAMENTAL WORLD VIEW AND LIFE STANCES OF WESTERN PEOPLES AND ELITES THEMSELVES... NOT ONLY IS THERE NOTHING TO CONSERVE ANYMORE, THE WAY THINGS ARE GOING, THE FUTURE BELONGS TO THE OTHER AND OR THE APE. THE WEST IS EFFECTIVELY DEAD - IT'S JUST A MATTER OF A FEW MORE TO SEVERAL DECADES BEFORE EVERY MAN AND HIS DOG REALISE IT (AND IF I'M WRONG, I'M WRONG, AND THAT WILL BE PROVEN PROBABLY WAY AFTER MY DEATH - A-HAHAHAHAHAHA!!!!!!!!!!!!!!!!!!!!!!!!!!!!!!!!!!!!!!!!!!!!!!!!!!!!!!!)]]
[[AND FOR ANY SMART-ARSE TUNING IN, THE ABOVE DOES NOT MEAN E.G. THE USA WILL NOT BE ABLE TO CONTINUE AS A MORE OR LESS UNIFIED STATE FOR EVEN UP TO CENTURIES MORE, IT'S JUST THAT IT TOO WILL BE SUBJECT TO ALL THE CIVIL STRIFE (ANOMIE ETC.) ONE GETS IN SITUATIONS CONDUCIVE TO PANCHO VILLA AND EMILIANO ZAPATA TYPES... THERE'LL BE A LOT OF HEROISM, FOR SURE, BUT THERE'LL BE A LOT OF PISTOLEROS TOO... PROBABLY MANY MORE THAN TODAY...]]
[[HERE WE GO!!! - TAKE THAT!!! POW!!! WHAM!!! SPLAT!!!]]

"... This perception matches the idealised image or picture of the conservative, who, by following his physical predispositions, lives with certainty and faith inside tradition and does not think nor plan outside of tradition's framework – however, this has hardly any relationship with historical data (facts). This (perception of the conservative) gives rise to or begets, thus, the erroneous impression that pre-revolutionary societas civilis did not know of ideas and ideologies, both as systematic thought (intellectual) construct(ion)s, as well as weapons. However, something like that was impossible because sovereignty and domination in this society, also just like every other domination/sovereignty at the latest from the epoch of the formation of developed cultures (civilisations), had a need for legitimation, and moreover because every conflict or clash between groups of the ruling and dominant upper stratum sought and found its own ideological justification, even if it did not surpass the framework of the basic convictions which generally predominated inside societas civilis. The theological, but also the political systems, which were formulated in the Middle Ages inside such conflicts and clashes and attempts/efforts at legitimation, do not lag behind the corresponding thought (intellectual) construct(ion)s of the New Times, neither as to argumentative refinement, nor as to systematic multilateralism and as to the claim of general or universal force (power or validity). The world-theoretical core, but also many central ideas of the ruling or dominant and legitimising ideology of societas civilis were rescued by moving onto (transitioning across to) conservative theory, which was formulated as an answer to the Enlightenment and the Revolution – and indeed not marginally, but by carrying out the function of the ideational axis, around which conservative thought revolved henceforth. The demonstration of this uninterrupted continuity, as we shall undertake it in this work, contains eo ipso the confutation of the reflexive, as it were, involuntary or unintended character of conservative theory. There exists an essential difference between the view that conservative thought was created inside its defence against the Enlightenment or against the Revolution, and the view that inside this defence of theirs, conservatives of the 18th and of the 19th century used the much older circle of ideas of societas civilis, and they reformulated them by taking into consideration the polemical needs of the then concrete (specific) situation. If, however, this modernisation of motifs of traditional thought took place in the form of reaction to and against ideological positions (theses) of a foe, the formulation and expression of ideas pertaining to natural law etc. of revolutionary rationalism also constituted itself equally a reaction to and against the ruling and dominant ideology of societas civilis, indeed it existed from the very outset as the conscious and expedient (purposeful) argumentative reversal of it (the ruling ideology of societas civilis), and, in this sense, had a character much more intensively reflexive than the modernised version of conservatism: because every position or thesis comes into being as an opposite (opposition or counter-position) or anti-thesis, and not only or mainly the conservative position or thesis, as the apologists for the conservative position/thesis want to contend, and together with them, all those who do not know how to make clear distinctions."

[[RED ALERT!

ALERT! ALERT! ALERT!

RED ALERT!

IT IS FROM THE PASSAGE BELOW, QUITE CLEAR NOW, THAT IN SCIENTIFIC CONCEPTUAL ANALYSIS, WE HAVE:
1) A DESCRIPTION AND EXPLANATION OF A SOCIAL PHENOMENON AS IT INITIALLY EXISTED AND AS IT DEVELOPED IN ITS VARIETY OF FORMS AS TO ITS CONTENT (E.G. "DEMOCRACY" IN ANCIENT GREECE WHICH META-DEVELOPED ALL THE WAY INCL. THROUGH THE EKKLESIA OF THE DEMOS, THE COMMONS, ETC. UP TO THE END OF THE OTTOMAN EMPIRE (cf. Contogeorgis, and the Two Studies by P.K. on Marx in regard to pre-industrial and pre-exchange value/capital-usury dominated society (i.e. in regard to agrarian-based use value society in the Ancient Hellenic and later (Roman-)Orthodox world (incl. the non-Hellenic Orthodox world in all its variations and with all its own distinctive Slavic and other features more generally), and other scattered references by P.K.);
2) A DESCRIPTION AND EXPLANATION OF AN IDEAL TYPE (WHICH OF COURSE IS NOT AN ENS RATIONIS, IT DOES REFER TO THE REAL WORLD, BUT IS REINFORCED OR INTENSIFIED REALITY OF DISTINGUISHING/DISTINCTIVE FEATURES (DIFFERENTIA SPECIFICA) IN REGARD TO OTHER IDEAL TYPES OF E.G. SOCIAL FORMATIONS AND POLITIES (E.G. "MASS DEMOCRACY" AS OPPOSED TO "OLIGARCHIC BOURGEOIS LIBERALISM" AS OPPOSED TO "SOCIETAS CIVILIS"(/(LATE) FEUDALISM);
AND
3) A DESCRIPTION AND EXPLANATION OF CONCEPTS REPRESENTING IDEOLOGIES (E.G. FRENCH REVOLUTION-ERA AND TODAY'S USE OF "DEMOCRACY", AND ALSO TODAY'S USE OF "LIBERALISM" AND "CONSERVATISM", WHICH CAN AND OFTEN HAVE LITTLE OR NOTHING TO DO WITH ACTUAL DEMOCRACY, LIBERALISM AND CONSERVATISM - even when they were in their final-stage historical forms which had some sort of content-related connection with reality as the real social organisation of a real society - BUT HAVE EVERYTHING TO DO WITH POLEMICS, OBFUSCATION, IDEOLOGISATION[[, INCL. SATANIC CIRCUS MONKEY GROSSLY DISPROPORTIONATE ACCUMULATIONS, CONCENTRATIONS AND CRYSTAL(LISATION)S OF WEALTH AND POWER THROUGH PRIMITIVE SECRET SOCIETY (MOB OR MAFIA-LIKE) NETWORKING (CONTROL) "BEHIND THE SCENES", WHICH, SAY, IN COUNTRIES OTHER THAN THE USA, UK, FRANCE, GERMANY, AUSTRALIA, AND THE USA'S OTHER (PART OR FULL) VASSAL STATES, WHICH ZIO-USA MORE OR LESS CONTROLS THROUGH "SATANIC CIRCUS MONKEY" EMBASSIES AND THE BIG MILITARY AND DOLLAR STICK BEHIND THE EMBASSIES, ETC., HAPPENS THROUGH RULING COMMUNIST OR OTHER PARTIES, AND OR CLIQUES AROUND "STRONG MEN" ETC., AND WHICH COULD OR PROBABLY - FOR CONCRETE HISTORICAL (GEOPOLITICAL, ECONOMIC, SOCIAL-POLITICAL) REASONS, AND NOT BECAUSE OF SOME KIND OF "MAGIC" - AMOUNT TO (AT LEAST UNTIL NOW IN HISTORY) A WORSE POLITY AND STANDARD OF LIVING FOR MOST PEOPLE ON AVERAGE, BUT NOT NECESSARILY ALWAYS, THAN THOSE COUNTRIES IN THE ZIO-USA SPHERE]].)

" ... The lack of absolute theoretical coherence (cohesion) and the almost unlimited multiformity (great variety/diversity of form) in regard to individual points, in accordance with time and place, do not constitute the characteristic feature of conservative theory, but rather the natural concomitant of the historical life of all the great political –and not only political– ideologies. For the knower of the international history of liberalism and of democracy or of socialism, the multitudinous variety or diversity of their forms from country to country, and we can say, from decade to decade, does not constitute a secret. Inside all of that, however, certain fundamental perceptions, views and stances, which justify the unified comprehension and presentation of each and every respective ideological phenomenon, remain discernible. Thus are things also as to conservatism, however, this can become apparent and manifest only when its (conservatism's) historical content is determined and defined clearly, and in this way an end is put to the arbitrary use of the concept, at least in scientific analyses." From "Conservatism as a historical phenomenon", p. 61 of the Greek journal/periodical Leviathan 15 (1994) = Konservativismus, pp. 18-19.
THERE CAN BE A GREAT DEAL OF OVERLAP BETWEEN 1 AND 2 ABOVE, AND EVEN SOME OVERLAP BETWEEN 1 AND 3, IN THE SENSE E.G. THAT ACTUAL HISTORICAL DEMOCRACY HAD A STRONG IDEOLOGICAL ASPECT AT THE TIME OF ACTUAL HISTORICAL DEMOCRACY'S EXISTENCE, SINCE AS WE KNOW FROM THUCYDIDES, DEMOCRACY CAN AT LEAST IN PART "SORT OF, KIND OF" BE THE RULE OF ONE MAN.]]

[[THIS - TO ALL SIDES OF POLITICS - IS HOW POLITICS WORKS, DICKHEADS!]]

"The general principle of conservatism, that "healthy" politics ought to start from (the) real circumstances and conditions, and as far as possible, adapt itself to these (circumstances and conditions), is basically equally empty (from a logical point of view) and polemical (if we see it (the said general principle of conservatism) functionally), as much as the related advocacy in favour of experience (empirical reality), and of the specific and concrete too. Because every politics – both revolutionary as well as conservative – must know (i.e. be familiar with) exactly the [[at the time]] given circumstances, and be oriented to this knowledge, if it wants to have success. In this elementary sense, realism does not constitute a conservative monopoly (otherwise, conservatives would not have lost any great political fight (battle)), but belongs to the self-evident properties (qualities or characteristics) of the politically endowed and gifted individual or collective body of every tendency, precisely as in all factions the airy-fairy, deluded fantasists, and all those who rush, charge and pounce blindly (without seeing, without thinking, without understanding) exist.

"
[[JUST WAIT TILL YOU READ THE TWO PASSAGES ON TRADITION AND INSTITUTIONAL ORDERS (ORGANISATION(S), RULES). I PERSONALLY MIGHT BE A "TRADITION FANATIC", BUT DEEP DOWN IT'S AT LEAST TO A SIGNIFICANT EXTENT BULLSHIT, JUST LIKE THE UNIVERSALISM (AS E.G. CHRISTIANITY, HUMAN RIGHTS, EQUALITY,... AND ASSOCIATED NOTIONS OF RACISM, SEXISM, PHOBIAS OF THIS/THAT, ANTI-THIS/THAT, ETC.) STUFF, IS TO A SIGNIFICANT EXTENT BULLSHIT, OR, A QUESTION OF INTER-RELATIONS AND INTER-ACTIONS RELATING TO IDENTITY AND POWER (SOCIETY, THE POLITICAL AND CULTURE, GROUPS AND INDIVIDUALS, RATIONALITY, UNDERSTANDING, MEANING, FRIEND-FOE, MAN-NATURE, ETC.) - AND NOTHING ELSE!]]
[[This extract from P.K.'s Konservativismus finishes with a definition of conservatism including with reference to liberalism and social democracy/ socialism - NOT TO BE MISSED!!!]]

[[Enjoy this (i.e. the "Conservatism as a Historical Phenomenon" text above)! It's one of a kind! It's more P.K. magic! BUT the matter is SIMPLE. We say, i.e. SCIENCE SAYS (i.e. that's me wearing my SCIENCE HAT): SINCE LIFE HAS NO ULTIMATE OBJECTIVE MEANING, DO WHATEVER THE FUCK YOU WANT TO DO (THOUGH, DO YOUR BEST TO OBEY THE LAW WHICH SHOULD NOT BE BROKEN, EVEN THOUGH, STRICTLY SPEAKING, SCIENCE QUA SCIENTIFIC OBSERVATION GIVES NOT A FUCK... – AND, OVER THE LONG RUN, IT'S PROBABLY BEST FOR MOST, IF NOT ALL, PEOPLE TO BE MORE REALISTIC THAN IDEALISTIC, BUT EVEN WITH THAT, THERE ARE NO "LAWS")! SO, BE WHATEVER THE FUCK YOU WANT TO BE! GET INVOLVED IN ANY KIND OF POLEMICS AND POLITICAL AND OTHER CONFLICT YOU WANT TO GET INVOLVED IN, AND USE WHATEVER THE FUCK TERMINOLOGY YOU WANT TO FUCKING USE!!! YOU'RE GOING TO DO IT ANYWAY, BECAUSE THE REAL WORLD OF SOCIAL INTERRELATIONS AND SOCIAL INTERACTIONS (SOCIAL INCLUDES POLITICAL AND CULTURAL), IS ABOUT THE CONSTANT IDEOLOGICAL SPINNING OF TOTAL FUCKING BULLSHIT AND THE FIGHTS AND STRUGGLES AND BATTLES AND WARS OVER FORMS OF POWER, AND THE REALM OF SCIENCE QUA SCIENCE IS A REALM WHERE SOCIAL PHENOMENA AND CONCEPTUALITY ARE EXPLORED MORE CLOSELY, IN MUCH GREATER DETAIL, AND WITH A TOTALLY DIFFERENT MINDSET, CAST OF MIND AND MENTALITY WHEN COMPARED TO NON-SCIENTIFIC SOCIAL INTERACTIONS, WITH THE ONLY POWER BEING THE PLEASURE OF KNOWING WHAT OTHERS DON'T KNOW.]]
[[AND WHEN I PUT ON MY NON-SCIENTIFIC, IDENTITY HAT, ALL I HAVE TO SAY IS:
DEATH TO FUCKING SATAN!!!
DIE SATAN, DIE!!!
DIE! DIE! DIE!!!
[[We're actually already effectively collectively DEAD, but I and my WOMAN, are never EVER EVER GOING TO SUBMIT IN MIND AND SPIRIT TO THE UNENDING EVIL HATE AND FILTH AND OTHERISING SATANISM OF THE SATANIC CIRCUS MONKEY AND SATAN'S REPRESENTATIVES. NEVER. DEATH TO SATAN!!!]]
THE BODY AND ETHNOS MIGHT BE IMPRISONED OR DEAD, BUT THE MIND, THE SPIRIT AND THE SOUL ARE AND WILL ALWAYS BE FREE!!!
WE ARE WITH AND WE ARE OUR ANCESTORS!!!
«ΠΑΠΠΟΥΛΗ! ΒΑΒΑ!»
WE ARE OUR MYTHS AND OUR HISTORICAL AND PRESENT REALITY!!!
WE ARE FREE!!!]]