Disclaimer: Nothing within this page or on this site overall is the product of Panagiotis Kondylis's though and work unless it is a faithful translation of something Kondylis wrote. Any conclusions drawn from something not written by Panagiotis Kondylis (in the form of an accurate translation) cannot constitute the basis for any valid judgement or appreciation of Kondylis and his work. (This disclaimer also applies, mutatis mutandis, to any other authors and thinkers linked or otherwise referred to, on and within all of this website).
OBEY THE LAW. BE NICE TO PEOPLE. DON'T BE RUDE AND OR A SMART ARSE.
REPEAT NOTICE: EVERY AUTHOR, WRITER, THINKER, SPEAKER - NO MATTER WHO THEY ARE - IS RESPONSIBLE ONLY FOR HIS OR HER OWN WORDS, AND IS IN NO WAY RESPONSIBLE FOR ANYTHING WRITTEN OR LINKED ETC. WITHIN AND ON THIS SITE BY THE LOONY (CRAZY) SITE "SPOKESPERSON-SATIRICAL-LITERARY PERSONA" (ME) OR ANYONE ELSE...

SOME SITE STUFF-UPS

(BUT ALSO SOME POSITIVE REITERATION AND REINFORCEMENT)
BECAUSE I HAVE WRITTEN "A LOT OF SHIT" (AND NOT JUST BECAUSE I AM "INSANE"), AND ALSO BECAUSE I HAVE NO PROOF-READER AS SUCH, AND NO INTELLECTUAL PEERS (THAT DOESN'T MEAN I'M HIGH, IT PROBABLY JUST MEANS "I'M DIFFERENT"), AND WHILST I HAVE TRIED MY BEST TO BE FACTUALLY ACCURATE AND LOGICALLY CONSISTENT AS FAR AS POSSIBLE, IT IS INEVITABLE THAT I HAVE MADE SOME MISTAKES AS TO FACT OR AS TO LOGIC...
HEREINUNDER ARE SOME OF THE "STUFF-UPS"... (THERE ARE NOT (AS FAR AS I AM AWARE) MANY MORE)...

1) IF SCIENCE WERE TO SPEAK TO US, IT WOULD TELL US TO "DO THE FUCK WHATEVER" WE WANT TO DO (AND WOULD NOT TELL US TO SIT STILL, BURP, FART, MOAN AND DIE).
2) (THERE WAS A SECOND ERROR WHICH I CAN'T REMEMBER NOW, BUT IF AND WHEN I RECOLLECT IT, I'LL MENTION/REFER TO IT HERE).
3) P.K. KNEW HOW TO READ (AT LEAST) ADVANCED GERMAN (E.G. KANT - THAT'S PRETTY ADVANCED!) FROM THE LATE 1950s WHILST STILL A TEENAGER, AND MY ASSERTION HE KNEW NO GERMAN IN 1970 WHEN HE WENT TO GERMANY IS BULLSHIT.
4) P.K. WENT TO GERMANY IN 1971 AND NOT IN 1970.
5) THE MACHIAVELLI INTRODUCTION AND TRANSLATIONS WERE PUBLISHED IN 1971 AND 1972 (AND NOT IN 1970).
6) "The Intellectual(-Spiritual) Structure of Utopian Constructions of the 16th and 17th Century" was written in 1971, and not in the ((mid to) late) 1970s or early (to mid) 1980s.
7) Notes on Card #45 ("Identity, power, culture" - go to the "Much on (Mull Over) This" page), suggests an important modification or addition to man being animal plus the symbols he creates.

GENERALLY, ONE COULD SAY, I'VE DONE ALRIGHT ON MY OWN (NOT EXACTLY CLOSE TO ALEMANIA) AND HAVE NOT STUFFED EVERYTHING UP TOO OFTEN AS TO FACTS AND LOGIC ... (AND I NEVER CLAIMED I WOULD NOT SWEAR, CURSE AND ANATHEMATISE, NOR HAVE I EVER CLAIMED I COULD GET ANYWHERE NEAR P.K. STANDARDS... EVERYONE HAS THEIR (OWN LEVEL OF) CAPACITY, ABILITY, "TALENT" AND ... LIMITATIONS...) ...
NEW TITLE (2019) OF GREAT INTEREST
(especially for those new to P.K.'s thought, but also for those who seek to test their understanding of some of P.K.'s fundamental positions against the views of experienced readers and studiers of the Kondylisian texts)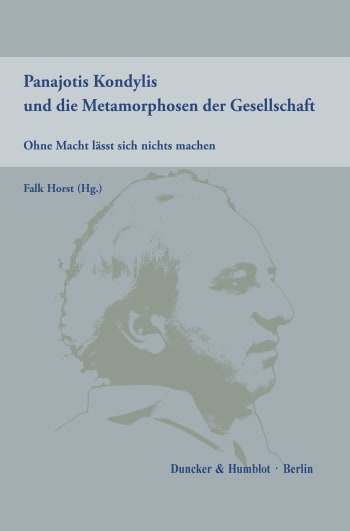 Including scholarly papers, treatises and essays on - inter alia - P.K. and:

The Enlightenment, conservatism (incl. in relation to the great Karl Mannheim), the modern sovereign state and societas civilis, the German »Sonderweg«, Clausewitz and war, descriptive decisionism, self-preservation and (striving for) power (power striving), Spinoza, wanting and thinking, monism, Thucydides,... with much valuable material regarding Giants (albeit of greatly varying stature, but still Giants compared to most!) of 20th century historiography, conceptual thinking and or sociology such as O. Brunner, W. Conze, R. Koselleck, M. Weber, H. Plessner, C. Schmitt, K. Löwith, Leo Strauss, et al. ... (with Hegel, Hobbes, Machiavelli, Kant, Rousseau, Holbach, Marx, Descartes, Aristotle and other "old-timers" making (up to) many appearances too!).

from the Introduction to the above title, a classic quote from Planetary Politics after the Cold War (1992):
"Keine Wissenschaft vom Menschen und vom Politischen kann ohne Rückgriff auf Konstanten auskommen, keine konkrete politische Analyse ist indes möglich, wenn sie die Spezifizierung der Konstanten in der jeweiligen Lage vernachlässigt."

=

"No science of man and of the political can get by or do without recourse to constants; no concrete political analysis is, however, possible, if it neglects the specification of constants in regard to each and every respective situation."
[[Whilst all of the book contains informative and explanatory material of an exceptional standard, of tremendous interest to me, and greatly satisfying to read, is Prof. Breuer's study, which dissects many intersections between the thinking of such figures as Kondylis, Mannheim, C. Frantz, Weber, Tönnies, Nietzsche, Dilthey, Simmel, Schopenhauer, Justus Möser, Hegel, Schlegel, Machiavelli, Bodin, Schmitt,... including a whole array of information about conservatism, traditionalism, world views, the theory of knowledge, the relationship between the natural sciences and cultural/social sciences, notions of (the actual experiencing of the "concrete" (as opposed to theoretical abstraction) and) "(total/overall) situations" and how they can form the basis for sociological knowledge as to social totalities and types belonging to a particular era/epoch (as opposed to the relatively gross distinction between the prima facie more generalising natural sciences and the prima facie more individualising study of historical events), the conjuncture between the more personal-emotional High-Trust relationships of tight-knit communities as opposed to de-personalisation and de-communitisation (of what I would call massified-atomised-circusised-freakshowfied-otherised-full spectrum-ZIO/USA-lobotomised etc. Satanic Circus Monkey Life) etc.. In general, though, the highlighting of the points of similarity (e.g. use of social/historical (ideal) types, or some sort of variation thereof) and points of difference between P.K. and Mannheim (Μannheim's various conceptual-logical errors e.g. as to the possibility of "bureaucratic conservatism" having any macro-historical ideal-typical meaning and use, or, as to unconsciousness and consciousness and notions of conservatism (with P.K., inter alia, rejecting the possibility of a typically unreflected traditionalism), or, making conservatism appear to be at times something detachable from concrete social-historical situations, etc.) makes for absolutely compelling reading, possibly even opening up new vistas in conceptual and theoretical (explanatory and analytical) thought... (a note for me (don't forget, I'm insane): without the emergence of European Absolutism (incl. its ideologisation by seminal thinkers such as Machiavelli and Bodin) and then Liberalism and the dissolution of estates, oikoi, relatively decentralised power structures, etc., cum secularisation, Free-Masonisation, early atomisation and massification, the associated bullshit about "tolerance" etc., the Vicious Satanic Circus Monkey Hate Tribe could never have concentrated its own forms of power at elite levels through its Privileged Place re: Mammon (Evil-Devil-Devil-Evil Luciferism and Satanism), reaching real on-going Strength in the 19th century esp. in France and England, but with also the (earlier) "special relationship" with the Dutch/Holland, etc.)... (excellent reference to anti-absolutist conservatism and Louis Dumont ("homo hierarchicus" against the "homo aequalis") and the privileging of one's group over individual rights/freedoms etc.. Post French Revolution, counter-revolutionary (pro-dictatorship) conservatism (incl. the use of Enlightenment notions against more radical "Enlighteners"), had to cope with a situation which made pre-Revolution Absolutism generally look like a conservative picnic... and hence conservatism was well on its way to "Spenglerian" defeat by c. WW1... + e.g. Romantic Enlightenment types like Adam Müller or Friedrich Schlegel could be (in part, at least) mobilised on the conservative side, since P.K. had shown The Enlightenment was not just about "rationalism" as extremist intellectualism (as K.M. and many others tend(ed) to think) heading in a particular direction... the ontological and epistemological restoration of the senses (and the anthropological-social/historical use of such restoration) in itself means a lot of "Enlightenment" thinking can be potentially used in favour of conservatism... for Mannheim, "Old Conservatism" = first half of 19th century, but he did not go into what "New/Modern Conservatism" is (though Spengler was deemed a "neoconservative"!... it's important to note that societas civilis-related conservatism was as good as dead by the second half of the 19th century, with the fusion into "right wing" nationalistic Liberalism becoming much more prominent, even though rhetorically societas-civilis-related conservatism continued up until about WW1... and "left-wing" (also nationalistic) Liberalism concerned with material rights/social welfare eventually "fused with (social/radical) democracy" to form mass democracy c. WW1/WW2)... H. Wagener and "social conservatism" c. 1848 until the 1860s (Prussia), wanting to limit the bourgeoisie incl. by appealing to lumpen/lower/petty and other strata (pensions, labour protection, some voting rights, restrictions on child labour, supervision/inspection of factory working conditions, etc.)... [[ALL "LEFT-WING SOCIALIST" FRIENDS MUST NOTE HOW MUCH COMMON GROUND THERE IS BETWEEN "THE LEFT" AND "THE RIGHT", INCL. FROM BEFORE MARX'S TIME (SOMETHING BOTH K.M. AND P.K. HAVE REFERRED TO – AND NOTWITHSTANDING THE CONSIDERABLE POINTS OF POLEMICAL DIFFERENCE TOO!]] ... from 1870, Rudolf Meyer spearheaded social conservative moves for the extension of the state etc. incl. into railroads, universal disability and old-age pension system, financing peasant conservatism etc. .... Interesting references are also included to social conservatism and "anti-Semitism" (B. Bauer, "arch-anti-Semite" (I wonder why? HAHAHAHAHA!) Eugen Dühring, incl. the assertion that the lack of discussion of such a social phenomenon is a "defect" in P.K.'s book, and is a topic not touched upon by Mannheim either. My view is that if one goes into the topic of "Semitism", "pro" or "con/anti-", it's a topic which "never ends" and which only has "significance" whether you are a Semite and or friend of Semites, and or not (the "yes and no, sort of" position), and if you are absolutely indifferent to the matter, as probably most people are, then it's of no significance, esp. when there are so many other minorities we can all talk about, incl. ones which are not "very involved" in Banking, High Finance, Modern Corporations, amongst Billionaires, Media & Entertainment Barons, Top-End-of-Town Academia, (Academic) Publishing, Law, Medicine, Government Policy Formation, etc., etc., etc.., in particular (")Western(") oligarchic bourgeois liberal, or later, mass-democratic countries). (By the way, "very involved" is not the same as a "world conspiracy", but all our Semite friends immediately jump to "world conspiracy" and "NAZI-ism" as soon as someone points out some FACTS (FACTA) as to "very disproportionate" group/individual accumulations of forms of power and wealth in elite circles in particular countries incl. through primitive secret society networking and for concrete social/economic/political-historical reasons etc., etc., etc.) ... Mannheim wrote on fascism and national socialism. Whilst fascism etc. has nothing to do with societas civilis and the old landed nobility as a ruling class, or still existent social class which not long ago was ruling, it does have to do with certain motifs/notions (anti-egalitarianism, organic society/corporate conceptualisations etc.) and aesthetic elitist-like positionings, ... with Mannheim emphasising "conservative revolution" intellectual avant-gardism much more than P.K., who emphasised WW1, Treaty of Versailles, hyper-inflation, the German nation not being fully within the states of Germany (and Austria) etc.. Mention is made of state involvement in the "fascist" economy, which was not that "economically liberal"... P.K. underestimated the aesthetic element for the German Radical/Far Right... Wagner, the S. George circle, Gottfried Benn,... = important for the middle-class acceptance of authoritarianism... + P.K. did not go into "national revolutionary and national Bolshevist" movements... the pre-history of "Nordic blood" notions as later adopted by the National Socialists... Max Webers Diktum sehen (I LOVE THIS!): "Interessen (materielle und ideelle), nicht: Ideen, beherrschen unmittelbar das Handeln der Menschen. Aber: die 'Weltbilder', welche durch 'Ideen' geschaffen wurden, haben sehr oft als Weichensteller die Bahnen bestimmt, in denen die Dynamik der Interessen das Handeln fortbewegte. Nach dem Weltbild richtete es sich ja: 'wovon' und 'wozu' man 'erlöst' sein wollte und – nicht zu vergessen: – konnte." (Max Weber: Die Wirtschaftsethik der Weltreligionen. Konfuzianismus und Taoismus. Schriften 1915-1920, hrsg. von Helwig Schmidt-Glintzer i.Z.m. Petra Kolonko, Max Weber-Gesamtausgabe, Bd. I/19, Tübingen 1989, S. 101.)]]
Also available, for free, online, are Masterful (in part) Summary-Like Presentations of some key Kondylisian Positions by

Konstantin Verykios
[[= more Lefkadian Power to supplement Contogeorgis, Svoronos, Zambelios, ... Our Two Great Poets, ... (as well as Poor Me, The Insane One) ...]]
Clausewitz und Kondylis«