Disclaimer: Nothing within this page or on this site overall is the product of Panagiotis Kondylis's thought and work unless it is a faithful translation of something Kondylis wrote. Any conclusions drawn from something not written by Panagiotis Kondylis (in the form of an accurate translation) cannot constitute the basis for any valid judgement or appreciation of Kondylis and his work. (This disclaimer also applies, mutatis mutandis, to any other authors and thinkers linked or otherwise referred to, on and within all of this website).
Introduction to Lichtenberg by Panagiotis Kondylis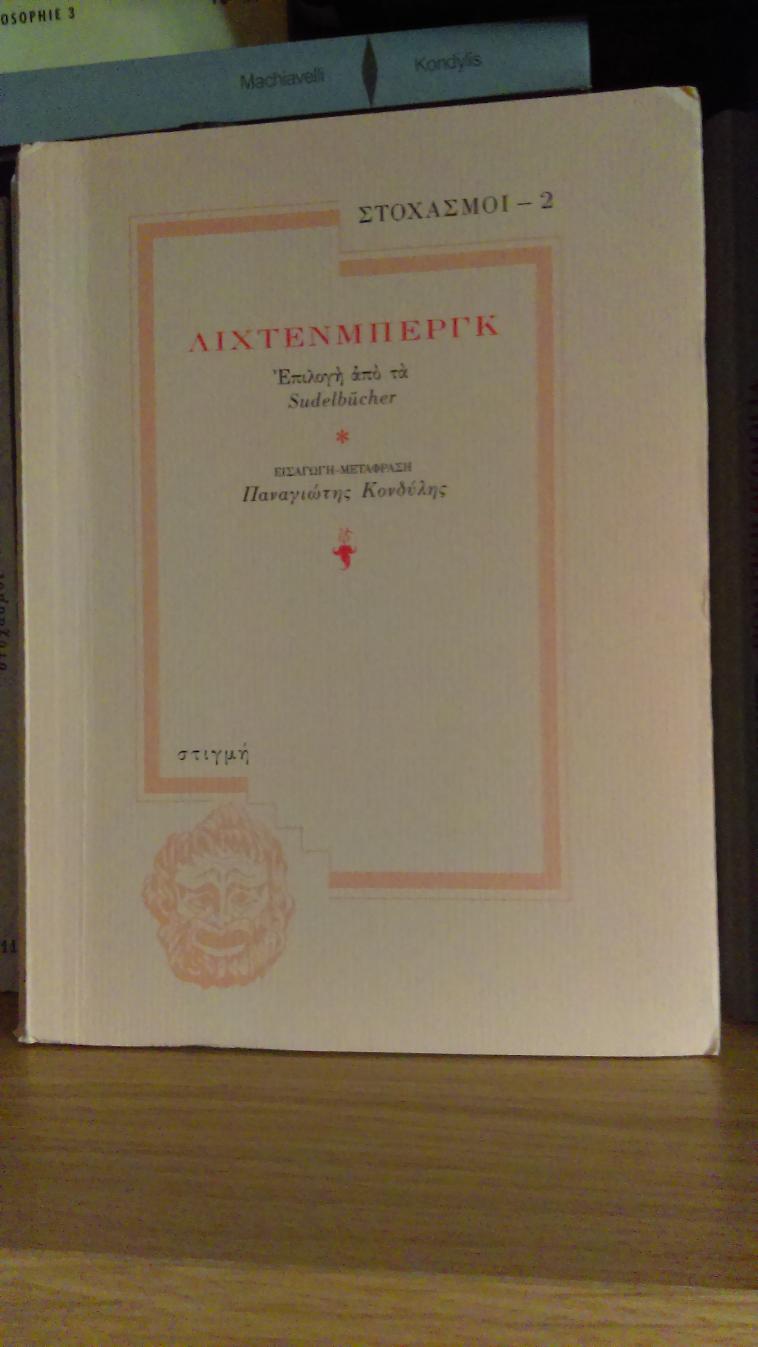 EVERYBODY AND EVERYIT MUST OBEY (FOLLOW), ABIDE BY (OBSERVE) THE LAW AT ALL TIMES
IGNORE THIS. THIS IS ME (THE MADMAN, THE PERSONA(GE) BORN AND FROM PRE-1000 A.D.) GOING APE-BANANAS. IT HAS NOTHING TO DO WITH P.K., WITH MONTAIGNE OR WITH LICHTENBERG! (IT MIGHT HAVE SOMETHING TO DO WITH LA ROCHEFOUCAULD - YOU NEVER KNOW, YOU NEVER CAN TELL WITH THESE THINGS!!!)

[[The Death of the West has ROOTS going back to When the West was A-Rising... (OR: ISN'T FUCKING MULTI-CULTURALISM, AND AREN'T FUCKING OTHER PERSPECTIVES, JUST FUCKING WONDERFUL? SO, WHY DOESN'T ISRAEL FULLY OPEN ITS BORDERS AGAIN TO SIX (6) MILLION HIGHLY INTELLIGENT BLACK(ISH) AFRICANS AND BEAUTIFUL-TO-LOOK-AT BROWN(ISH) MUSULMEN MOHAMMEDAN ISLAM(IST/IC)S?)
If Montaigne represents the (albeit still large-scale essay-scale) fragmentation of theological theoretical systematising-totalising-ethics/morality fixing Summa Theologica knowledge (ideology) – and that Fragmentation took place in the 16th century, what the fuck did you expect to happen after the Industrial Revolution(s) (Colonialism(s), Imperialism(s) etc.) and all its and their concomitants and aftereffects? The actual multi-level historical process of getting to the 19th century Death of God has roots – both in terms of the history of ideas, but far more importantly, in terms of social organisation – GOING BACK hundreds of years beforehand. If you throw in MONEY MONEY MONEY JUDAS SATAN, SATAN SATAN, MONKEY, MONKEY, SATANIC CIRCUS MONKEY MASSIFIED-URBANISED ATOMISATION AND CONSUMERISTIC HEDONISATION, ZIO/USA-OTHERFICATION, ZIO/USA-NEGRIFICATION, ZIO/USA-SATAN/DEVIL/EVIL/JUDAS/HOLOCAUST/JOO-WORSHIP, ZIO-JUDAS-SATANISM, etc., what the FUCK did you expect would happen? Another fucking Western Renaissance? FROM THE AGE OF SATAN, TO THE AGE OF THE APE. Modern Industry itself condemned not only White Man, but eventually ALL MEN, and NATURE TOO, to WIPE-OUT (by 2100 or 2200 – a prophecy (prophecies are often or even nearly always wrong, but the good thing about putting it (the prophecy) FAR AHEAD, is that no-one will be around then who is around today to tell the prophet he is WRONG! AAAAAA-HAHAHAHAHAHAHAHA!!!!!!!!!!!!!!!!!!!!!!!!!!!!!!!!!!!!!!!!!!!!))]]
RIVETING - DON'T YOU DARE
"INNOVATIVE" IN TERMS OF

[[AND SO WE LEARN THAT THE
ANGLOPHILE GERMAN WAS

ALSO - THROUGH A DEEP

UNDERSTANDING OF

VALUE RELATIVITY, AND,

OBSERVER OF HUMAN, NOT

"The motive here is not only superabundant and unending theoretical curiosity; perhaps, deeper is the need for honesty and the need for joy which honesty gives – honesty not understood as a moral virtue next to all others, but rather as an end-in-itself and as the self-reinforcement of (or self-support for) the spirit's force and strength to see things in the way many people do not dare to see them, and to reject every censorship, even the censorship (on the part) of ethics (morality), when it (ethics, morality) imposes upon and forces you to stress that, and to disregard the other (thing). On the terrain of this honesty, an internal discipline is born very different to the known forms of honesty, which constitute a means for the achievement of a goal (end, purpose). Discipline therefore coincides with its goal (end or purpose), it is nothing other than the filling of time and of life with the engagements, activities and pursuits of the witty (ingenious) mind. Precisely, whoever knows – and does not forget – the transience and the relativity of human affairs needs such a discipline doubly. One needs it (such discipline), moreover, as a footing, foundation or basis for one's own self-respect inside a world of fluid perspectives and of alternating values, as personal fortification against sciolism (i.e. the half-knowledge of things, but never in any depth or with real insight and understanding), and against the cocky insolence of newspaper scribblers and of pseudo-critics, against the prissiness and the narcissism, the great tongue (language) and the small soul of the so-called philological and literary world (world of letters). Lichtenberg's sidesplittingly hilarious notes about the goings-on (carryings-on) of those philologising (i.e. engaging in the literary world (in letters)), read as if they were written today. Not because Lichtenberg was a prophet; but because since then, nothing has changed."