Disclaimer: Nothing within this page or on this site overall is the product of Panagiotis Kondylis's thought and work unless it is a faithful translation of something Kondylis wrote. Any conclusions drawn from something not written by Panagiotis Kondylis (in the form of an accurate translation) cannot constitute the basis for any valid judgement or appreciation of Kondylis and his work. (This disclaimer also applies, mutatis mutandis, to any other authors and thinkers linked or otherwise referred to, on and within all of this website).
FOR "THE GENESIS OF DIALECTICS", SCROLL DOWN!

IT WOULD BE A MIRACLE FOR ME TO GET AROUND TO TRANSLATING THIS BOOK. IT'S P.K.'s PH.D. THESIS. IN 1970 HE ARRIVED IN GERMANY WITHOUT KNOWING GERMAN. WITHIN ABOUT 5-6 YEARS (MOST OF) THIS BOOK WAS READY. AND YOU THINK YOU'RE INTELLIGENT? GET REAL! EVERYONE SHOULD KNOW THEIR PLACE, JUST AS I DO.
HAHAHAHAHAHAHAHAHAHAHAHAHAHAHAHAHAHA!!!!!!!!!!!!!!!!!!!!!!!
!!!!!!!!!!!!!!!!!!!!!!!!!!!!!!!!!!!!!!!!!!!!!!!!!!!!!!!!!!!!!!!!!!!!!!!!!!!!!!!!!!!!!!!!!!!!!!!!!!!!!!!!!!!!!!!!!!!!!!!!!!!!!
NOT BEFORE 2050!
[[Hopefully the Greek-language translation by Tribal Warrior Λευτέρης Ἀναγνώστου (if I'm not mistaken) will be published in 2019!]]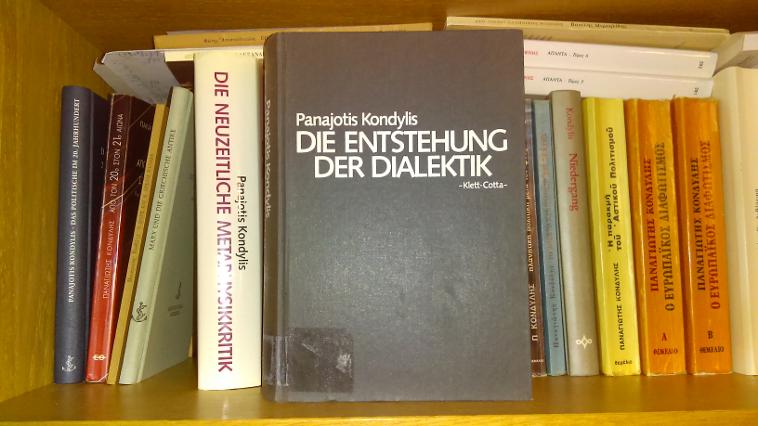 "My particular (special) thanks goes to

Prof. Dr.
W. Conze

, who promoted and facilitated the publication of the work." (P.K., Foreword)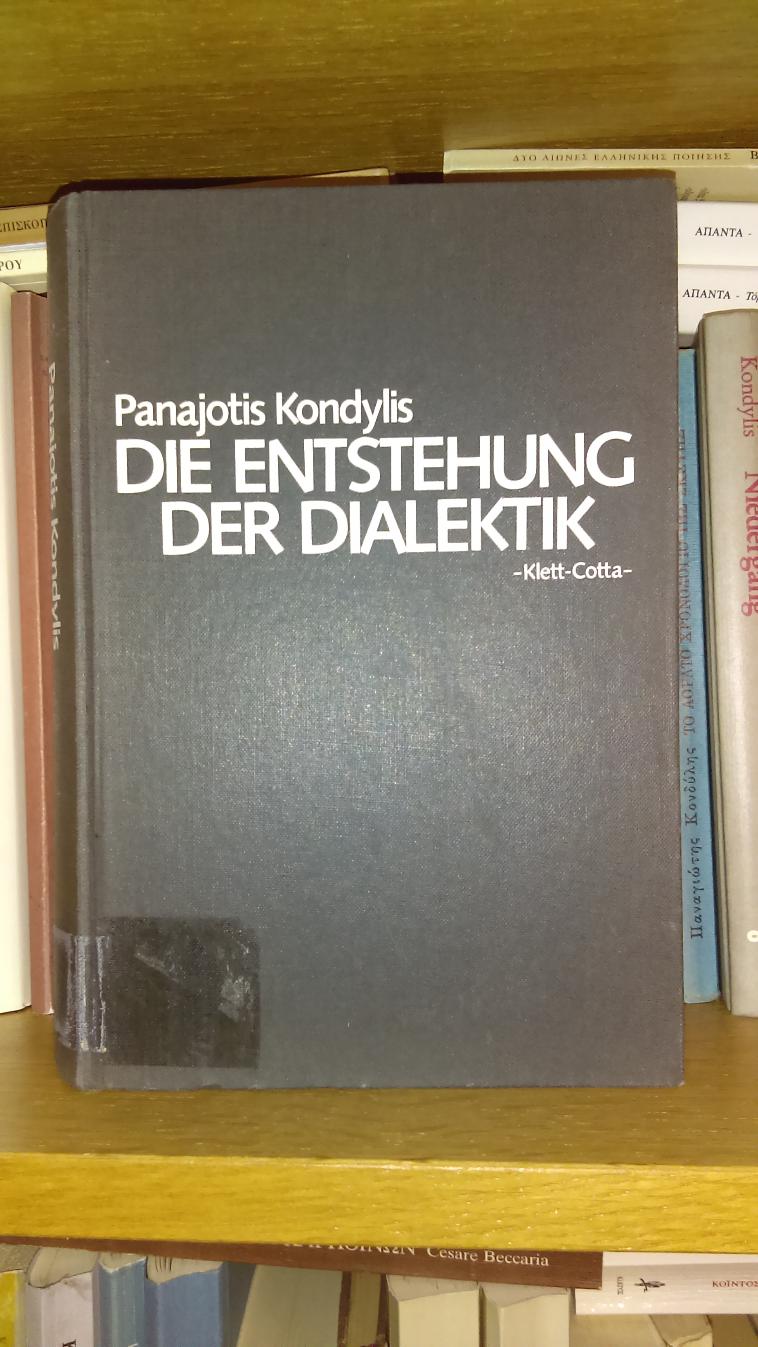 "THE GENESIS (EMERGENCE/COMING INTO BEING) OF DIALECTICS/THE DIALECTIC"

[[OF TREMENDOUS INTEREST IS THE PASSAGE REFERRING TO THE EARLY CONSERVATIVE CRITIQUE OF CAPITALISM (
J. Möser, Novalis, A. Müller, Fr. Baader, Carlyle,... and also the young Engels et al. including (I add) many others such as Saint-Simon, Charles Fourier,... Robert Owen,
William Lovett, Étienne Cabet, Louis Blanc, et al.) (with 18th century Rousseauism interacting with organistic conservatism as a precursor), FROM WHICH THE INITIAL RADICAL-DEMOCRATIC AND SOCIALISTIC MOVEMENT (incl. MARXISM) DREW (AS WELL AS FROM THE VARIOUS SOCIALIST UTOPIANS et al.), AND THIS HELPS US TO UNDERSTAND HOW BOTH c. 1800-c.1850-1900 AND THEN c. (1850-)1900-c.1930, CAPITALISM (AND COLONIALISM/IMPERIALISM) AND RADICAL OR SOCIAL DEMOCRACY/SOCIALISM (AND c. 1800-1850, THE LAST VESTIGES OF SOCIETAS CIVILIS, OR LATER, c. 1900/1930, FASCISM/ NATIONAL SOCIALISM IN COMPETITION WITH COMMUNISM AND (the last vestiges of actual) LIBERALISM, WERE ALL IN SOME NOT INSIGNIFICANT WAY ENTWINED, AND OBVIOUSLY NOTWITHSTANDING THEIR ACTUAL DISTINCTIVE/DISTINGUISHING FEATURES (DIFFERENTIAE SPECIFICAE). THE ACTUAL SEPARATION OF THESE SOCIAL AND POLITICAL-IDEOLOGICAL PHENOMENA INTO BLACK AND WHITE "GOOD" VS. "EVIL" IS THE PRODUCT OF POLEMICS AND IDEOLOGICAL-OBFUSCATORY FULL-SPECTRUM (ZIO AND OR NOT) LOBOTOMISATION, AND HAS ABSOLUTELY NOTHING TO DO WITH THE SCIENTIFIC STUDY OF THE CONCEPTS IN HISTORICAL-SOCIAL/POLITICAL-CONCEPTUAL CONTEXT!!!]]
[[AND NOTWITHSTANDING ALL OF THE ABOVE, I SHALL ALWAYS SUPPORT STALIN - NOT GENERALLY AND UNIVERSALLY, BUT SPECIFICALLY AND CONCRETELY AS TO A SPECIFIC, CONCRETE CASE - AND THE RUSSIAN PEOPLE, AND THE SERBS, AND MY OWN TRIBE NARROWLY DEFINED - (THE BULGARS AND ROMANIANS WERE VERY NAUGHTY) - AGAINST HITLER AND THE INVADING HUN-KRAUT-VILE-FOUL-DISGUSTING-FILTHY-TEUTON, AND I SHALL ALSO ALWAYS SAY:
DEATH
TO

SATAN

AND
ITS

SATANIC

CIRCUS

MONKEY!!!
DIE, SATAN(IC CIRCUS MONKEY), DIE!!!
DIE!!!
DIE!!!
DIE!!!]]