Disclaimer: Nothing within this page or on this site overall is the product of Panagiotis Kondylis's thought and work unless it is a faithful translation of something Kondylis wrote. Any conclusions drawn from something not written by Panagiotis Kondylis (in the form of an accurate translation) cannot constitute the basis for any valid judgement or appreciation of Kondylis and his work. (This disclaimer also applies, mutatis mutandis, to any other authors and thinkers linked or otherwise referred to, on and within all of this website).
EVERYBODY MUST OBEY, ABIDE BY AND FOLLOW THE LAW
ALL KILLINGS AND CAUSING OF DEATH AND INJURY TO INNOCENT
NON-COMBATANTS ANYWHERE IN THE WORLD ARE CONDEMNED
A POSTERIORI AND A PRIORI, REGARDLESS OF WHO THE VICTIMS ARE
If you read stuff written by the ABSOLUTELY CRAZED CONTINUALLY SELF-LOBOTOMISING ULTRA-LOONY MAD SATIRICAL LITERARY PERSONA (born c. 599, 699, 799, 899 or 999 A.D. in Hellenic Eastern Rome) WITHOUT HAVING READ AND STUDIED AND UNDERSTOOD ALL OF P.K.'s CORE TEXTS FIRST (AND AT THE RATE I'M CURRENTLY GOING, THAT WON'T BE POSSIBLE (UNLESS YOU KNOW GERMAN OR GREEK) BEFORE c. 2052 IF I MAKE IT THAT FAR IN AN ABLE-BODIED STATE (HIGHLY UNLIKELY, IF NOT IMPOSSIBLE)), THEN YOU ARE DOING WHAT YOU HAVE BEEN TOLD NOT TO DO, AND YOU ARE BEING RATHER NAUGHTY - TO SAY THE LEAST. I FIND, THOUGH, THAT NO-ONE EVER LISTENS TO ME, SO THEREFORE, I MUST BE WRONG. I MUST BE
NO POLITICAL-IDEOLOGICAL COURSE OF ACTION IS BEING SUPPORTED OR OTHERWISE SUGGESTED BY THIS SITE EVER (THE SITE'S SATIRICAL-LITERARY PERSONA IS LITERALLY CRAZED CRAZY LOONY MAD) UNLESS IT IS SOMETHING P.K. WROTE IN REGARD TO THE 1% OF HIS OEUVRE CONCERNING GREECE'S "FATE" AND WHETHER SHE WANTS TO SURVIVE OR NOT (OBVIOUSLY SHE DOES NOT).

THE LITERARY-SATIRICAL PERSONA COMMENTING ON THIS PAGE AND THROUGHOUT THIS SITE IS INSANE. NO WRITER, THINKER OR AUTHOR REFERRED TO HERE HAS ANYTHING TO DO WITH ANY KIND OF DISCRIMINATION, BIGOTRY, RACISM OR CHAUVINISM WHATSOEVER. EVERY THINKER IS RESPONSIBLE FOR THEIR OWN - AND ONLY FOR THEIR OWN - WORDS. THE PERSONA COMMENTING ON THIS PAGE AND THROUGHOUT THIS SITE WAS BORN BETWEEN 599A.D. AND 999A.D. AND HAS GONE TOTALLY INSANE. DON'T PAY ATTENTION TO HIS COMMENTS. THINK, AND WORK "IT" OUT, FOR YOURSELVES.
THE RELIEF-RELEASE VALVE IS STILL WORKING.
Βαλβίς, Entlastung.
Tool, Ἐργαλεῖον.
ΣΥΓΓΝΩΜΗ ΕΚ ΤΩΝ ΠΡΟΤΕΡΩΝ ΔΙΑ ΤΑ ΟΡΘΟΓΡΑΦΙΚΑ, «ΤΥΠΟΓΡΑΦΙΚΑ» ΤΕ ΚΑΙ ΑΛΛΑ ΛΑΘΗ. ΤΡΕΧΩ - ΣΑΝ ΤΟΝ ΒΕΓΓΟ - ΑΛΛΑ ΔΕΝ ΠΡΟΛΑΒΑΙΝΩ. Ἡ ΖΩΗ ΑΣΦΑΛΩΣ ΔΕΝ ΕΙΝΑΙ ΑΠΛΩΣ ΕἿΣ ἹΣΤΟΤΟΠΟΣ. ὙΠΑΡΧΟΥΝ ΚΑΙ ΠΡΑΓΜΑΤΙΚΟΙ, ΖΩΝΤΑΝΟΙ ΑΝΘΡΩΠΟΙ. ΣΤΟ ΚΑΤΩ ΚΑΤΩ ΤΗΣ ΓΡΑΦΗΣ, ΤΙ ΕΙΝΑΙ Ἡ ΖΩΗ ΤΟΥ ἙΚΑΣΤΟΥ ΑΝΔΡΟΣ ΧΩΡΙΣ ΤΗΝ ΚΥΡ' ΑΓΓΕΛΩ ΤΟΥ, ΑΝ ΕΧῌ ΤΗΝ ΤΥΧΗ ΝΑ ΕΧῌ ΚΙ ΑΥΤΟΣ ΜΙΑ ΚΥΡ' ΑΓΓΕΛΩ ΝΑ ΤΟΝ ΠΡΟΣΕΧῌ;
*
Peter Furth
Phänomenologie der Enttäuschungen
Ideologiekritik nachtotalitär
(This Site's Madman referred to the Fischer 2015 digital reprint of the 1991 book published by Fischer)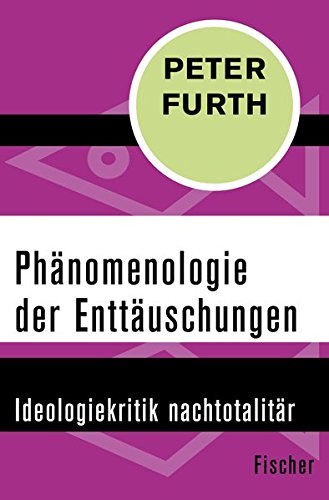 THIS IS ANOTHER TREMENDOUS TEXT BY THE LATE PETER FURTH, WELL WORTH STUDYING INTENSELY!!! DON'T MISS OUT!!!
A sample of Peter Furth's incisive insights into "the human condition" under capitalism (and as that relates to present-day mass democracy from a macro-historical-"philosophical"/ analytical point of view):
"Mit diesem Rückbezug der Technik auf den Menschen und seine Verhältnisse haben sich weitgehende Emanzipationshoffnungen verbunden. Damit wird aber auch das, was einstmals Schicksal hieß, neu geschaffen. Denn die Ablösung vom Naturzwang kann nur durch die Unterwerfung unter den Produktionszwang geschehen, in dem fremdgegebener und selbstgesetzer Zwang ineinander übergehen. Die selbsterzeugte Sachgesetzlichkeit wirkt auf den Menschen mit der gleichen Verbindlichkeit und Überlegenheit zurück, wie vormals die erste Natur übermächtige Voraussetzung der Existenz war. Paradox läßt sich sagen: Inhalt des neuen Schicksals, ausweglose Forderung, ist, daß der Mensch sich selbst eine wissenschaftliche, technische Produktionsaufgabe wird.
Far-reaching and extensive hopes of emancipation have been connected with this reference back or reflection of technique (i.e. technology) (on)to man and his circumstances. However, with that, also that which once meant, or was called, destiny or fate is created anew. Because detachment, removal or relief from the constraint, compulsion or coercion of Nature can only happen through subjection, subjugation or submission to and under the compulsion and coercion of Production, in which alien/foreign or externally given and self-regulated (or self-governed-by-its-own-laws) compulsion go or pass over into one another. The self-generated topical lawfulness and legality has the effect on (or reacts to) man with the same and equal bindedness and superiority as formerly the [[state of]] first, i.e. prime, Nature was the overpowering and formidable, supreme presupposition, precondition and prerequisite of existence. As a paradox, it can be said: the content of the new fate or destiny – a hopeless demand – is that man himself becomes a scientific, technical task, function, duty, purpose or mission of production.
Marx hat in den Ökonomisch-philosophischen Manuskripten das spekulative Schema dieser Entwicklung gegeben und dabei das berühmt gewordene Bild von der Industrie als dem »aufgeschlagenen Buch der menschlichen Wesenskräfte» gebraucht: »Die Industrie ist das wirkliche geschichtliche Verhältnis der Natur und daher der Naturwissenschaft zum Menschen; wird sie daher als exoterische Enthüllung der menschlichen Wesenskräfte gefaßt, so wird auch das menschliche Wesen der Natur oder das natürliche Wesen des Menschen verstanden.« (MEW, Ergänzungsband, 1. Teil, S. 543) Das ist ein Text wie ein Vexierbild: an der Oberfläche ein klarer, unmittelbar einleuchtender Sinn, unter dem sich aber noch ein anderer verbirgt. Eine analogisierende Definition in drei Vergleichsschritten: die Industrie als Vergegenständlichung eines Wesens, die Vergegenständlichung als Offenbarung, die Offenbarung lesbar wie ein Buch. Von einem Wesen außerhalb der Vergegenständlichung, irgendwie für sich seiend und bleibend, ist nicht die Rede, jedenfalls nicht unmittelbar. Das Wesen, von dem die Rede ist, ist einfach und durchsichtig; es gibt keinen Gegensatz zwischen ihm und seinem Dasein. Es ist, wie er erscheint. Man kann von ihm auch sagen: Die Erscheinung ist das Wesen.
Marx gave the speculative schema of this development in the Economic-philosophical manuscripts, and in the course of this, used the becoming [[then]] renowned or famous picture/image of Industry as the "(broken) open book of the human forces of essence (or essential human forces)." Industry is the real historical relation(ship) (circumstance or ratio) of Nature and, hence, the science of nature or natural science towards/vis-à-vis Man; that is why if it (i.e. Industry) is conceived as an/the exoteric revelation (unveiling, revealing or disclosure) of essential human forces (i.e. human forces pertaining to Essence), so too, the human essence of Nature or the natural Essence of Man is understood. "(MEW, Supplementary Volume, Part 1, p. 543) This is a text like a picture puzzle: on the surface, a clear, lucid (convincing and cogent), immediately obvious meaning, but under which still another (meaning) hides. An analogising definition in three steps/stages of comparison: industry as the objectification (or reification) of a being, the objectification/reification as Revelation, the Revelation readable as a book. There is no talk of an Essence outside of objectification and reification, somehow being and remaining for itself; in any case, not directly. The Essence, of which there is talk, is simple and transparent; there is no contrast and opposition between it (i.e. the Essence) and its being there or existence. It is, as it appears. One can also say of it: The Appearance is the Essence." [[MADMAN'S COMMENT (NOTHING TO DO WITH PETER FURTH): So, this is obviously the secularised context as it pertains to social(-economic) conditions (and with the addition of colonialisms/imperialisms etc.) in which DA JOO/THE MAMMON DEVIL-VOMIT EXCREMENT can get to wield (with its Anglican-Protestant-Papist-Atheist-Homosexual-Freak Show Allies) GROSSLY DISPROPORTIONATE forms of power and possess GROSSLY DISPROPORTIONATE wealth.]]