Disclaimer: Nothing within this page or on this site overall is the product of Panagiotis Kondylis's thought and work unless it is a faithful translation of something Kondylis wrote. Any conclusions drawn from something not written by Panagiotis Kondylis (in the form of an accurate translation) cannot constitute the basis for any valid judgement or appreciation of Kondylis and his work. (This disclaimer also applies, mutatis mutandis, to any other authors and thinkers linked or otherwise referred to, on and within all of this website).
EVERYBODY MUST OBEY, ABIDE BY AND FOLLOW THE LAW
ALL KILLINGS AND CAUSING OF DEATH AND INJURY TO INNOCENT
NON-COMBATANTS ANYWHERE IN THE WORLD ARE CONDEMNED
A POSTERIORI AND A PRIORI, REGARDLESS OF WHO THE VICTIMS ARE
If you read stuff written by the ABSOLUTELY CRAZED CONTINUALLY SELF-LOBOTOMISING ULTRA-LOONY MAD SATIRICAL LITERARY PERSONA (born c. 599, 699, 799, 899 or 999 A.D. in Hellenic Eastern Rome) WITHOUT HAVING READ AND STUDIED AND UNDERSTOOD ALL OF P.K.'s CORE TEXTS FIRST (AND AT THE RATE I'M CURRENTLY GOING, THAT WON'T BE POSSIBLE (UNLESS YOU KNOW GERMAN OR GREEK) BEFORE c. 2052 IF I MAKE IT THAT FAR IN AN ABLE-BODIED STATE (HIGHLY UNLIKELY, IF NOT IMPOSSIBLE)), THEN YOU ARE DOING WHAT YOU HAVE BEEN TOLD NOT TO DO, AND YOU ARE BEING RATHER NAUGHTY - TO SAY THE LEAST. I FIND, THOUGH, THAT NO-ONE EVER LISTENS TO ME, SO THEREFORE, I MUST BE WRONG. I MUST BE
NO POLITICAL-IDEOLOGICAL COURSE OF ACTION IS BEING SUPPORTED OR OTHERWISE SUGGESTED BY THIS SITE EVER (THE SITE'S SATIRICAL-LITERARY PERSONA IS LITERALLY CRAZED CRAZY LOONY MAD) UNLESS IT IS SOMETHING P.K. WROTE IN REGARD TO THE 1% OF HIS OEUVRE CONCERNING GREECE'S "FATE" AND WHETHER SHE WANTS TO SURVIVE OR NOT (OBVIOUSLY SHE DOES NOT).

THE LITERARY-SATIRICAL PERSONA COMMENTING ON THIS PAGE AND THROUGHOUT THIS SITE IS INSANE. NO WRITER, THINKER OR AUTHOR REFERRED TO HERE HAS ANYTHING TO DO WITH ANY KIND OF DISCRIMINATION, BIGOTRY, RACISM OR CHAUVINISM WHATSOEVER. EVERY THINKER IS RESPONSIBLE FOR THEIR OWN - AND ONLY FOR THEIR OWN - WORDS. THE PERSONA COMMENTING ON THIS PAGE AND THROUGHOUT THIS SITE WAS BORN BETWEEN 599A.D. AND 999A.D. AND HAS GONE TOTALLY INSANE. DON'T PAY ATTENTION TO HIS COMMENTS. THINK, AND WORK "IT" OUT, FOR YOURSELVES.
THE RELIEF-RELEASE VALVE IS STILL WORKING.
Βαλβίς, Entlastung.
Tool, Ἐργαλεῖον.
ΣΥΓΓΝΩΜΗ ΕΚ ΤΩΝ ΠΡΟΤΕΡΩΝ ΔΙΑ ΤΑ ΟΡΘΟΓΡΑΦΙΚΑ, «ΤΥΠΟΓΡΑΦΙΚΑ» ΤΕ ΚΑΙ ΑΛΛΑ ΛΑΘΗ. ΤΡΕΧΩ - ΣΑΝ ΤΟΝ ΒΕΓΓΟ - ΑΛΛΑ ΔΕΝ ΠΡΟΛΑΒΑΙΝΩ. Ἡ ΖΩΗ ΑΣΦΑΛΩΣ ΔΕΝ ΕΙΝΑΙ ΑΠΛΩΣ ΕἿΣ ἹΣΤΟΤΟΠΟΣ. ὙΠΑΡΧΟΥΝ ΚΑΙ ΠΡΑΓΜΑΤΙΚΟΙ, ΖΩΝΤΑΝΟΙ ΑΝΘΡΩΠΟΙ. ΣΤΟ ΚΑΤΩ ΚΑΤΩ ΤΗΣ ΓΡΑΦΗΣ, ΤΙ ΕΙΝΑΙ Ἡ ΖΩΗ ΤΟΥ ἙΚΑΣΤΟΥ ΑΝΔΡΟΣ ΧΩΡΙΣ ΤΗΝ ΚΥΡ' ΑΓΓΕΛΩ ΤΟΥ, ΑΝ ΕΧῌ ΤΗΝ ΤΥΧΗ ΝΑ ΕΧῌ ΚΙ ΑΥΤΟΣ ΜΙΑ ΚΥΡ' ΑΓΓΕΛΩ ΝΑ ΤΟΝ ΠΡΟΣΕΧῌ;
*
Peter Furth
Phänomenologie der Enttäuschungen
Ideologiekritik nachtotalitär
(This Site's Madman referred to the Fischer 2015 digital reprint of the 1991 book published by Fischer)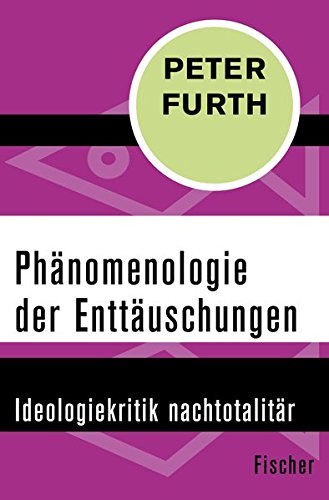 THIS IS ANOTHER TREMENDOUS TEXT BY THE LATE PETER FURTH, WELL WORTH STUDYING INTENSELY!!! DON'T MISS OUT!!!
A sample of Peter Furth's incisive insights into "the human condition" under capitalism (and as that relates to present-day mass democracy from a macro-historical-"philosophical"/ analytical point of view):
"Mit diesem Rückbezug der Technik auf den Menschen und seine Verhältnisse haben sich weitgehende Emanzipationshoffnungen verbunden. Damit wird aber auch das, was einstmals Schicksal hieß, neu geschaffen. Denn die Ablösung vom Naturzwang kann nur durch die Unterwerfung unter den Produktionszwang geschehen, in dem fremdgegebener und selbstgesetzer Zwang ineinander übergehen. Die selbsterzeugte Sachgesetzlichkeit wirkt auf den Menschen mit der gleichen Verbindlichkeit und Überlegenheit zurück, wie vormals die erste Natur übermächtige Voraussetzung der Existenz war. Paradox läßt sich sagen: Inhalt des neuen Schicksals, ausweglose Forderung, ist, daß der Mensch sich selbst eine wissenschaftliche, technische Produktionsaufgabe wird.
Far-reaching and extensive hopes of emancipation have been connected with this reference back or reflection of technique (i.e. technology) (on)to man and his circumstances. However, with that, also that which once meant, or was called, destiny or fate is created anew. Because detachment, removal or relief from the constraint, compulsion or coercion of Nature can only happen through subjection, subjugation or submission to and under the compulsion and coercion of Production, in which alien/foreign or externally given and self-regulated (or self-governed-by-its-own-laws) compulsion go or pass over into one another. The self-generated topical lawfulness and legality has the effect on (or reacts to) man with the same and equal bindedness and superiority as formerly the [[state of]] first, i.e. prime, Nature was the overpowering and formidable, supreme presupposition, precondition and prerequisite of existence. As a paradox, it can be said: the content of the new fate or destiny – a hopeless demand – is that man himself becomes a scientific, technical task, function, duty, purpose or mission of production.
Marx hat in den Ökonomisch-philosophischen Manuskripten das spekulative Schema dieser Entwicklung gegeben und dabei das berühmt gewordene Bild von der Industrie als dem »aufgeschlagenen Buch der menschlichen Wesenskräfte» gebraucht: »Die Industrie ist das wirkliche geschichtliche Verhältnis der Natur und daher der Naturwissenschaft zum Menschen; wird sie daher als exoterische Enthüllung der menschlichen Wesenskräfte gefaßt, so wird auch das menschliche Wesen der Natur oder das natürliche Wesen des Menschen verstanden.« (MEW, Ergänzungsband, 1. Teil, S. 543) Das ist ein Text wie ein Vexierbild: an der Oberfläche ein klarer, unmittelbar einleuchtender Sinn, unter dem sich aber noch ein anderer verbirgt. Eine analogisierende Definition in drei Vergleichsschritten: die Industrie als Vergegenständlichung eines Wesens, die Vergegenständlichung als Offenbarung, die Offenbarung lesbar wie ein Buch. Von einem Wesen außerhalb der Vergegenständlichung, irgendwie für sich seiend und bleibend, ist nicht die Rede, jedenfalls nicht unmittelbar. Das Wesen, von dem die Rede ist, ist einfach und durchsichtig; es gibt keinen Gegensatz zwischen ihm und seinem Dasein. Es ist, wie er erscheint. Man kann von ihm auch sagen: Die Erscheinung ist das Wesen.
Marx gave the speculative schema of this development in the Economic-philosophical manuscripts, and in the course of this, used the becoming [[then]] renowned or famous picture/image of Industry as the "(broken) open book of the human forces of essence (or essential human forces)." Industry is the real historical relation(ship) (circumstance or ratio) of Nature and, hence, the science of nature or natural science towards/vis-à-vis Man; that is why if it (i.e. Industry) is conceived as an/the exoteric revelation (unveiling, revealing or disclosure) of essential human forces (i.e. human forces pertaining to Essence), so too, the human essence of Nature or the natural Essence of Man is understood. "(MEW, Supplementary Volume, Part 1, p. 543) This is a text like a picture puzzle: on the surface, a clear, lucid (convincing and cogent), immediately obvious meaning, but under which still another (meaning) hides. An analogising definition in three steps/stages of comparison: industry as the objectification (or reification) of a being, the objectification/reification as Revelation, the Revelation readable as a book. There is no talk of an Essence outside of objectification and reification, somehow being and remaining for itself; in any case, not directly. The Essence, of which there is talk, is simple and transparent; there is no contrast and opposition between it (i.e. the Essence) and its being there or existence. It is, as it appears. One can also say of it: The Appearance is the Essence." [[MADMAN'S COMMENT (NOTHING TO DO WITH PETER FURTH): So, this is obviously the secularised context as it pertains to social(-economic) conditions (and with the addition of colonialisms/imperialisms etc.) in which DA JOO/THE MAMMON DEVIL-VOMIT EXCREMENT can get to wield (with its Anglican-Protestant-Papist-Atheist-Homosexual-Freak Show Allies) GROSSLY DISPROPORTIONATE forms of power and possess GROSSLY DISPROPORTIONATE wealth.]]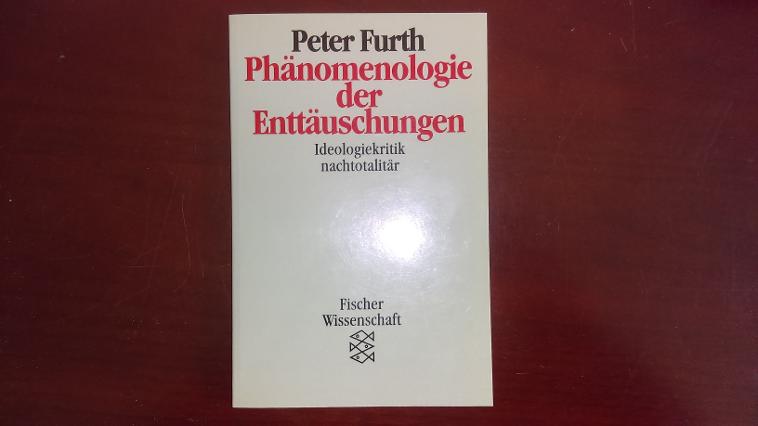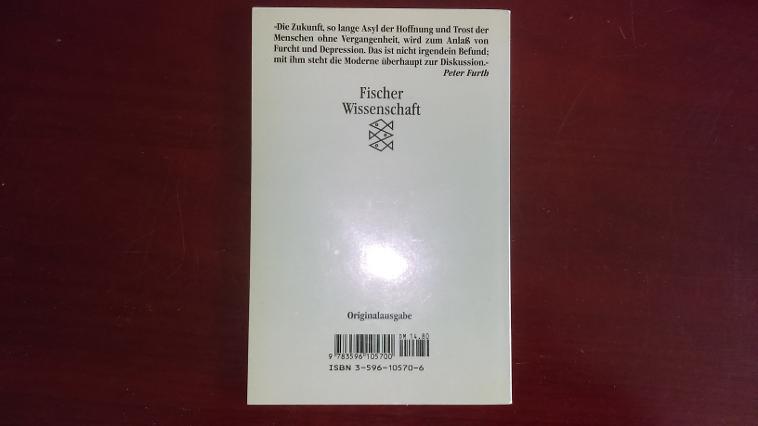 Above: Original 1991 edition Front Cover and Back Cover
"The future, so long the asylum of hope and consolation of people without a past, turns into the occasion and cause of fear and depression. That is not any finding whatsoever; with it, modernity in general is up for discussion."
Peter Furth
[[CRAZY MAN'S INTERPRETATION: PEOPLES WHO HAVE LET GO OF THE PAST SO MUCH AND PUT ALL THEIR TRUST IN "PROGRESS" AND THE FUTURE WILL END UP IN FEAR AND DEPRESSION (AUTO-GENOCIDAL ZIO-LOBOTOMISATION (UP-ROOT-DE-ROOT-DEATH ETC.)) ... BECAUSE CONTINUAL "PROGRESS" DETACHES MAN FROM HIS INHERITED COMMUNAL SENSE OF TRIBAL BELONGING AS HE BECOMES A MASSIFIED-ATOMISED ZOMBIE AND EASY PREY FOR THE PARASITIC FLEA-LEECH VULTURE DEVIL-EVIL-EVIL-DEVIL SATANIC CIRCUS MONKEY PRIMITIVE SECRET SOCIETY BANKING-TRADING-CORPORATE-BIG MONEY LOBBYING-ZIO-LOBOTOMISING-ZIO-USA-BRAINWASHING (AND BIG MONEY CRIME-DRUG/PEOPLE TRAFFICKING) JOO AND VERY MANY ALLIES (INCL. TOTAL DEGENERATES) ... THE WEST MIGHT BE DEAD, BUT OTHER GROUPS OF MEN ARE NOT GOING TO PUT UP WITH ALL THE CHIEFLY ZIO-ANGLO CRAP FOREVER AND "THE BIG FUCK YOU!" IS A-COMING ...]]

FROM pp. 26-27 of the book ...
[[CRAZY MAN SAYS (NOTHING TO DO WITH THE LATE AND NEAR GREAT PETER FURTH): CLASSIC PETER FURTH TIME!!! WHAT WE GET HERE IS "THE [[ACTUALLY FALSE]] END OF IDEOLOGIES" DESCRIBED, NOT TO SUIT SOME KIND OF ZIO-USA IDEOLOGICAL SELF-UNDERSTANDING OF ZIO-USA POWER AND HEGEMONY, BUT A DESCRIPTION OF THE IDEOLOGICAL FUNCTIONING OF MASS DEMOCRACY WHICH HAS ITS EPICENTRE IN ZIO-USA PARTIC. FROM THE 1960s and 1970s CULTURAL REVOLUTION, WITH ROOTS GOING BACK TO THE ROARING TWENTIES (OR EVEN EARLIER TO c. 1900 mostly in (not-so-ZIO-but still-ZIOish) Europe as France-Great Britain-Germany-Holland-etc.) ... AND WHICH THINKS IT CAN "KEEP ON KEEPIN' ON FOREVER" ON THE BASIS OF MASS CONSUMPTION, MASS HEDONISM, MASS ECONOMIC GROWTH AND THE SUBSTITUTION OF (TO PUT IT VERY CRUDELY) FIRST WORLD ZOMBIFIED-FREAK SHOW-SATANIC CIRCUS MONKEY PEOPLES WITH TURD WORLD PEOPLES ... BUT, OF COURSE, ONCE THE SUPER-ANOMIC TURD WORLD TAKES OVER, THEY (I.E. DA JOOS AND CO.) WILL BE DEEP-FRIED AND EATEN (MUNCH, MUNCH, MUNCH), AND US ORTHODOX PEOPLES UP IN HEAVEN SHALL BE SINGING IN JOYOUS ORTHODOX AND PATRIARCHAL CHORUS "SERVES THEM RIGHT! SERVES THEM RIGHT! SERVES THEM FUCKING RIGHT!!!"]]
"Ganze Subkulturen bilden sich um einzelne Techniken der Herstellung von Indifferenz. Meditative und ekstatische Methoden der Immunisierung gegen Enttäuschung werden Gegenstand neuer Berufe und Geschäftszweige. Das, was »Szene« heißt, ist nicht nur ein Markt, auf dem sich alle Angebote einer befriedigenden Sinnvernichtung treffen, es ist wirklich so etwas wie eine Bühne, eine zur Bühne gewordene Binnenwelt, auf der die Spieler zugleich Zuschauer bei der Aufführung der ideologischen Gegenwart sind. Zwei Versionen werden in Serie gespielt: die Depotenzierung der überlieferten Glaubenssysteme, der Religionen und der konfessionellen Ideologien, zu Privatgesinnungen, zu »unverbindlichen Maßgeblichkeiten« (Arnold Gehlen) und die Überführung der ideologischen Gegensätze und Kämpfe in Rollenspiel und Simulation. Das, was Wissenschaftsmandarine wie Troeltsch und Mannheim zum Ärger der marxistischen Intellektuellen im Streit der Ideologien für die Lösung hielten, eine »Kultursynthese« aus den aneinander abgeschliffenen Ideologien, ist wie ein Satyrspiel nach den Tragödien des Jahrhunderts wahr geworden. Die antagonistischen Positionen sind so weit relativiert, daß sie sich unter Berufung auf dieselben legitimierenden Werte befehden. Der Kampf der Ideologien ist wie ein Tanz, in dem die Tänzer einander in den Positionen abwechseln; sie unterscheiden sich noch, aber einzig dadurch, daß sie abwechselnd die gleichen Figuren tanzen. Die Gegensätze schmerzen nach wie vor, vielleicht sogar mehr als früher, weil sie nicht mehr entscheidbar sind. Sie sind wesenlos geworden, bevor sie erfüllt wurden und ohne daß neue, überlegene ideologische Engagements in Sicht gekommen wären.
Entire subcultures are formed around individual techniques of the manufacture and production of indifference. Meditative and ecstatic methods of immunization against disappointment and letdown will become the object of new occupations and lines of business. That which is called (a) "scene" is not only a market on which all offers of a satisfactory destruction of meaning run into one another and meet; it is really, thus, something like a stage, an inland, within or internal world becoming the stage where the players are at the same time spectators/viewers at the performance/show of the ideological present. Two versions are played in (a) series/row: the de-potentation (or de-intensifying) of traditional (handed-down) belief systems/systems of faith/belief, religions and denominational/sectarian/confessional ideologies, to private casts of mind (mindsets, ways of thinking), to »non-binding kinds of decisiveness« (Arnold Gehlen) and the transference of ideological opposites, contrasts and struggles into role play and simulation. That which scientific mandarins (mandarins of science) like Troeltsch and Mannheim believed/ regarded to the annoyance and irritation of Marxist intellectuals in the dispute of ideologies for a solution, a "cultural synthesis" of ideologies polishing and refining one another, has become like a satyr play after the tragedies of the [[20th]] century. The antagonistic positions are so widely relativised that they feud [[with one another]] by invoking the same legitimising values. The struggle of ideologies is like a dance in which the dancers alternate with one another in [[their various]] positions; they are still different, but only in that they dance the same figures alternately. The contrasts and oppositions (still) hurt like before(hand), perhaps even more than earlier, because they are no longer decidable. They have become insubstantial/without an essence before they were fulfilled and without new, superior ideological engagements which would come into view.
Die Entlarvungen sind alle rundherum geschehen, und sie waren einsichtig. Aber es sind zu viele Einsichten geworden, als daß sie noch im Stil unserer ideologischen Kultur auf eine Wahrheit gebracht werden könnten. So braucht das »aufgeklärte falsche Bewußtsein« (Sloterdijk) keine Enttäuschung mehr zu fürchten, jedenfalls keine der überlieferten Art. Am Fall des »aufgeklärten falschen Bewußtseins« zeigt sich: Die Versuche, Nichtenttäuschbarkeit im ständigen Transzendieren, in einer Romantik der Überschreitung zu finden, führen schließlich zu der entgegengesetzten Gestalt der Nichtenttäuschbarkeit, der Indifferenz, der Abwehr durch Vermeidung und Immunisierung. Nichtent­ täuschbarkeit als Resultat einer Enttäuschungsgeschichte und Nichtenttäuschbarkeit als Funktion der industrialisierten Kommunikation konvergieren; das ist die Ausgangslage. Hier ist der Punkt erreicht, von dem aus die inneren Bewandtnisse einer Phänomenologie der Enttäuschungen betrachtet werden können.
The (various kinds of) unmasking(s) and exposures happened all around, and they were cogent. But to many insights it became (the case) that they could still be brought to a truth in the style of our ideological culture. Thus, the "enlightened false consciousness" (Sloterdijk) no longer needs to fear any disappointment or letdown, at least not in the traditional or conventional way. In the case of the "enlightened false consciousness", it is shown: the attempts to find non-disappointability in constant transcending, in a (kind of) romance of transgression, finally lead to the opposite form and shape of non-disappointability, to indifference, to defense by means and way of avoidance and immunisation. Non-disappointability as a result of a history of disappointment and letdown, and non-disappointability as a function of industrialised communication converge; that is the starting point. Here the point is reached from which the inner background, story or circumstances of a phenomenology of disappointments can be looked at and considered."
FURTHER PETER FURTH CLASSIC QUOTES:
S. 29 (book)
Jedoch die Einsicht in die Relativität der Aufklärung ist offenbar unerträglich für diejenigen, die von der Aufklärung alles erwarten und sie als ein unteilbares Ganzes vorstellen. [= However, insight into the relativity of the Enlightenment is clearly unbearable for those who expect everything from the Enlightenment
and imagine it as an indivisible whole.]
S. 30
Die Konsequenz einer zynischen Enttäuschungslehre, einer Aufklärung ohne Selbstaufklärung ist nicht aufzuhalten. [= The consequence of a cynical teaching, doctrine or theory of disappointment and letdown, an enlightenment without self-enlightenment is
not to/cannot be stopped.]
S. 35
Ursprung und Ziel der Entfremdung ist eine utopische Identität, ein Unendliches und Absolutes, also etwas, das wir aus der Geschichte mit ihren Endlichkeiten und Relativitäten nicht kennen. [= The origin and goal of alienation/estrangement is a utopian identity, an infinite and absolute, that is,
something which we do not know from history with its finiteness and relativity.]
S. 38
An den Ursprung der Enttäuschungen zurückgehen, um dort den Enttäuschungsweg noch einmal vor sich zu haben, als wäre er vermeidbar, als bedeute die Erkenntnis des Ursprungs zugleich das Wissen des wahren, nämlich enttäuschungsfreien Wegs, gehört selber in die Logik der Entfremdung. [= To go back to the origin of disappointments and letdowns in order to therein once again have the path of disappointment and letdown, as if it (i.e. disappointment/letdown were avoidable, as if knowledge of the [[said]] origin meant at the same time knowledge of the true, that is, disappointment/letdown-free path, itself belongs in and to the logic of alienation.] [[CRAZY MAN SAYS (NOTHING TO DO WITH PETER FURTH) ... THAT ONCE MANKIND WENT DOWN THE INDUSTRIALISING, RELATIVELY MECHANISED HI-TECH PATH, COMBINED WITH IMPERLIASTIC PRACTICES AND ESP. THE ENLIGHTENMENT IDEOLOGY OF "PROGRESS", MOST OR AT LEAST MANY OF US WERE THROWN INTO A VICIOUS CYCLE OF GROSSLY DISPROPORTIONATE (CHIEFLY, ANGLO-AMERICAN) ZIO-HATE AND ZIO-SATANISM, SINCE DA JOO IN AGRARIAN PRE-INDUSTRIAL SOCIETIES CAN DO RELATIVELY LITTLE, WHEREAS UNDER TODAY'S ZIO-USA MASSIFIED-ATOMISED-OTHERISING FREAK-SHOW FEMINOFAGGOTISED NIGHTMARE, EVENTUALLY THE WHOLE THING WILL EITHER HAVE TO ALL BE BLOWN THE FUCK UP, OR THE APE-JUNGLE WILL SIMPLY TAKE OVER ... THERE IS ACTUALLY NO SOLUTION WHATSOEVER (LET ALONE A "FINAL SOLUTION" – WHAT KIND OF IDIOT COULD EVER THINK THAT?), THOUGH PUBLIC SPEAKERS IN THE MEDIA ETC. HAVE TO PUT A MORE POSITIVE SPIN ON THINGS BECAUSE THERE'S NO POINT IN AN UNCONTROLLED MASS PANIC OF FULL-SPECTRUM ZIO-LOBOTOMISED ZOMBIES (IN THE CASE OF THE FORMER "WEST") ... (HEGELIAN) MARXISM IS JUST A VARIANT OF THE OVERALL ENLIGHTENMENT-IDEOLGICAL AND INDUSTRIALISING-MASSIFYING-ATOMISING-OTHERISING-ETC. PRACTICE, AND NIETZSCHEANISM CUT THE "ABSOLUTIST" HEGELIAN BULLSHIT, BUT CANNOT AND DOES NOT GET PAST CONFLICT, CLASHES AND STRUGGLE ...]]
[[PETER'S DISCUSSION (S. 44-46) OF MARXISM, STALINISM, WESTERN ALIENATION-MANUSCRIPTS MARXISM = EXCELLENT, AND E CONTRARIO PROVES THAT THERE IS NO SUCH THING AS "CULTURAL MARXISM", JUST ANGLO-JOOs FUCKING ALL CONCEPTS UP WITH GROSS ZIO-JOO OBFUSCATION, AS PER USUAL, IN ORDER TO MAINTAIN THEIR GROSSLY DISPROPORTIONATE RULE ON A DIVIDE AND RULE "LEFT-RIGHT" BASIS, WHEN SUCH A BASIS IN REALITY DOES NOT EXIST IN TERMS OF POSITING QUALITATIVELY DIFFERENT FORMS OF SOCIAL ORGANISATION UNDER FREAK-SHOW OTHERISING FEMINOFAGGOTISING CIRCUMSTANCES OF ZIO-USA HEGEMONY, DOMINATION AND IMPERIALISM-APE-ZOMBIE-LOBOTOMISATION.
S. 46-55 = VERY INTERESTING/INSIGHTFUL REFERENCES TO VICO, ROUSSEAU, FICHTE, HEGEL, YOUNG HEGELIANS (B. BAUER, L. FEUERBACH, M. STIRNER) AND OF COURSE, GOOD OL' JOO KARL ... AND THEN THE ARCH ZIO-USA-"SUPER" JOOS ... ADORNO (AFTER LUKACS, WHO STILL REMAINED IN THE OLD LEFT) AND MARCUSE END UP APPEARING TO TURN "MARXISM' INTO THE IDEOLOGICAL ("CULTURAL MARXIST") JUSTIFICATION OF ZIO-USA MULTI-KULTI DIE-VERSIFY KONSUM-HEDONISMUS (»Emanzipation der Sinnlichkeit« AND OTHER SUCH NONSENSE), WHICH IS AT BEST A CARICATURE OF THE MARXIST "END OF HISTORY/TIME" AND IS IDEOLOGICALLY ATTACKED FROM "THE RIGHT" AS "CULTURAL MARXISM" WHEN IN REALITY NOTHING SUBSTANTIVE IS BEING SUGGESTED FOR SOCIETY'S REALLY TRUE RE-ORGANISATION, THE ONLY CONCERN BEING THE MAINTENANCE OF GROSSLY DISPROPORTIONATE PRIMITVE SECRET SOCIETY JOO-ZIO DIVIDE AND RULE DEVIL-EVIL-EVIL DEVIL SATANIC CIRCUS MONKEY MAMMON-LUCIFER POWER... ]]
CRAZY MAN SAYS: THIS PASSAGE IS INCREDIBLE, AND OF PARTICULAR INTEREST TO THOSE OF US WITH A REAL DEAL MARXIST THEORETICAL BACKGROUND (NOT THE ZIO-IDEOLOGICAL BULLSHIT OF DA JOOS AND CO. UNDER THE FREAK SHOW HATE-OTHERISING-KONSUM-HEDONISMUS-MULTI-KULTI-DIE-VERSIFY HEEBROO-JOO-DAS-PROTESTANT-PAPIST-ATHEIST-HOMO-LOBOTOMISED CONDITIONS OF ZIO-USA ... ) ...
S. 57-59
»Hier haben wir offenbar die Stelle, an der das Element der Enttäuschung in den Entfremdungsbegriff eintritt. Die Erfahrung der Negation von Subjektivität gehört wesentlich zur wirklichen Arbeit, und es macht einen Sinn, sie als Entfremdung zu bezeichnen. Denn was sich im Arbeitsprozeß verselbständigt und übermächtig auf das Subjekt zurückwirkt, das negiert wie eine fremde Macht sowohl die Spontaneität wie die angestrebte Identität des Subjekts. Dennoch ist es keinesfalls nicht selbstverständlich, diese Erfahrung nur mit einem negativen Sinn zu belegen. Entfremdung kann in bezug auf die wirkliche Arbeit auch in einem affirmativen Sinn verstanden werden; die einfachsten Voraussetzungen und Leistungen der Arbeit sind mit Entfremdung verbunden. Um nur ein paar Punkte dafür zu nennen: Die Arbeit als Kultur der Vermittlungen ist abhängig von so schmerzlichen Entfremdungen wie der Trennung von Motiv und Zweck, dem Aufschub und der Ablenkung von Befriedigung; erst die Versachlichung und Verallgemeinerung der subjektiven Zwecke macht ihre Übernahme durch andere möglich; die Sachzwänge entlasten vom Druck unmittelbarer Subjektivität und machen Kooperationsverhältnisse transparent und dauerhaft; die historische Kontinuität stellt sich als Akkumulation menschlicher Fähigkeiten gerade darüber her, daß die Arbeitsmittel gegenüber den Zwecken und Bedürfnissen reicher und konstanter sind. Entfremdung affirmativ also als das gegenüber den Individuen bleibende und reichere Allgemeine.
Prinzipiell negativ wird die erfahrene Entfremdung erst in bestimmter Perspektive, dann nämlich, wenn das intellektuelle Moment der Arbeit und die Form der Einzelarbeit unter der Bedingung des Privateigentums mit dem Wesen der Arbeit gleichgesetzt werden. In dieser Perspektive wird die Arbeit von einem Ideal individueller Autarkie her gedacht, einer Autarkie, die unter der Norm der unmittelbaren Identität von Individuum und Gattung steht, d. h., die Individuen vertreten nicht ein Allgemeines, sondern sie sind es selbst oder sind zu ihm alle gleich nah und unmittelbar. Unter diesem Ideal wird die Arbeitsteilung zur Bedrohung; sie wird für das hauptsächliche Entfremdungsärgernis, die ungleich machende Gesellschaftlichkeit der Arbeit, verantwortlich gemacht. Wie mir scheint, ist dieses Entfremdungsärgernis aber nur die Erscheinung von etwas Tieferem. In letzter Instanz ist die Naturbedingung der wirklichen Arbeit, die von der Natur erzwungene Verdinglichung des Subjekts, die eigentliche, aufzuhebende Negativität. Denn sie ist es ja, die, durch die Arbeitsteilung vermittelt, die individuelle Autarkie zerstört und die an sich gleichen Individuen zu verschiedenen macht und einander entfremdet. Die Naturbedingtheit der Arbeit als Quelle der unfrei und ungleich machenden Verdinglichung – das ist das Leitmotiv in den Entfremdungskonzeptionen des Linksradikalismus von Rousseau bis zum Existentialismus und zur Kritischen Theorie. Zwei Linien lassen sich unterscheiden: Entweder wird die Aufhebung der Entfremdung gleich in den Handlungsbereichen jenseits der Arbeit, wo reiner Wille und kommunikatorischer Geist herrschen, gesucht, in einem politischen Gemeinwesen, das den Idealen der Subjektivität, Unmittelbarkeit und Identität entspricht. Oder die Arbeit wird in die langfristige Perspektive der Entnaturalisierung gestellt. Dabei wird der Vermittlungscharakter der Arbeit, also ihre Naturbedingtheit, durchaus anerkannt, jedoch nur vorläufig, nur bei der Herstellung »zweiter Na­tur«; die aber ist Natur jenseitig. Das heißt, die Arbeit als Vermittlung wird als ein sich selbst aufhebender Prozeß gedacht, als ein Sublima­tionsprozeß, der Natur in Kultur verwandelt, der aus der Natur heraus zur reinen Gesellschaftlichkeit hinführen und in ihr aufgehen soll.«
= "Here we obviously have the place in which the element of disappointment and letdown enters the concept of alienation or estrangement. The experience of the negation of subjectivity belongs essentially (i.e. as regards this negation's essence) to real work/labour, and it makes sense to characterise it as alienation (estrangement). Because that which stands on its own and becomes independent in the process of work/labour and has an overpowering effect and reaction on the subject, negates, like an alien power, both spontaneity, as well as the striven-for and aimed-at identity of the subject. Nonetheless, it is by no means self-evident that this experience is to be taken or verified only in a negative sense. Alienation and estrangement can also be understood in an affirmative sense with regard and reference to the real work/labour; the simplest preconditions, prerequisites and achievements or performances of work/labour are connected with alienation (estrangement). To name only a couple of points regarding that: work/labour as a culture of mediations depends on such painful (kinds of) alienation(s) and estrangements as [[in the case of]] the separation of motive and end-goal, the deferment, postponement/suspension and the diversion or deflection of satisfaction and gratification; only the reification, objectification and generalization of subjective goals and ends makes their undertaking by others possible; the forces of circumstance, situational constraints and practical necessities provide relief from the pressure of immediate subjectivity and make relations and circumstances of co-operation transparent and permanent; historical continuity comes about and is established as the accumulation of human faculties precisely in regard to the fact that the means of work/labour vis-à-vis ends, goals and needs are richer and more constant. Alienation and estrangement [[are]] affirmative, that is, as the (i.e. what is) general remaining and being richer vis-à-vis individuals.
Experienced alienation and estrangement become principally negative only from a certain perspective, namely, when the intellectual motive or factor of work/labour and the form of individual work/labour under the condition of the private property are equated with the essence of the work/labour. From this perspective, work/labour is conceived of as an ideal of individual autarky, an autarky which is or stands under the norm of the immediate identity of the individual and the genus (species, human race/group); i.e., individuals do not represent a general (or what is general), but they are themselves or are equally near and immediate/direct with regard to a/what is general. Under this ideal, the division of labor becomes or turns into a threat; it is responsible for the main nuisance, offence or annoyance (in respect) of alienation and estrangement, which makes the unequally making sociality of work/labour (i.e. work and labour which creates an unequal sociality), answerable and responsible. But it seems to me that this nuisance, offence or annoyance (in respect) of alienation and estrangement is only the appearance of something deeper. In the final instance, the nature/natural-condition of real work and labour is the by nature forced reification and objectification of the subject, the actual to-be-abolished negativity. Because it is in fact the said nature-condition, mediated by the division of labour, which destroys individual autarky and makes in themselves equal individuals different and alienated, estranged from one another. The nature-bindedness of work/labour as a source of reification and objectification being made in an unfree and unequal manner – this is the leitmotif in the conceptions of alienation and estrangement of the left radicalism of Rousseau up to Existentialism and Critical Theory [[CRAZY MAN ADDS: IT'S VERY EASY TO CRITIQUE. THIS IS THE WAY REAL DEAL MARXISM CRITIQUED CAPITALISM, IN THAT THE COMPARATIVELY MORE GROUP-ORIENTED VILLAGE-PEASANTRY WAS/IS TURNED INTO ATOMISED-MASSIFIED ALIENATED/ ESTRANGED PROLETARIANS. OF COURSE, FROM A STRICTLY SCIENTIFIC POINT OF VIEW, THERE CAN BE NO VALUE-JUDGEMENT, AND THERE IS NO SCIENTIFIC BASIS TO PREFER "NON-ALIENATION" TO "ALIENATION", PARTICULARLY BECAUSE "ALIENATION" AS A VALUE-LADEN TERM IN SCIENCE DOES NOT EXIST, AND MAN (FOR SCIENCE AS ABSOLUTELY CONSISTENT SCIENTIFIC OBSERVATION) CAN JUST AS MUCH BE A PROLETARIAN AS A PEASANT, OR BE RULED GROSSLY DISPROPORTIONATLY BY HIS OWN (ELITE) KIND AND OR BY DA JOOS AND OR BY POOFTERS AND OR BY "LOONIES" ETC. ...]]. Two lines can be distinguished: either the abolition of alienation/estrangement is sought directly or immediately in the areas and realms of acting, action and the act beyond work and labour, where pure will and the communicatory spirit-intellect/mind rule and dominate, in a political community which corresponds with the ideals of subjectivity, immediacy, and identity. Or, work/labour is placed in the long-term perspective of de-naturalisation. In the course of this, the character as regards mediation of work/labour, that is, its nature-natural bindedness, is thoroughly and fully recognized, however, only provisionally, only in the manufacture, fabrication, production or restoration of (a) "second nature"; yet nature is on the other side, i.e. otherworldly. That means that work/labour as mediation is conceived as a self-abolishing process, as a process of sublimation which transforms nature into culture, which out of nature leads to pure sociality and is supposed to be absorbed by it (i.e. pure sociality)."
[[For any real-deal (former) Marxists, this is fun:]]
S. 59
»Folgt man hingegen Marx, dann ist die auf die Naturbedingtheit der Arbeit zurückgeführte Verdinglichung nur ein Symptom, in dem ein Verdrängtes wiederkehrt: die Trennung des Menschen vom Gemeineigentum an der Natur als dem »unorganischen Leib seiner Subjektivität«. (Grundrisse, Berlin 1953, S. 389) Für Marx liegt hier der eigentliche Ursprung der Entfremdung, und die Enttäuschung über die Verdinglichung bleibt für ihn so lange irrational, wie sie nicht auf die Wurzel der Entfremdung, die Enteignung des Gemeineigentums, zurückgeführt ist. = If, on the other hand, one follows Marx, then reification and objectification traced back and reduced to the natural bindedness of labor is only a symptom in which a repressed [[element]] returns: the separation of man from the common property in (respect of) nature as the "inorganic body of his (i.e. man's) subjectivity." (Grundrisse, Berlin 1953, p. 389) For Marx, here lies the real, actual source of alienation and estrangement, and the disappointment and letdown regarding objectification and reification remains irrational to him as long as it is not traced back and reduced to the root of alienation and estrangement, the expropriation of common property.«
[[AND THIS IS WHAT THE CRAZY MAN ESSENTIALLY SAID EARLIER, BUT THIS TIME, SPECIFICALLY AS REGARDS MARX:]]
»Und von der Aufhebung des Privateigentums an den Produktionsmitteln das Überflüssigwerden und Verschwinden der »ideellen Vergesellschaftung« zu erwarten, bedeutet eher eine Vertiefung der Mystifikation als ihre Klärung. = And to expect from the abolition of private property in the means of production, the becoming superfluous and disappearance of "ideational socialization", means a deepening of mystification rather than its clarification.«
[[SO, THE CRAZY MAN MIGHT BE "ALIENATED AND ESTRANGED", BUT IS PROBABLY NOT AS CRAZY AS HE APPEARS TO BE ... REPEAT: IT'S EASY TO CRITIQUE. CRITIQUE CAN BE DONE FROM A REALLY TRULY EXISTENT MARXIST POINT OF VIEW, FROM A REALLY TRULY CONSISTENT CONSERVATIVE POINT OF VIEW (WHICH NO LONGER HAS ANY PRACTICAL APPLICATION AS SOCIETY HAS "PROGRESSED" WAY TOO FAR AWAY FROM SOCIETAS CIVILIS, AND THERE IS NO TURNING BACK), FROM A FEMINO-FAGGOTISING-PSYCHO-JOO+ALLIES SUPPORTED POINT OF VIEW, FROM A NEGRO-ANTI-WHITE-JOO+ALLIES SUPPORTED POINT OF VIEW, FROM A JOO+ALLIES-RETARD-PRIMITIVE SECRET SOCIETY-BRAIN WASHING-FULL-SPECTRUM-ZIO-LOBOTOMISATION (DIVIDE AND RULE-MULTI-KULTI DIE-VERSIFY ZIO-USA) POINT OF VIEW, FROM A LIBERAL-IDEOLOGICAL POINT OF VIEW, FROM AN ATOMISTIC-EXISTENTIALISTIC "LOOK AT ME, I'M SMART" POINT OF VIEW, OR FROM ANY THE FUCK POINT OF VIEW YOU CAN THINK OF ... THE "PROBLEM" IS THAT THERE IS NO SOLUTION (LET ALONE "FINAL SOLUTION") ... AND WHAT GOES AROUND, COMES AROUND, AND SO THE ZIO-JOO-HEEBROO-JOO-DAS SATANISTS WILL EVENTUALLY GET WHAT THEY DESERVE AND WHAT IS COMING TO THEM, BECAUSE NO GROUP OF PEOPLE GROSSLY DISPROPORTIONATELY RULES FOREVER ... (EVEN IF THEY'VE HAD A REALLY GOOD RUN FOR THE LAST 70+ YEARS) ... NO MATTER WHAT THOSE STEEPED IN HUBRIS BELIEVE, CONTEND, ARGUE ETC. ... BLA-BLA-BLA, BLA-BLA-BLA, BLA-BLA-BLA ...]]
S. 60-61
» ...
Dafür rühmte Hegel an Rousseau ja so sehr, daß er mit seiner »volonté général« das Gemeinwesen, den Staat, auf den Willen gegründet habe. Doch das Problem bleibt: Wie kommt das Ideal zum Willen? Es selbst als Wille zu deuten, darin liegt der religiöse Charakter, der dem Entfremdungsgedanken unlösbar anhaftet. Feuerbach sprach das Problem, um das es hier geht, programmatisch aus: »Die Politik muß unsere Religion werden.« (Notwendigkeit einer Reform der Philosophie [[1842]])
= For this reason, Hegel praised and extolled Rousseau so much that he, with his »volonté général«, had founded the commonwealth, the state, on the will [[of the people]]. Yet the problem remains: how does the ideal become or turn into the will [[of the people]]? To interpret it (i.e. the ideal) itself as a will, therein lies the religious character, which is inextricably attached to the notion of alienation. Feuerbach expressed the problem concerning us here programmatically: "Politics must become our religion." (The necessity for a Reform of Philosophy).
«
[[CRAZY MAN SAYS: SO THE WEST (BROADLY DEFINED) MOVED FROM RELIGION (CHRISTIANITY) AS POLITICS ... TO POLITICS AS A RELIGION, ... AND THAT'S WHERE DA JOOS/THE SATANISTS/THE REPRESENTATIVES OF THE HORRIFIC MAMMON SATAN (LUCIFER) CAME IN WITH THEIR ANGLO-FRANCO-GERMANO-HOLLANDO-ITALO-RUSSO-AMERICAN (ZIO) ALLIES AND FUCKED UP THE WHOLE PLANET WITH THE SUPER TURBO BOOSTED MAMMONISED INDUSTRIAL REVOLUTION = MASSIFICATION-ATOMISATION-OTHERISATION-FEMINOFAGGOTISATION-APEIFICATION-JUNGLEFICATION-DRUGS-FULL SPECTRUM ZIO-USA LOBOTOMISATION-FREAKIFICATION-SATANIC CIRCUS MONKEY TOTALLY FUCKED IN THE HEAD AUTO-GENOCIDE-ETC. = OVER. DEAD. ZIO.]]
S. 61
»
Die Romantik entstand als Antwort auf die Aporie der bürgerlichen Politik, beim Übergang des Naturrechts in die Politik, als die Rousseausche »volonté général« zeigen mußte, was sie konnte.
Die Befreiung der menschlichen Arbeitskraft und des Kapitals von den Fesseln der traditionalen Vergesellschaftung ermöglichte zwar eine neue Produktionsweise, schuf aber auch ein beunruhigendes Phänomen, einen systematischen Mangel an sozialer Integration
=
Romanticism came into being as an answer to the aporia (doubt, contradiction or paradox) of bourgeois politics, during the transition of natural law into politics, when Rousseauean "volonté général" had to show what it was capable of.
The freeing and liberation of human labour power and of capital from the shackles of traditional socialisation made possible a new mode of production, but also created a disturbing phenomenon, a systematic lack of social integration.
«
[[THE IMMEDIATELY ABOVE IS OBVIOUSLY REFERRING TO MASSIFICATION-ATOMISATION, PARTICULARLY AS WITNESSED IN ALL THE COMMUNITY-SOCIETY AND GENERALLY CRITIQUE OF CULTURE LITERATURE OF THE 19TH AND 20TH CENTURES ESP. IN THE PERIOD 1850-1950 ... WITH OF COURSE "ROOTS" GOING BACK MUCH FURTHER ... NOW, I AM CRAZY, AND I WON'T QUOTE EVERYTHING PETER FURTH WROTE, BUT THIS IS ALL LEGENDARY STUFF INCL. P.F. REFERRING TO NATURAL LAW SUCCEEDING IN CRITIQUING FEUDAL AND ABSOLUTIST RELATIONS, BUT ENCOUNTERING PROBLEMS IN ENFORCING/PUSHING THROUGH AND STABALISING BOURGEOIS SOCIETY [[DON'T FORGET, WE'RE DEALING WITH THEORETICAL ABSTRACTIONS HERE FOR THE PURPOSE OF CONVENIENCE, BECAUSE IN THE REAL WORLD, THE INTELLECTUAL DIMENSION DOES NOT OPERATE UNRELATED TO MATERIAL CHANGES ETC.]] ... SINCE BOURGEOIS SOCIETY COULD NOT HAVE RECOURSE TO PRE-REVOLUTIONARY SOCIAL THEORIES, BECAUSE SACRIFICE RATHER THAN EXCHANGED CHARACTERISED THE BASIC SOCIETAL INTERRELATION IN SOCIETAS CIVILIS. AND THAT'S WHERE POLITICS CAME IN AS MENDING WHAT WAS BEING DESTROYED BY MATERIAL PRODUCTION CHANGES ETC. IN A NOTION OF COMMUNITY. SO, THE BOURGEOIS BECAME A CITOYEN AND BOURGEOIS IDEOLOGY HAD TO GO BEYOND JUST PRIVATE PROPERTY TO A SUPERIOR MORAL AUTHORITY. SO, RELIGION WAS DISPLACED BY POLITICS ITSELF = »die Politik muß unsere Religion werden« [[MADMAN FURTHER ADDS: OR RATHER, RELIGION WAS POLITICISED IN A WAY ENTAILING SECULARISATION, AND THAT'S WHERE DA JOO, THE QUINTESSENTIAL REPRESENTATIVE OF SATAN, COULD (EVENTUALLY) IN HIS PRIMITIVE SECRET SOCIETY-BANKING-MAMMNON-MASS MEDIA-BRAIN WASHING ETC. WAYS COULD GROSSLY DISPROPORTIONATELY STEP IN AND EVENTUALLY GET US TO THE STAGE OF SELF-RACIST AUTO-GENOCIDE ...]] ... ]]
OH MY GOD! PETER FURTH CLASSIC QUOTE TIME AGAIN!!!
S. 63
«
Die Säkularisierung war ihr eigener Prozeß, den sie selber einleitete und der schließlich zu einem Paradigmawechsel oder Terrainwechsel der Heilserwartung führte. Die mit der Jenseitshoffnung verbundene Entwertung des menschlichen Daseins in Geschichte und Politik war aufzuheben, die Transzendenz ins Diesseits zu holen. Wer konnte das besser als die Kunst? Nicht nur, daß sie aus langem Dienst an den Altären geübt war in der Verklärung des Heiligen; sie hatte währenddessen auch immer ihr Eigenstes mitgeübt, die Heiligung des Diesseitigen.
=
Secularization was its (i.e. politics') own process, which politics initiated itself, and which eventually led to a paradigm shift or a change of terrain in regard to the expectation of salvation. The devaluation of human being (t)here and existence connected with hope in the after world in respect of history and politics, was and had to be abolished in order to seek and get transcendence in the this-world. Who could do that better than art? Not only is it fact that art had been exercised for a long time in altars in regard to the transfiguration of the saint; art in the meantime had always practiced and been doing her own thing; the sanctification of the this-world.
«
[[CRAZY MAN EXPLAINS: SO WE CAN SEE THAT WITH THE SOLIDIFYING OF THE BOURGEOIS CENTRALISING STATE, TRADITIONAL CHRISTIAN RELIGION BEGAN TO SLOWLY LOSE ITS GRIP (FIRST AMONGST LEARNED ELITES IN THE HISTORY OF IDEAS), AND THEN MORE BROADLY IN SOCIETY, E.G. AT THE LEVEL OF THE LEARNED BOURGEOIS, THROUGH ART (WITHOUT ANY SIGNIFICANT JOO-ISH-ZIO-EXCREMENT INPUT UNTIL ABOUT THE TIME OF WAGNER), AND LATER, THROUGH MASS MEDIA ZOMBIE-LOBOTOMISATION (INCL. GROSSLY DISPROPORTIONATE SATANIST-JOOISH PARTICIPATION UNDER CIRCUMSTANCES OF ZIO-USA, PARTIC. AFTER WW2 AND WITH THE 1960s AND 1970s CULTURAL REVOLUTION) INCL. THE FULL-SPECTRUM ZIO-MULTI-KULTI-DIE-VERSIFY-FREAK-SHOW-ZIO-KOST-WORSHIP-LOBOTOMY-RETARDATION OF THE MASSES ... TO THE POINT OF MAKING APE/OTHER WORSHIPPING OTHERISATION AND HOMOSEXUALITY ETC. APPEAR TO BE "NORMAL" WHEN IN REALITY THEY ARE LIKE ALL HUMAN-SOCIAL PHENOMENA, RELATIVE (AS TO RELATIONS OF POWER) ... AND DON'T FORGET, I'M CRAZY AND THE FIRST APE!!!
... P.F. GOES ON TO REFER TO THE FRENCH REVOLUTION AND THE PEOPLE FEELING THEY HAVE SOVEREIGNTY AS SYMBOLISED BY THE MARSEILLAISE AND WITH THE MASSES BEING A KIND OF SUBJECT-OBJECT OF DOERS AND SPECTATORS ETC.. POLITICAL ACTION WAS DRAMATICAL, LITURGIC, THEATRICAL AND CULT-LIKE ... (ALL OF THIS, CRAZY MAN SAYS, POINTS TO LE BON ET AL.) ...
FRUIT-LOOP MAN COMMENTS: AND SO WE ARRIVED AT "NATIONALISM" AND FEELINGS OF NATIONAL SOLIDARITY TIED TOGETHER BY AN EMERGING MASS MEDIA AND A CENTRALISING STATE-BUREAUCRACY, WHEREAS PREVIOUSLY PEOPLE TENDED TO BELONG MORE TO THE LOCAL, EVEN THOUGH THE LOCAL WAS PART OF A LARGER CIVIZATIONAL-NATIONAL CONTEXT COMPARED WITH OTHER LARGER (LOOSER OR TIGHTER) GROUPS ... AND CLEARLY EVEN IF ONE DEFINES "NATIONHOOD" NARROWLY TO POST 1789, SOMETHING LIKE DA JOOS HOBSBAWN AND GELLNER, THERE WERE STILL LARGER THAN LOCAL GROUPS OF PEOPLE (WHICH ONE COULD CALL NATION, BUT DOESN'T HAVE TO) WHEN COMPARED TO OTHER LARGER GROUPS E.G. PRE-1789 ... THE ENGLISH (WITH ALL THEIR REALLY TRULY DIVERSE LOCAL VARIANTS) VS. THE FRENCH (WITH ALL THEIR REALLY TRULY DIVERSE LOCAL VARIANTS) VS. THE GERMAN(IC)S (WITH ALL THEIR REALLY TRULY DIVERSE LOCAL VARIANTS) VS. THE ITALIANS (WITH ALL THEIR REALLY TRULY DIVERSE LOCAL VARIANTS) VS. THE GREEKS (WITH ALL THEIR REALLY TRULY DIVERSE LOCAL VARIANTS) VS. THE TURKS (WITH ALL THEIR REALLY TRULY DIVERSE LOCAL VARIANTS) VS. THE SERBS (WITH ALL THEIR REALLY TRULY DIVERSE LOCAL VARIANTS) VS. THE BULGARS (WITH ALL THEIR REALLY TRULY DIVERSE LOCAL VARIANTS) VS. THE HUNGARIANS (WITH ALL THEIR REALLY TRULY DIVERSE LOCAL VARIANTS) VS. THE RUSSIANS (WITH ALL THEIR REALLY TRULY DIVERSE LOCAL VARIANTS) VS. DA JOOS (WITH ALL THEIR REALLY TRULY DIVERSE LOCAL VARIANTS) (WHO COULD ALSO BELONG TO THER GROUPS) VS. THE CHINESE (WITH ALL THEIR REALLY TRULY DIVERSE LOCAL VARIANTS) VS. THE VIETNAMESE (WITH ALL THEIR REALLY TRULY DIVERSE LOCAL VARIANTS) VS. THE JAPANESE (WITH ALL THEIR REALLY TRULY DIVERSE LOCAL VARIANTS) VS. THE MYRIAD TRIBES OF AFRICA (WITH ALL THEIR REALLY TRULY DIVERSE LOCAL VARIANTS), ETC. ETC. ETC. ...
OF COURSE, WITH CAPITALISM AND IN PARTIC. INDUSTRIAL CAPITALISM SPREADING "EVERYWHERE", "THE SOCIAL QUESTION" AROSE, AND VARIOUS CLASS STRUGGLES TOOK PLACE ... ALSO INCL. THE BOLSHEVIKS AND CO., AND EVENTUALLY MATERIAL LIVING STANDARDS WENT UP IN THE WEST THROUGH A COMBINATION OF LABOUR, TECHNOLOGY, IMPERIALIST ADVANTAGE, POLITICAL-ECONOMIC CONCESSIONS, PRODUCTIVITY INCREASES ETC. AND ONCE THE MASS DEMOCRATIC (POST-BOURGEOIS OLIGARCHIC LIBERAL) SOCIETY OF RELATIVE AFFLUENCE SOLVED THE "SOCIAL QUESTION", BY THE 1960s WE HAD GONE DOWN THE PATH OF THE ZOMBIE-OTHERISING-SELF-RACISM HEDONISMUS-KONZUM SOCIETY AND ITS "CULTURAL REVOLUTION", WHERE DA JOOS AND ALLIES TRY AND CREATE A "ONE WORLD" "GLOBAL VILLAGE MARKET" WHERE THEY CAN GROSSLY DISPROPORTIONATELY RULE AND DOMINATE WITH ALL THEIR OTHERISING FEMINOFAGGOTISING ZIO-JOO MASS LOBOTOMISATION-BRAIN WASHING EXCREMENT-FILTH AND ASSOCIATED NONSENSE ... THEORETICALLY, SUCH A SCENARIO OF TOTAL HELL (E.G. FOR AN ORTHODOX HELLENIC ROMAN/RUSSIAN OR A REAL DEAL IN CHINA CHINAMAN) IS POSSIBLE ... BUT IN PRACTICE IT SEEMS LIKE WE'RE ALL HEADED FOR THE SUPER-FREAK REALM OF THE JUNGLE ANOMIC APE ... WHERE THE ZIO SATANIC CIRCUS MONKEY UTOPIA BECOMES AN APE-OTHERISED-DRUGS-ZOMBIE-JUNGLE DYSTOPIA ... OVER. DEAD. ZIO.]]
REMINDER: YOU NEED TO READ AND STUDY PETER FURTH'S TEXT, BECAUSE I AM INSANE, AND I AM ADDING MY OWN SHIT TO THESE COMMENTS WITHOUT INDICATING I'M DOING SO ...
S. 66-67 = A FASCINATING DISCUSSION ON MARX USING ROUSSEAU'S »aliénation totale« and »volonté totale«, whereby Marx saw »aliénation totale«, not in terms of the voluntarism of Rousseau's citoyen, but as an involuntary and externally determined, objective process relating to the proletariat and class struggle.
S. 67 CLASSIC PETER FURTH QUOTE
»Aufhebung des Proletariats und Verwirklichung der Philosophie gingen für den Hegelianer Marx ineinander über. = The abolition of the proletariat and the realisation of philosophy pass, turn, blend or merge into each other, for the Hegelian Marx.«
THEN THERE'S THE INEVITABLE REFERENCE TO DA (NOT STUPID) JOO, György Lukács, WHOM I HAVE STUDIED IN THE DISTANT PAST, THE INTEREST BEING HOW DIS JOO TRIED TO KEEP THE PHILOSOPHY-LIBERATION OF THE PROLETARIAT GOING AS SOMETHING "HISTORICALLY AND PHILOSOPHICALLY INEVITABLE" IN TERMS OF SUBJECT-OBJECT AND DIALECTICS ETC., WHICH ON ONE VIEW IS NOT ENTIRELY WRONG FROM THE POINT OF VIEW OF THE WEST IN THE PERIOD 1950-2000 (1960-1990) BEING TO SOME EXTENT A KIND OF CARICATURE OF COMMUNISTIC UTOPIA (AS P.K. POINTED OUT).
AND SO BY S. 69 WE ARRIVE AT THE LENINISTIC AVANT-GARDE OF THE PARTY LEADING THE PROLETARIAT ETC.. AS WE CAN BY NOW CLEARLY SEE MARXISM QUA MARXISM IS ABOUT THE SOCIALISTIC TRANSFORMATION OF SOCIETY'S ORGANISATION AND CANNOT POSSIBLY BE "CULTURAL MARXISM" EXCEPT FOR LEFT-RIGHT POLEMICAL-IDEOLOGICAL PURPOSES, BECAUSE AS WE HAVE JUST STATED, MARXISM WAS NEVER ABOUT POOFTERS, FREAK SHOW SUPER FREAKS, SATANIC CIRCUS MONKEY JOOZ AND OTHER ASSORTED MULTI-KULTI HEDONISMUS-KONZUM DEGENERATES. THE "CULTURAL MARXISM" BUSINESS IS ABOUT JOOS AND ANGLOS AND OTHERS KEEPING A "LEFT-RIGHT" POLEMICAL-POLITICAL DICHOTOMY GOING, AND BOTH REFLECTS ACTUAL GROSSLY DISPROPORTIONATE JOOISH-ZIO POWER (BECOZ "YOU ARE NOT ALLOWED IN THE POLITICAL SPHERE TO NAME DA JOO"), AND SERVES CERTAIN POLITICAL MOVEMENTS LIKE THE BANNON-FARAGE-SALVINI-MALONI-VOX-WILDERS-LE PEN-ET. AL. "RIGHT" (TO THE EXTENT THEY AGREE ABOUT THINGS, WHICH IS NOT OF COURSE COMPLETE AGREEMENT FOR ALL ABOUT EVERYTHING). IN ANY EVENT, I RATHER LIKE ALL THESE CHARACTERS, ESPECIALLY VOX, SALVINI AND MELONI (WHOM I ACTUALLY LUV (GIORGIA, SCUSAMI, TI AMO!!!)), AND THEY ARE DOING ABSOLUTELY THE RIGHT THING, BECAUSE AN "ANTI-SATANIC" LINE WOULD MARGINALISE THEM AS IN THE CASE OF CASA POUND AND ACTUAL FAR-RIGHT (WHITE-NATIONALISTIC) NUT JOBS WHO DON'T UNDERSTAND THAT HISTORY HAS PASSED THEM BY, LIKE IT HAS PASSED ACTUAL COMMUNISM AS A POLITICAL MOVEMENT ... BY ... BYE-BYE!.
S. 69 CLASSIC PETER FURTH QUOTE
»Gleichwohl sollte die unleugbare oligarchische, ja, cäsaristische Tendenz des Avantgardismus demokratisch legitimiert sein. = Nonetheless, the undeniable oligarchic, in fact, Caesaristic tendency of avant-gardism was supposed to be democratically legitimised.«
AND, OF COURSE, THE COMMUNIST PARTY WAS WHAT "HAD TO LEAD THE WAY", AND THIS IS VERY SIMILAR TO JOOS AND OTHER MAFIAS AND BROTHERHOODS AND PRIMITIVE SECRET SOCIETIES AND CRIMINAL ORGANISATIONS/GANGS AND FASCIST PARTIES ETC. THROUGHOUT HISTORY BELIEVING THAT THEY ARE "CHOSEN, SPECIAL, EXCEPTIONAL, MASTER RACES (OR AT LEAST MASTER GROUPS) WITH A KING OF BACON ON DA HILL" ETC..
SO, LENIN'S BRILLIANCE (AND STALIN'S AND MAO'S AND HO'S AND KIM'S AND CHE'S) WAS TO USE HIS JOOS (INCL. JOOTSKY AND MANY ODA JOOZ) AND LEARN FROM HIS JOOZ, AND THEN HAND THE REIGNS OVER TO STALIN, SO STALIN, ONCE IN POWER, COULD LEAD THE SOVIET UNION IN A GREAT RUSSIAN PATRIOTIC DIRECTION, JUST AS MAO HAD DONE SO FOR THE CHINESE, AND HO FOR THE VIETNAMESE, AND SO ON AND SO FORTH.
S. 70-71 CLASSIC PETER FURTH QUOTE
»Dieses Bündnis aus theoretischer Objektivität und praktischem Voluntarismus, aus analytischer Sachlichkeit und dialektischem Konstruktivismus machte aus dem Marxismus eine Superwissenschaft. [[AAAAAAAAAAAAAAAAAAAAAAAA-
HAHAHAHAHAHAHAHAHAHAHAHAHAHAHA
HAHAHAHAHAHAHAHAHAHAHA!!!!!!!!!!!!!!!!
!!!!!!!!!!!!!!!!!!!]] Mit ihr im Kopf konnte die Avantgarde ihre Revolution ontologisch verstehen und zugleich technisch machen, war die Eschatologie ebenso teleologisches Schicksal wie technologisches Können, eine Dialektik von unbedingtem Kampf und Geschichtsgehorsam. = This alliance of theoretical objectivity and practical voluntarism, of analytical objectivity and dialectical constructivism made Marxism a super science [[AAAAAAAAAAAAA-HAHAHAHAHAHAHAHA!!!!!!!!!!!!!!!!!!!!!!!!]]. With it in mind, the avant-garde could understand its revolution ontologically, and at the same time make [[it]] technical; eschatology was just as much a teleological fate as technological ability, a dialectic(s) of unconditional struggle and obedience to History.«
S. 71 REFERENCE TO DA NON-JOO AND VERY SMART Kojève WHEREBY SOCIAL AND POLITICAL PROBLEMS BECOME TECHNICAL PROBLEMS AND SUPPOSEDLY COMMUNISM IS REALISED IN THE CAPITALISTIC WEST AS BEING A MATTER OF MANAGING THINGS (SINCE (NEARLY) ALL CITIZENS HAVE ACCESS TO BASIC MATERIAL GOODS, AND FOR THE FIRST TIME IN HISTORY WANT IS ELIMINATED FOR THE MASSES).
S. 72 CLASSIC PETER FURTH QUOTE
»Der Zweifel an der Vereinbarkeit von Avantgardismus und Interessenpolitik und die Furcht vor den totalitären Konsequenzen der avantgardistischen Identitätsprogramme führten überall zu einer Abkehr der Klasse von der Avantgarde und ihrer Ideologie. In den Ländern des »real existierenden Sozialismus« ist die Entfremdung der werktätigen Bevölkerung von ihrer Avantgarde in der Gestalt von Partei und Staat am eindrucksvollsten, weil die ˃sozialistische Enttäuschung˂, sich noch in den rituellen, liturgisch inhaltslos gewordenen Formen der sozialistischen Öffentlichkeit selbst ausdrücken kann, als ein zynisches Miteinander von ironischer Hörigkeit und verstocktester Privatheit. = [[In the West,]] the doubts about the compatibility of the avant-garde and politics of interest (i.e. special interest-group politics) and fear before the totalitarian consequences of the avant-garde identity programmes [[i.e. re: feminazis, degenerates, weirdos, freak show super freak persons and retards et al.]] led everywhere to the turning away of the [[proletarian/working]] class from the avant-garde and its ideology. In the countries of "really existing socialism", the estrangement and alienation of the working population from its avant-garde in the form of (the) Party and the state is most impressive because the 'socialistic disappointment and letdown' can still be expressed in the ritualistic forms of the socialistic publicness (i.e. state of being public) becoming liturgically contentless as a cynical being-with-one-another (i.e. cynical co-existence) of ironic bondage or dependence and the most stubborn (state of) privacy.
FURTHER CLASSIC PETER FURTH QUOTES!
S. 73-74
»Wenn man diese Gedanken auf die Bürokratie und die Funktionärsintelligenz überhaupt anwendet, versteht man die bürokratische Lähmung des Sozialismus erst vollständig. Die Bürokratie stand vor dem Widerspruch: einerseits Kampf für die »Diktatur des Proletariats«, andererseits »Übergang vom Staat zum Nichtstaat« (Lenin), einerseits war sie Protagonist der Verselbständigung des Staates, andererseits sollte sie auf dem Weg zum »Absterben« des Staates vorangehen. Die Lösung des Widerspruchs bedeutete ihre Auflösung, den Verlust von Macht und Prestige und eine Kompensation durch ein noch Unbekanntes. Also lebte die bürokratische Avantgarde mit ihrem Widerspruch, indem sie ihn vor der Lösung bewahrte. Sie hielt sowohl ihre ideologische Selbstnegation wie ihre Macht aufrecht. Praktisch hieß das: Das Schicksal der »Diktatur des Proletariats« lag bei der Diktatur und nicht beim Proletariat, und das »Absterben« des Staates blieb in der Kompetenz des Staates. Es wurde erkennbar, daß die Bürokratie die von ihr beanspruchte Citoyenrolle deformierte und das Gemeinwesen auch ohne politische Not unter Zensur hielt. Offenbar war die politische Bürokratie unaufhebbar partikular. Die Enttäuschung resümierte sich in der Einsicht, daß politische Macht ein untaugliches Mittel zur Transformation der Politik in soziale Funktion war, was zu der Konsequenz weitertrieb, von einer anderen Art Macht diese Transformation zu erwarten. So kamen die positivistischen Bestandteile des »wissenschaftlichen Sozialismus« immer mehr zum Zuge, und die Bürokratie wurde zur Technokratie vervollkommnet oder von ihr überformt. = If one applies these thoughts to the bureaucracy and the intelligence of a functionary and or high-ranking official in general, one understands the bureaucratic paralysis of socialism even more completely. The bureaucracy stands before and faces a contradiction: on the one hand, the struggle for the "dictatorship of the proletariat", on the other hand, the "transition from the state to the non-state" (Lenin); on the one hand, it (the said bureacracy) was the protagonist of the autonomisation and the independence of the state, on the other hand, it was supposed to lead the way to the "dying away/out and perishing" of the State. The solution of the contradiction meant its (i.e. the State's) dissolution, the loss of power and prestige, and a compensation through what is still unknown. So, the bureaucratic avant-garde lived with its contradiction by protecting itself from the solution. It kept both its ideological self-negation as well as its power upright. In practical terms, this meant: the fate and destiny of the "dictatorship of the proletariat" lay in the dictatorship and not in the proletariat, and the "death" of the state remained (with)in the competence of the state. It became discernible that the bureaucracy deformed the role of citizen asserted by it, and kept the community under censorship even without political need. Obviously, the political bureaucracy was ineluctably particular [[i.e. in favour of its own interests]]. The disappointment and letdown was summed up in the insight that political power was an unsuitable means for the transformation of politics into a social function, which drove and carried on and led to the consequence of expecting this transformation by and from another kind of power. Thus, the positivistic constituent elements and parts or components of "scientific socialism" got a chance and came into play more and more, and the bureaucracy was completed, perfected in technocracy or superimposed by it (i.e. technocracy was superimposed onto the bureaucracy).»
S. 74
»Die Enttäuschung über die politische Bürokratie ließ die ideologischen Ziele, auf die sie verpflichtet war, nicht unberührt. Das alte utopische Ziel der Wiedervereinigung des Staates mit der Gesellschaft wird mittlerweile eher gefürchtet als gewünscht, oder es wird einfach nicht mehr geglaubt und dem öffentlichen Ritualismus überlassen. Das Reich der Zwecke ist nicht nur im Westen nihilistisch verödet; wie sehr gerade der »real existierende Sozialismus« von der Auszehrung der Utopie betroffen ist, zeigt der Kultus der »wissenschaftlich-technischen Revolution«. Wissenschaft und Technik machen zweifellos einen uralten menschlichen Traum wahr: die Umwandlung der Natur in menschliches Können. Aber Wissenschaft und Technik sind ein in sich selbst zweckloses Können, ein Können, das auch dann ein Vermögen, eine Macht ist, wenn Zwecke fehlen oder strittig sind. Der Nihilismus ist demgegenüber zu beschreiben als ein prinzipielles Nicht-Können in bezug auf Zwecke. In einer solchen Situation, in der die Sphäre der Zwecksetzung überhaupt unglaubwürdig geworden ist, übernimmt das ˃zwecklose< Können die Rolle der nicht mehr gekonnten Zwecke. Das Können wird selber der Zweck. = Disappointment and letdown over the political bureaucracy did not leave the ideological goals to which it (i.e. the political bureaucracy) was committed, unaffected. The old utopian aim of reuniting the state with society is in the meanwhile feared rather than wished-for and desired, or it is simply no longer believed and is left (over) to public ritualism. The realm of ends and goals is not only nihilistically desolated in the West; the cult of the "scientific and technical revolution" shows just how much precisely "real existing socialism" is affected by the emaciation of utopia. Science and technology undoubtedly make an ancient human dream come true: the transformation of nature into human ability. Science and technique/technology are in themselves a pointless ability and skill, an ability and skill which is also then a capacity, a power, when ends and goals are lacking or controversial. In contrast, nihilism can be described as an in principle non-ability and non-skill in relation and with reference to ends and goals. In such a situation, in which the sphere of the setting of the goal (or end formulation) has become generally unbelievable, the "goal-less, end-less or purposeless" ability and skill take on the role of ends and goals which are no longer able [[to be attained and realised]]. The ability itself becomes the end, goal or purpose.«
...
S. 75 (re: Soviet-style regimes and societies)
»Widersprüche in der gesellschaftlichen Wirklichkeit konnten nicht mehr als etwas gelten, das im ideologischen Konflikt auszutragen und auszuhalten war. Widersprüche waren vielmehr nach dem Modell des Widerspruchsausschlusses zu erledigen: durch die Herstellung einer gesellschaftlichen Homogenität, die Widersprüche systematisch unterband. = Contradictions in societal reality could no longer be considered as something to be dealt with and endured in ideological conflict. Rather, contradictions had to be settled according to the model of exclusion of (the) contradiction(s): by the manufacture, creation, production or restoration a societal homogeneity, which systematically prevented/scotched/hamstrung contradictions.«
...
S. 76
»Der »Aufbau des Sozialismus in einem Land« war eine solche Situation. Gewöhnlich sehen wir diesen Weg als einen Weg der realistischen Anpassung an begrenzte Möglichkeiten; doch der realistische Weg war gerade der utopische. Zwar war Sowjetrußland nur bedingt mit Morus' Utopia vergleichbar; einerseits war es viel bedrohter, weil es ein wirkliches Land war und nicht ein ˃Niemandsland˂, und andererseits standen unendlich mächtigere Mittel zur Verfügung, um endlich die utopische Beschränkung der Utopie zu überwinden. Nur eine fatale Notwendigkeit blieb, noch potenziert durch den Realismus der Utopie: Der Sozialismus mußte unter der Bedingung eines geschlossenen Systems aufgebaut werden. Die Theorie des wissenschaftlichen Sozialismus konnte in der Folge davon nicht anders als im Sinne einer Orthodoxie entwickelt werden. Oppositionen, Fraktionen, Abweichungen mußten als Repräsentanten derjenigen Umwelt, gegen die das System abgeschlossen werden sollte, verbannt werden. Dafür zu sorgen, war Aufgabe der Avantgarde. Sie erfüllte diese Aufgabe ihrem eigenen Prinzip folgend durch »Personenkult« und »Säuberung«, durch den Aufbau einer Identifikationspyramide und den Abbau aller Selbständigkeiten. Was dieser Doppelstrategie widerstand oder bloß im Wege war, wurde von einem inneren Widersacher in einen äußeren Feind umgeformt, der als Feind des Sozialismus Feind der Menschlichkeit, absoluter Feind war und gegen den deshalb alle Mittel legitim waren. Dafür stehen die Namen Stalin und Bucharin, wobei nicht Stalin, sondern Bucharin der eigentliche Schreckensname ist; von ihm geht die Enttäuschung aus, von Stalins Name die Furcht. Stalin kann auch als ein gewöhnlicher Tyrann verstanden werden, Bucharin jedoch war als Nachfahre des Hölderlinschen Empedokles der avantgardistische Märtyrer, der als tragischer Held sich selbst zum Opfer brachte und damit den Terror legitimierte. = The "building of socialism in one country" was such a situation. We usually see this path or way as a path/way of the realistic adaptation and adjustment to limited possibilities; yet the realistic path/way was precisely the utopian path/way. Soviet Russia was only conditionally comparable to Mores' Utopia; on the one hand, it was much more threatened because it was a real country and not a no man's land, and on the other hand, infinitely more powerful means were at its disposal to in the end overcome the utopian limitation of utopia. Only one fatal necessity remained, still intensified and multiplied by the realism of utopia: socialism had to be built on the condition of a closed system. As a result, the theory of scientific socialism could not be developed otherwise than in the sense of an orthodoxy. Oppositions, factions, deviations and divergences had to be banished as representatives of that environment against which the system was supposed to be closed. The task and mission of the avant-garde [[i.e. the Marxist-Leninist avant-garde, and not any degenerate artsy fartsy cultural revolutionary ZIO-excrement avant-garde]] was to be concerned about this. It (i.e. the avant-garde) fulfilled this task and mission of its own principle through the "cult of personality" and "cleansing", through the building and construction of a pyramid of identification and the breaking down or dismantling of all independence and autonomy. Anything that resisted or was merely in the way of this double strategy was re-formed and transformed from an internal adversary into an external enemy/foe who, as a foe/enemy of socialism, was an enemy/foe of mankind and of humanity, an absolute foe/enemy, and against whom all means were legitimate. This is what the names Stalin and Bukharin stand for, whereby not Stalin, but Bukharin is the real and actual name of terror or horror name; disappointment emanates from him (i.e. Bukarin), fear from Stalin's name. Stalin can also be understood as an ordinary tyrant, however, Bukharin, as the descendant of Hölderlin's Empedocles, was the avant-garde martyr who, as a tragic hero, sacrificed himself (or made of himself a sacrifice) and thus/hence legitimized terror.«
[[I WANT TO ADD AS NON-JOO CRAZYMAN: STALIN 1) KEPT HIMSELF IN POWER ON THE BASIS OF ABSOLUTE REALISM, AND 2) DEFEATED NATIONAL-SOCIALISTIC GERMANY, AND THESE COULD ONLY BE DONE THROUGH RAPID INDUSTRIALISATION AND ACTUAL POLITICAL TERROR WITHIN ABOUT 10-15 YEARS, WHEREAS THE CRADLES OF CAPITALISM HAD UP TO ONE OR TWO CENTURIES TO UP-ROOT AND DE-ROOT AND TERRORISE PEASANTS AND PROLETARIANS (AND SLAVES) IN ENGLAND, FRANCE, OTHER PARTS OF EUROPE, THE USA ETC. FROM c. 1750 UP TO c. 1945/1960-1970 ... WHEREAS BUKHARIN REPRESENTS THE GHOST OF WHAT WAS "IDEAL" ... (BUT NOT AS INSANE AS THE ARCH EVIL INTERNATIONALIST SATANIC CIRCUS MONKEY ONE WORLD GLOBAL VILLAGE MULTI-KULTI DIE-VERSIFY JOO TROTSKY (WHICH LATER INCLUDED ZIO-COST WORSHIP IN SATAN TENTS WITH INDIGENOUS (RELATIVELY WHITE AND ONCE CHRISTIAN) EUROPEANS FORGETTING BOTH THEIR ANCESTORS AND TO HAVE DESCENDANTS UNDER THE TOTAL OTHERISING AND SUPER-ANTI-WHITE-RACIST ZIO-USA OF GROSSLY DISPROPORTIONATE ZIO-ATLANTICISM AND ZIO-SUPREMACY/PRIVILEGE-JOO-ISH SUPER HATE OF THE SUPER HEEBROO HATE TRIBE) ... BUT NEVER HAD ANY BASIS IN THE REALITY OF EXERCISING POLITICAL POWER ...]]
MORE CLASSIC PETER FURTH QUOTE TIME AGAIN
S. 77
»
...
Diejenigen, die den Weg der Enttäuschung, die mit der politischen Emanzipation verbunden war, nicht weitergehen wollten, ohne deshalb ihre emanzipatorischen Hoffnungen preiszugeben, mußten einen Arbeits- und Lebensbereich finden, an dem die Entfremdungstheorie neu modelliert werden konnte. ... Zwar blieb die Auffassung der Arbeit als Telosrealisation für die Entfremdungstheorie weiterhin maßgeblich, aber eine andere Produktion mußte nun dafür das Modell sein. Es war die ästhetische Produktion; an ihr orientierte die Avantgarde, die die Fortsetzung der Revolution mit anderen Mitteln, die Kulturrevolution als permanente Revolution, wollte, von nun an die Entffemdungstheorie. Das war ein Frontwechsel, für den viele Erfahrungen sprachen. = Those who did not want to continue and go further on the path of disappointment and letdown, which was connected with political emancipation, without, because of that, giving up and abandoning their emancipatory hopes, had to find an area and realm of ​​work and of life in which the theory of alienation and estrangement could be remodelled. [[CRAZY MAN ADDS: THIS IS WHERE (GROSSLY DISPROPORTIONATELY, ZIO-USA-JOO-ZIO-KOST-HEDONISMUS- KONZUM PROPAGANDA) "SELF-REALISATION" COMES IN]] ... Indeed, the perception and view of work as a realisation of [[the desired]] Telos remained, furthermore, decisive for the theory of alienation and estrangement, but another production had to be the model for it (i.e. the theory of alienation/estrangement). It was aesthetic production; to it, the avant-garde, which wanted the continuation of the revolution with (or by) other means, the cultural revolution as a permanent revolution, oriented the theory of alienation/estrangement from here on. That was a change of front (U-turn, volte-face or turnabout), for which many experiences spoke.
«
[[Peter Furth goes on to brilliantly explain how the hedonistic-aesthetic-exotic-consumeristic side of things had to be accompanied by a real-world, tangible, objective, material socio-economic set of (inter-)relations or "base", if you like that kind of (in part or largely, but not fully, misleading) term.]]
S. 79 + S. 80
[[THIS IS ABSOLUTELY BRILLIANT THEORETICAL-ANALYTICAL "SHIT"]]
»
...
Als imaginäres Gemeinwesen kam damit die Kultur in die Perspektive eines Subjektes, dem die Individuation nicht Makel, sondern Bedingung war, dem die Eigenwelt mit ihren idiosynkratischen Besetztheiten mehr galt als die bürgerliche Öffentlichkeit mit ihren allgemeinen Normen. So kann man sagen, die Enttäuschungsüberlegenheit der ästhetizistischen Wendung der Entfremdungskonzeption wurde mit der Privatisierung des Gemeinwesens erkauft. ... (S. 80) Der ästhetizistische Auszug aus der Politik wird mißverstanden, wenn er nicht als Doppelbewegung erkannt wird: als Privatisierung der Politik und als Politisierung des Privaten, als Auszug und koloniale Neubegründung auf anderem Kontinent.
=
...
As an imaginary community, culture came, with that, from the perspective of a subject to whom individuation was not a flaw (defect or blemish), but a condition, to whom one's own world (or the/one's private world) with its idiosyncratic states of being occupied was regarded as more important than the bourgeois public sphere with its general norms. Thus, one can say that the superiority in respect of disappointment and letdown of the aesthetic turn of the conception of alienation and estrangement was bought with the privatisation of the community. ... (p. 80) The aesthetic departure from politics is misunderstood if it is not recognised as a double/dual movement: as privatisation of politics and as politicisation of the private (sphere), as a departure and colonial re-founding and re-establishment on another continent.
«
FURTH THEN BRILLIANTLY REFERS TO THE ALL-TIME GREAT MAX WEBER'S "inner-world asceticism" (Die »innerweltliche Askese«) AND HOW SECULARISED BOURGEOIS MAN (WHO AS "HOMO OECONOMICUS" KEPT THE "HOMO POLITICUS" IN HIM WITHIN THE PUBLIC SPHERE, AS SEPARATED FROM THE PRIVATE SPHERE) AND WAS THUS ESSENTIALLY AND GENERALLY DISCIPLINED AS TO CONSUMPTION, [[CRAZY MAN ADDS: SINCE CAPITAL ACCUMULATION (MONEY FOR MONEY'S SAKE, GROSSLY DISPROPORTIONATE PROFITS, SUPER-EXPLOITATION OF PEASANTS, PROLETARIANS, SLAVES, COOLIES AND OTHERS ETC.) AND OUTER CONQUEST (IMPERIALISM) IS WHAT DROVE BOURGEOIS MAN AND THE GREAT EUROPEAN AND LATER AMERICAN IMPERIALISM(S) (OR HEGEMONY) FORWARD, AND THAT'S HOW YOU GOT THE ENGLISH FOUL MAN, THE FRENCH FROG MAN AND THE AMERICAN ZIO-MAN IN ALLIANCE WITH THE QUINTESSENTIAL REPRESENTATIVE OF THE APE-MAMMON-DEVIL- SATAN, DA USUROUS-BANKING-(LEGAL AND ILLEGAL, DRUGS, SEX, ETC.) TRADING (CORPORATE, PRIMITIVE SECRET SOCIETY, DEEP STATE FULL-SPECTRUM ZIO-LOBOTOMISING MASS MEDIA/MASS ENTERTAINMENT-ELITE UNIVERSITIES ZIO-KONZUM-HEDONISMUS-TOTALLY FUCKED IN THE HEAD FEMINO-FAGGOTISING-SATAN-OTHERISING-EXOTIC-FREAK SHOW-MULTI-KULTI-DIE-VERSIFYING-DIVIDE AND RULE/DIVIDE AND CONQUER-ZIO-SUPREMACIST-HEEBROO PRIVILEGE-JOO-ISH-ULTRA RACIST-HATE TRIBE WITH GROSSLY DISPROPORTIONATE WEALTH AND FORMS OF POWER ZIO-GREAT BRITAIN, ZIO-FRANCE, ZIO-USA) SATANIC CIRCUS MONKEY JOO.]]
[[IN THE WORDS OF THE CRAZY MAN ... (YOU MUST STUDY PETER FURTH'S TEXT FOR HIS EXACT AND QUITE BRILLIANT WORDING AND PHRASING BECAUSE THE CRAZY MAN LEAVES A LOT OUT, AND ADDS HIS OWN SHIT ETC.) ... S. 80-85 A REFERENCE TO PLESSNER. THE ARTISTIC AVANT-GARDE CREATING THE IDEOLOGICAL-VISUAL CONTEXT TO "HELP" IN THE TRANSITION FROM COMMUNITIES OF PROXIMITY AND TRUST AND STABILITY AND RELATIVE RACE-RELIGIOUS HOMOGENEITY TO THE MOBILE OTHERISED WORLD OV DA JOO (PRINCIPALLY, ANGLO-SAXON-MAMMON-ZIO) WHICH CREATES ITS OWN RELATIVE HOMOGENEITY TO DA JOO'Z GROSSLY DISPROPORTIONATE DIVIDE AND RULE MAMMON ADVANTAGE. IT'S VERY IMPORTANT TO EMPHASISE THAT WHAT THE MASS-DEMOCRATIC AVANT-GARDE DID HAS ROOTS IN MASSIFYING- ATOMISING BOURGEOIS SOCIETY ITSELF ... NOTHING COMES OUT OF NOTHING!!! AND SO, FURTH REFERS TO HÖLDERLIN AND "INTELLECTUAL WORK" AWAY FROM THE MORE MIMETIC REPETITION OF CHRISTIAN BANALITIES (I AS CRAZY MAN HAD SKIPPED AHEAD TO MASS DEMOCRACY ... THAT'S WHY YOU SHOULD NOT PAY ANY ATTENTION TO ME ... I AM REALLY SCATTER-BRAIN-LIKE, PARTICULARLY WHEN WRITING IN THE ANGLO FOUL MAN'S IDIOM) ... ANYWAY, WITH THE EMPEDOCLES OF THE GREAT PSYCHO GERMAN POET, WE GET EVERYONE BECUMING A KING ... AND THE MYSTIQUE OF THE SOCIETAS CIVILIS ROYALTY GETS THROWN OUT OF THE WINDOW (JUST AS IT WILL RE: GOD) ...
THE SUBLIME IS NOW RECONCILED WITH WHAT WAS ONCE LOW.
AND SO ROMANTIC NOVALIS DEVELOPED THIS DEMOCRATIC FREEDOM OF A SENSORIAL REALITY (WHEN COMPARED TO SOCIETAS CIVILIS) ... THUS, YOU GET THE NOVEL AND ROMANTIC LOVE AND INTIMACY KIND OF REPLACING CLASSICAL TRAGEDY ... IN OTHER WORDS, THE ONCE BOURGEOIS IDEAL OF THE SEPARATION OF PRIVATE AND PUBLIC, GETS FEMINO-POOFTER-OTHERISED-AESTHETICISED AND KIND OF DEMOCRATISED (AND DA PRIMITIVE SECRET SOCIETY JOO MOVED IN TO EXPLOIT THIS IN DUE COURSE, PARTICULARLY AS THE CENTRALISING STATE BEGAN TO INTERVENE MORE AND MORE IN THE ECONOMY AND PEOPLE'S PERSONAL LIVES FROM THE MID 19TH CENTURY, BUT PARTICULARLY FROM THE MASS-DEMOCRATIC 20TH CENTURY). SO, NOW ANY EXPERIENCE IN LIFE COULD BE AESTHETICALLY EXPLOITED BY A "CREATOR" = "EVERYONE IS A POET AND ARTIST AND EVERYONE WILL HAVE THEIR 15 MINUTES OF DEGENERATE FAME" KIND OF DING ....
S. 85-93: SYPHILITIC NIETZSCHE NOW TAKES CENTRE STAGE... S. 85 = NIETZSCHE TAKING THE CONCEPT OF ALIENATION-ESTRANGEMENT AND REFORMULATING IT (NOT AS IN TRADITIONAL ETHICS AND METAPHSICS) BUT IN A KIND OF INVERTED APPROACH TO IS AND OUGHT, TRUTH AND APPEARANCE, SPIRIT AND POWER, ART AND LIFE ... TO END UP IN GOTTFRIED BENN'S IRONIC NOTION OF "ARTIST METAPHYSICS/METAPHYSICS OF ARTISTS" (Das konnte nur geschehen, wenn die Grenzen zwischen Sein und Sollen, Wahrheit und Schein, Geist und Macht, Kunst und Leben neu gezogen oder aufgehoben wurden. Vor allem mußten die beiden Bereiche, die der Entfremdungstheorie traditionell ihre Motive lieferten, Metaphysik und Ethik, ihre eindeutigen und originären Rechte abgeben und in einer neuen Denkform vereint werden. Die Rolle dieser eigentümlichen Komplementärverbindung übernahm Nietzsches Ästhetizismus, dasjenige Denken, das Gottfried Benn ironisch-affirmativ, aber auch verharmlosend unter dem Titel »Artistenmetaphysik«). S. 85-86 SO, CRAZY NIETZCHE GIVES US A "BEYOND GOOD AND EVIL" INDIFFERENT-TO-TRUTH KIND OF ART FOR ART'S SAKE. »Denn nur als ästhetisches Phänomen ist das Dasein und die Welt ewig gerechtfertigt (= BECAUSE ONLY AS AN AESTHETIC PHENOMENON IS BEING (T)HERE/EXISTENCE AND THE WORLD ALWAYS JUSTIFIED).« (Die Geburt der Tragödie, Stuttgart 1955, S. 71). AND ALL THIS ENDS UP IN A KIND OF ESCAPISM SINCE: »Wir haben die Kunst, damit wir nicht an der Wahrheit zugrunde gehen (= WE HAVE ART SO THAT WE DO NOT GO TO RUIN AND PERISH IN TRUTH).« (Nietzsche, Der Wille zur Macht, Stuttgart 1952, S.554).
S. 86-88: NOW, NIETZSCHE WAS A REAL FUNNY BUNNY AND FOR HIM HAPPINESS IN EXISTENCE WAS HAPPINESS IN APPERANCE AND THAT THE ANNIHILATION OF THE MOST BEAUTIFUL APPEARANCE BROUGHT DIONYSIAN HAPPINESS TO ITS CLIMAX (»Das Glück am Dasein ist nur möglich als Glück am Schein.« + »in der Vernichtung des Wirklichen, des Daseins, des schönen Anscheins. [... ] in der Vernichtung auch des schönsten Scheins kommt das dionysische Glück auf seinen Gipfel.« (Werke, Bd. XIV, Unveröffentlichtes aus der Umwertungszeit (1882-1888), Leipzig 1909, S. 366).
OF, COURSE, P.K. HAS REPEATEDLY EXPLAINS NIHILISM DOES NOT MEAN "GO AND DESTROY". NIHILISM MEANS DO NOTHING BUT LIVE AS A RESULT OF THE IMPULSE OF SELF-PRESERVATION, WHICH IN EFFECT MEANS DO WHATEVER THE FUCK YOU WANT, BUT NOT NECESSARILY DESTROY, BUILD, HATE, LOVE ETC..
AND IN ALL CASES OF ART THAT HAS AN AUDIENCE, THE AUDIENCE INTERPRETS AND IN A SENSE ALSO "CREATES".
S. 88-90: THE WHOLE "SUPER MAN/LAST MAN" BUSINESS WAS TO KIND OF IMMUNISE AGAINST DISAPPOINTEMENT AND LETDOWN THROUGH AESTHETIC-ARTISTIC SUBLIMATION (WHICH WENT ON TO BE A FUNCTIONAL ESSENTIAL PART OF THE WHOLE MASS MEDIA CIRCUS) ... »Romantik und ästhetische Avantgarde liefern das nach, was die Aufklärung - vom Monotheismus bis zur Fortschrittsphilosophie - noch offen, unbearbeitet gelassen hat: Aufklärung versachlicht äußere, Romantik innere Natur. = Romanticism and the aesthetic avant-garde deliver what the Enlightenment - from monotheism to the philosophy of progress - still left open and unprocessed: Enlightenment objectifies and reifies external, Romanticism internal nature.«
NOW, THIS IS THE QUINTESSENTIAL IDEOLOGICAL SPACE FOR DA JOO AND HIS MANY SATANIC CIRCUS MONKEY ALLIES: » Die romantische Verklärung des Gewöhnlichen vulgarisiert gleichzeitig das Sakrale, oder umgekehrt: Die Vulgarisierung des Idealen ist von der Idealisierung des Vulgären nicht zu trennen. = The romantic transfiguration of the ordinary vulgarises, simultaneously, the sacred, or vice versa: the vulgarisation of the ideal cannot be separated from the idealisation of the vulgar.« AND ALL OF THIS DEGENERACY FITS IN WITH THE MASS-DEMOCRATIC IDEAL OF E.G. THE ABNORMAL HAVING "EQUAL RIGHTS" WITH THE NORMAL, SO YOU GET TO THE POINT WHERE POOFTA MARRIAGE IS CONSIDERED "NORMAL" AND SELF-RACIST-SELF-PHOBIC-SELF-HATING AUTO-GENOCIDE, A "NORMAL" STATE OF "NORMAL" OTHERISING AFFAIRS, WHILST THE SATANIC CIRCUS MONKEY COMPOUND AND BUNKER HAS AN EXTREME SATANIC ORIENTATION AND EXTREME SATANIC PURPOSE ON A LARGELY RACIALLY AND OR RELIGIOUSLY RELATIVELY HOMOGENEOUS BASIS (AS DO CERTAIN JOO-ZIO COMMUNITIES-SUBURBS IN THE DIASPORA), AND AS IS THE CASE IN CHINA, JAPAN, MOST OR ALL OF ASIA AND AFRICA ETC., WITH ALL THE SPECIFIC CASE BY CASE DIFFERENCES OF COURSE. (THERE IS NO SUCH THING AS "FAIR EQUALITY" FOR ALL. WHERE ONE GROUP GAINS, ANOTHER GROUP LOSES, IF THE GROUPS IN QUESTION ARE SEEKING E.G. MONEY OR FORMS OF POWER FROM A COMMON POOL, SO TO SPEAK, OF MONEY AND FORMS OF POWER (BASED ON CONCRETE RELATIONS OF POWER IN CONCRETE CIRCUMSTANCES) ... THE ONLY REAL GROUP INDEPENDENCE IS WHEN YOU SLAM SHUT YOUR BORDERS, NO-ONE LEAVES, NO-ONE ENTERS, AND YOU COLLECTIVELY (RE-)PRODUCE YOUR OWN MEANS TO LIVE AND COLLECTIVE SELF (OF COURSE, THIS IS NOT IN MOST CASES REALISTIC IN TODAY'S WORLD, BUT CONCEPTUALLY IT IS 100% CORRECT) ...
SATAN, SATAN, MONKEY, MONKEY, SATANIC CIRCUS MONKEY
SATAN, SATAN, MONKEY, MONKEY, SATANIC CIRCUS MONKEY
SATAN, SATAN, MONKEY, MONKEY, SATANIC CIRCUS MONKEY
AND ALL THIS AESTHETICISATION ENDS UP IN NARCISSM AND SELF-PLEASURE ETC. BUT AS IT RELATES TO FASHIONS AND TRENDS (AND WE ALL KNOW BY NOW WHO GROSSLY DISPRORPORTIONATELY IN THE MASS-DEMOCRATIC ZIO-WEST SETS THE "TRENDS" AS FORMS OF ZIO-HATE, ZIO-BIGOTRY, ZIO-RACISM, ZIO-SUPREMACY, ZIO-PRIVILEGE AND ANTI-WHITE, ANTI-ORTHODOX, ANTI-CHRISTIAN ZIO-SATANISM).
S. 90-93: AFTER THE COLLAPSE OF "TOTALITARIANISM" IN THE FORM OF FASCISM AND STALINISTIC COMMUNISM, IN THE DECADENT OR "BOURGEOIS" WEST OF THE "Tode Gottes", ART IS LIKE THE TRUTH OF POLITICS AS AN ON-GOING JOOTSKY CULTURAL PERMANENT REVOLUTION DESTROYING AND DECONSTRUCTING EVERYTHING EXCEPT FOR GROSSLY DISPROPORTIONATE ZIO-JOO FORMS OF POWER AND POSSESSION OF WEALTH.
"SOCIALIST REALISM" SOLIDIFIED STALIN'S POWER INCL. AS AN ALL-ENCOMPASSING AESTHETICISM (SINCE IN MASS DEMOCRACIES WHETHER CAPITIALISTIC-SOCIAL-DEMOCRATIC, COMMUNISTIC OR FASCISTIC, POLITICS BECOMES AESTHETICISED AND THE AESTHETIC BECOMES POLITICAL TO AN EXTENT OF OVERLAPPING PERHAPS UNKNOWN IN PREVIOUS SOCIAL FORMATIONS) AND THE AESTHETIC AVANT-GARDES OF THE EARLY YEARS OF SOCIALIST RUSSIA WERE OUTLAWED AND OBLITERATED. SO UNER STALIN, AESTHETICISM TRIUMPHED AND APPEARANCES OF STALIN AND SOCIALISM KIND OF MADE REALITY "A TOTAL WORK OF ART". THIS OBVIOUSLY REFERS TO THE DIFFERENCE BETWEEN HOW REGIMES PRESENT REALITY, AND WHAT THE REALITY ACTUALLY IS, AND ALSO APPLIES TO YOUR STANDARD (GROSSLY DISPROPORTIONATELY) ZIO-IDIOT-BOX TV COMMERCIAL SELLING A CORPORATE ZIO-JOO-PRODUCT ETC..
IN THE END, WHAT REMAINS IS NOT SOCIALISM AS UTOPIA BUT THE APPEARANCE OF SOCIALISM AS AN AESTHETIC-ART. SIMILARLY, IN THE "WEST".
S. 94-104 CONCLUSION
KEY = THE CONTRADICTION BETWEEN THE IDEAL AND REALITY, AND FROM THAT VERY REAL CONTRADICTION, WE GET OUR PHENOMENOLOGY OF DISAPPOINTMENTS AND LETDOWNS. AND DISAPPOINTMENTS AND LETDOWNS ARE INEVITABLE, NO MATTER HOW MUCH VARIOUS REGIMES WANT US TO THINK OTHERWISE.
THE INEVITABILITY OF DISAPPOINTMENTS AND LETDOWNS CORRELATES WITH THE INEVITABILITY OF UNFULFILLED DESIRES.
COMMUNISTIC AND OR OTHER REVOLUTION WANTED A WORLD OF ABUNDANCE IN WHICH THE RELATIVE VALUE OF RESISTANCE TO DISSAPOINTMENT AND LETDOWN COULD BE REPLACED BY THE ABSOLUTE VALUE OF FREEDOM FROM DISAPPOINTMENT AND LETDOWN.
CLASSIC SUPER P.F. QUOTE:
»Die westliche Demokratie ist möglicherweise deshalb eine überlegene und bei allen Krisen so stabile Herrschaftsform, weil sie soviel soziale Energie anerkennend aufnehmen und in fiktive, theatralische, symbolische Resultate verwandeln kann. Ihr gelingt eine so vollständige Umformung sozialen Engagements und veränderungsgerichteter Energie in Ostentation und quasiästhetische Befriedigung, daß die erreichte Stabilität in einem paradoxen Verhältnis zur Dynamik der Rahmenbedingungen steht.
= Western democracy is possibly a superior – and in all crises such a stable – form of rule, dominance and dominant authority, because it can appreciatively absorb so much social energy and convert it into fictitious, theatrical, symbolic results. It succeeds in such a complete transformation of social engagement and change-oriented energy into ostentation and quasi-aesthetic satisfaction that the stability attained and achieved stands in a paradoxical relationship with/towards the dynamics of the conditions of the framework.« [[OF COURSE, THIS DOES NOT TAKE INTO ACCOUNT THAT OVER THE VERY LONG MACRO-HISTORICAL TERM, "WESTERN" MASS DEMOCRACY IS BOUND TO BREAK DOWN AND OR DEGENERATE INTO A TOTAL JUNGLE ... AND OR HARSH SURVEILLANCE DICTATORSHIP ...]]
ERASURE OF PAST AND COMMON COLLECTIVE MEMORY.
THINGS IN THE WORLD AS FUNCTIONS WE USE WITH NO SUBSTANTIAL BEING (SINCE GOD IS DEAD ETC.). OR, SYMBOLS CONSTANTLY CHANGING CONSTANTLY WITH FEELINGS.
»Die beiden Zustände stoßen einander ab und zerfallen ineinander; zu einem Halt kommen sie in einem dritten, sie umfangenden Zustand, in dem ungerührten Wissen der Schrecken: »Den Schweigenden erhalten die Gesetze«, aber einzig in der Erstarrung der Melancholie. = The two states of affairs [[of functions and symbols]] repel each other and collapse into each other; they come to a halt in a third, comprehensive state of affairs, in the unmoved (i.e. unfeeling) knowledge of horrors: "Those being silent/The silent receive (and or preserve) the laws", but solely in the paralysis of melancholy.« [[CRAZY MAN'S NOTE: THIS APPLIES WHEN ONE CONTEMPLATES "THE MEANING OF LIFE" AND THE ACTUAL CORRELATION OF FORCES AND RELATIONS OF POWER. IN ACTUAL PRAXIS, MOST PEOPLE "PUSH ON" GUIDED BY THEIR IMPULSE OF SELF-PRESERVATION AND, AS IT WERE, "WILL TO POWER" FOR "MORE AND MORE AND MORE" (AT WHATEVER THEIR LEVEL IS), EVEN THOUGH THEY ALL KNOW DEATH IS ULTIMATELY "JUST AROUND THE CORNER" ...]]
ASSESSMENT OF BOOK: BECAUSE IT HAS MANY SUPA GREAT INSIGHTS, I'D GIVE IT A 9½/10, BUT UNLESS YOU HAVE A THOROUGH KNOWLEDGE OF P.K.'s OEUVRE, YOU'LL DEFINITELY FIND IT DIFFICULT, CONFUSING AND AT TIMES OBSCURE ...